After our Wilderness First Responder course in Moab, we returned to Zion with newfound WFR friend and new #homeiswhereyouparkit lifestyle compadre Allison. She and I ran part of the Zion Traverse in a day. We went from the west end at Lee Pass to Zion Canyon, tagging Angel's Landing on the way. Of course, trail conditions were abysmal as it had recently snowed, and rained on us much of the day, leaving us to "run" in ankle-deep clay-like mud for about 20 of the 38 miles. All we really could do was laugh, and keep going. At least it wasn't infernally hot like we expected!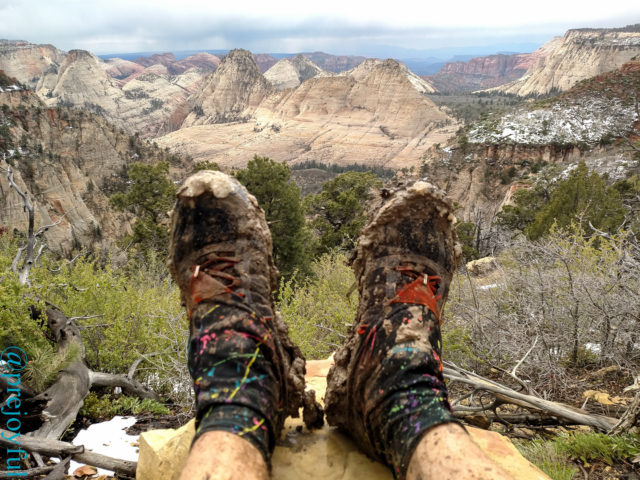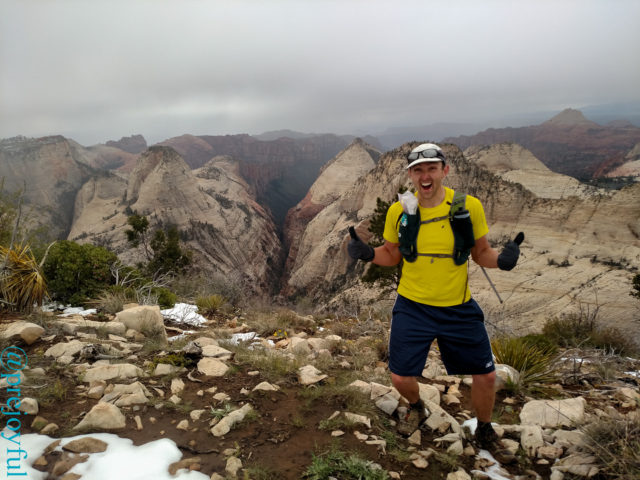 After recovering, and nearly being snowed into Bryce Canyon, we left Allison to do her own desert SW tour, as we vowed to leave the desert behind, tired of its fickle weather – hot, then cold, snow, and rain where it ought to be dry…
But on our way to the coast, naturally, we stopped to camp in Mojave. I found a nice spot which was near a VFW memorial and a hike up a little granite upheaval dome in a Joshua Tree forest. It sounded idyllic as desert adventures go, and the forecast temperatures were low, so it sounded nice! We arrived in the dark, and most pulloffs seemed to be occupied, so we drove a little past where we thought we might park. Annie pulled hesitantly into a pull-off, and we wondered for a moment if it was a wash, not a pullout at all. I investigated, and saw tire tracks. Annie hesitantly pulled forward and off to the side, in case it was a road and someone might want to pass in the night.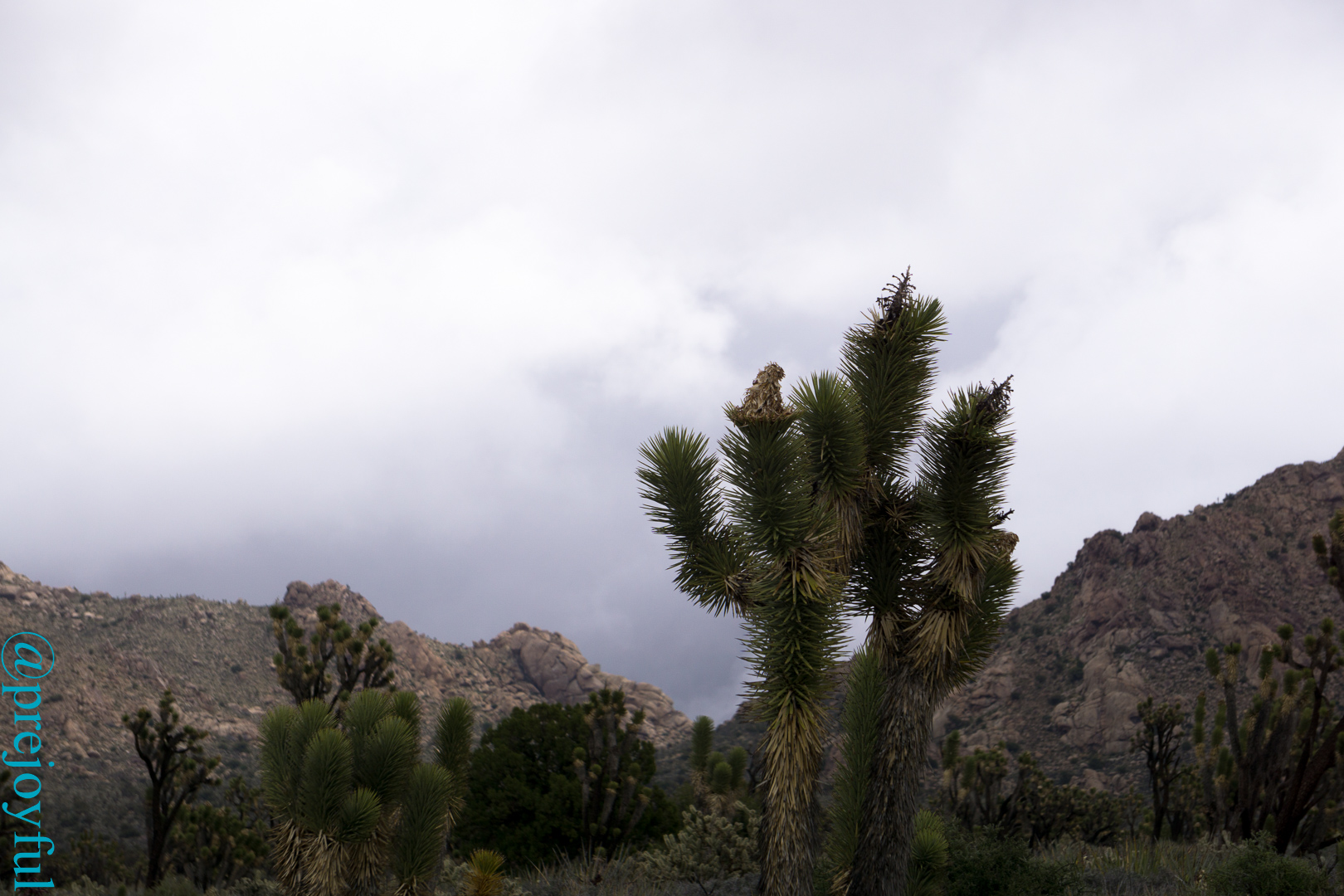 The next morning, we awoke before dawn to rain pattering on the roof of The Fire Truck. I thought nothing of it, except that it might put a damper on our intended morning hike. We turned over and slept soundly in the rain. When we awoke a little after dawn, I set about my normal routine, making coffee, and breakfast, and Annie dozed a little longer. We were lethargic, with a few rumbles of thunder shutting down ideas of hiking for good (as we learned in WFR: "experts will tell you – there is no safe place in a lightning storm!").
When at last we packed up, ready to head to Big Sur, we started up the van, and… the tires spun! This was abnormal. We had been stuck in mud and slid around on snow plenty before. Typically, all we heard was reving of the engine and the clicking of the rear differential, trying to get power to one tire or the other. But no – the tires spun now in deep, large-grained granite sandy gravel. We shut the Fire Truck off, and got out to look at the damage. The van was now dug down several inches. We put rocks in front of and behind the tires, and collected some sticks to buoy the wheels after it got up on the rocks. I hopped back into the drivers' seat and… oh, no. It gained no traction. The rocks simply sucked under the tires and back out the other side. Now the van was down a good 6 inches in the gravelly pit, which, in daylight was clearly just a wash, not a road of any kind.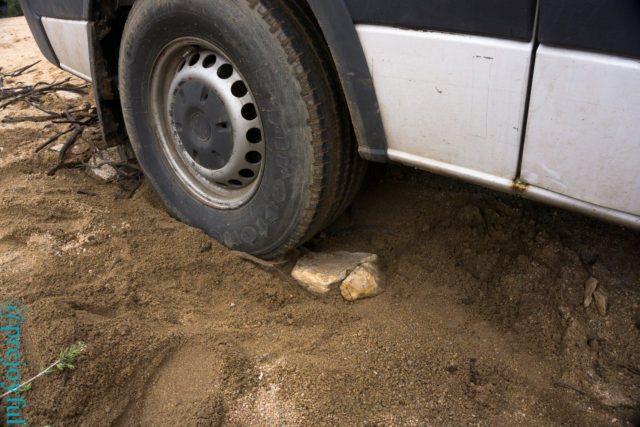 Annie began to feel very anxious. I scratched my chin. We paused our efforts for a passing rain shower, and considered our options. We had plenty of water, plenty of food. We weren't terribly far from paved roads. We wouldn't die out here… besides, we had some cell phone coverage! We could at least give it a good effort and post some pictures to Instagram!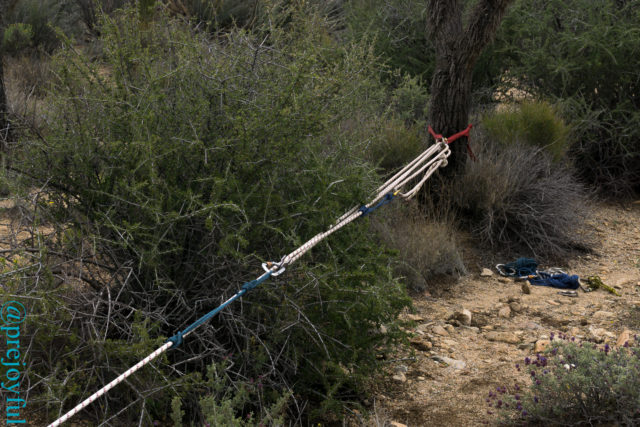 We made a plan. We would have to dig. We would have to cobble large stones to forge a road. We would lay sticks beneath the front wheels to keep them from sinking into the deep sand. Last, but not least, I would rig a pulley system to haul on the van. Using well-remembered crevasse rescue skills, I fairly quickly built an anchor around a sturdy Joshua Tree (yes – they are remarkably sturdy!), and forged a 9:1 pulley system (a 3:1 on a 3:1), and hauled tension. The angle wasn't great, but it provided some additional force backward while the wheels were in dubious positions.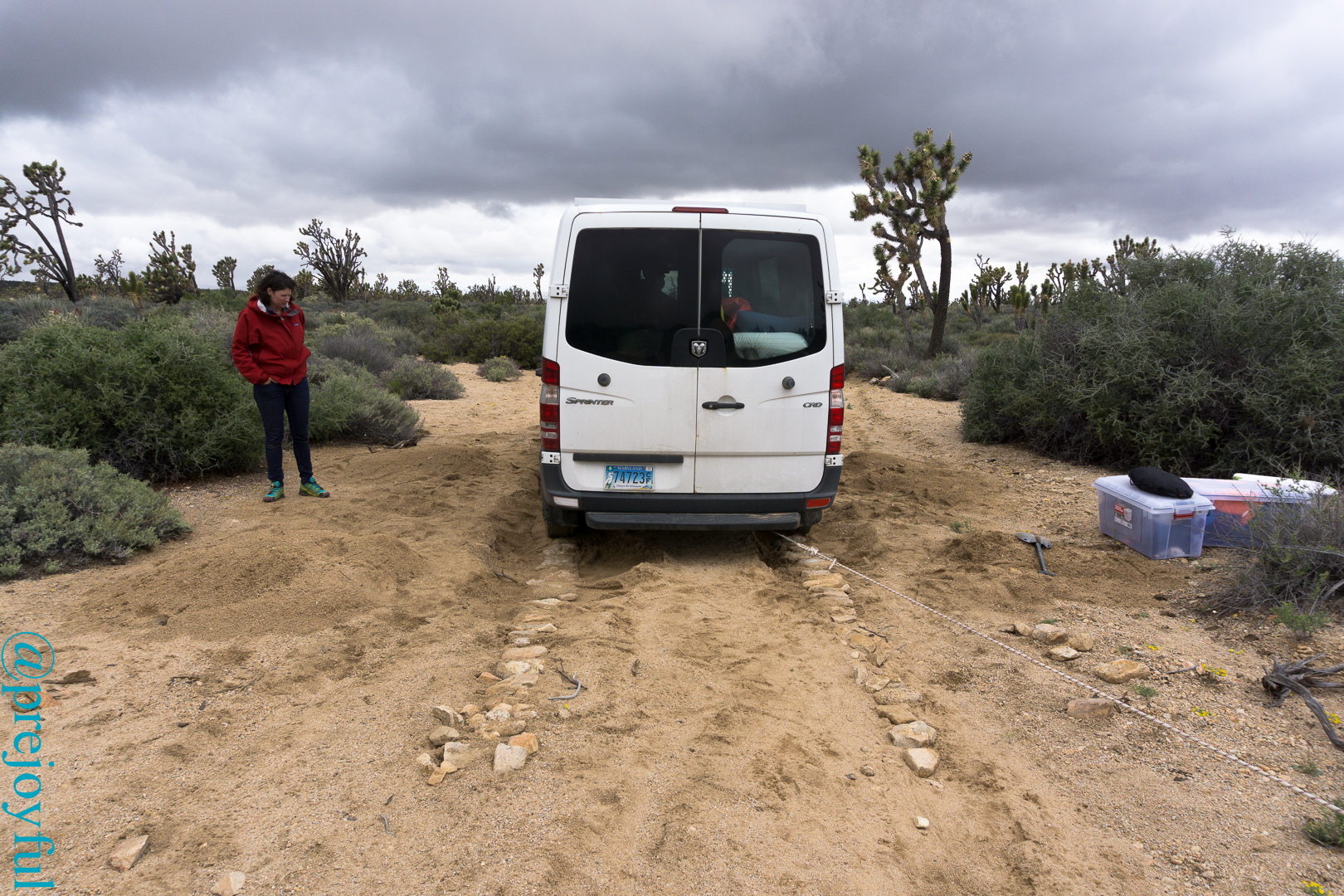 Tension pulled, trenches dug, rocks and sticks placed, we gave it a go. And VROOOM! We made it out! And got a good 8 ft. then… down into the sand again, having slipped sideways off our tracks, the wheels lost traction and dug down again. We stopped for lunch.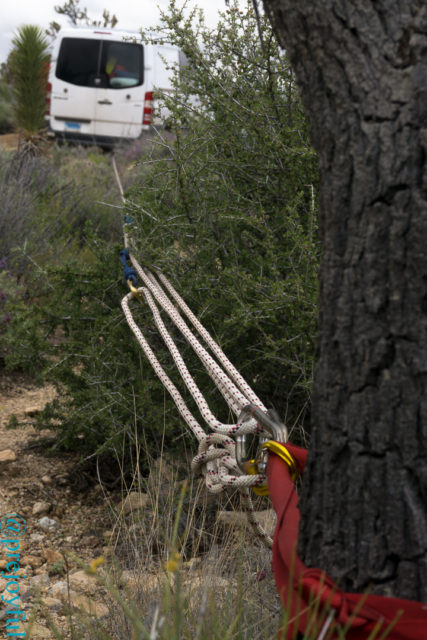 After lunch and some more rain, we started up our efforts again. A lone truck drove by on the road, which seemed more distant until the truck passed a mere 100 ft away. It could easily take us the rest of the day to get the rest of that distance through the loose sand. So we set to work. We dug out the wheels, placed stones as close under the drive wheels as possible, and built a solid rock track at a gentle slope up from the rut to the sand level, cleared sand from around the front wheels and placed branches under their track to keep them afloat. We also let some air out of the tires, but we were unsure of how much air to let out while still having a safe amount of pressure to drive the 10 miles to nearest gas station pump. Tensioning the pulley system again, we moved another 6 feet before sinking. This was definitely going to be a long day.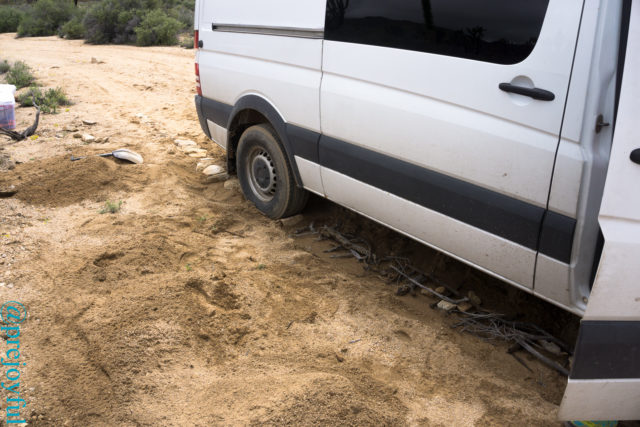 We re-prepared our whole system, looking woefully at the 20ish feet we had managed to move today and the 10 ft. of cobblestone we had laid. This certainly would take a long time.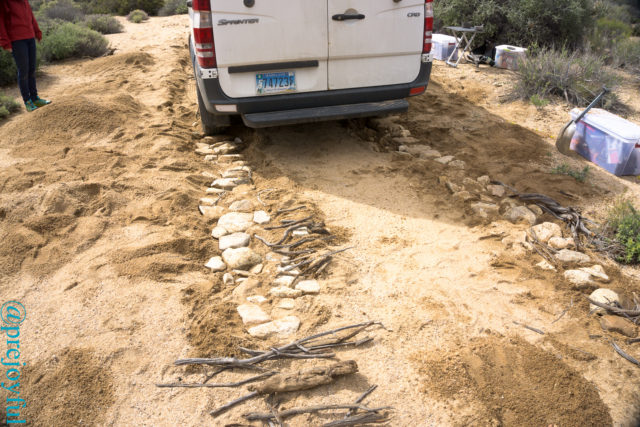 Just as I pulled tension on the pulleys, an off-road vehicle passed by on the road and waved to us… a few moments later, they backed up, and a woman got out and asked us if we needed help. "Yes," I had to admit. I was pretty proud of my 9:1, but real help from people who knew what they were doing sounded awfully good.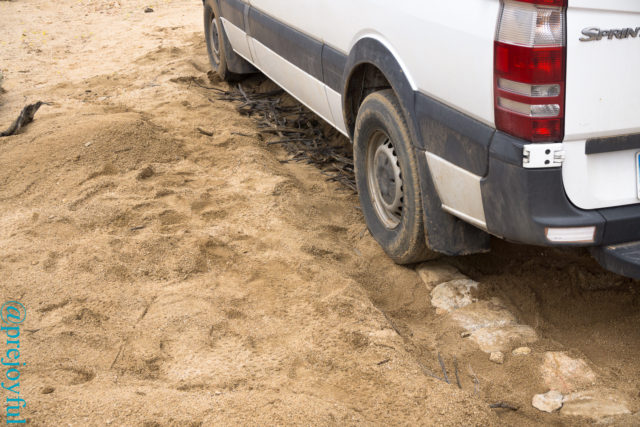 The kind folks were offroaders from Las Vegas who drove a lovely old Pinzgauer – a 4×4 vehicle from 1960s Austria. These remarkable beasts make up for horsepower with sheer durability and simplicity. The owners immediately got down to business. They asked us about the weight of the Fire Truck, and pulled out a pair of sand tracks – dense plastic tracks with large grippy lugs to place under drive wheels to provide traction and floatation. The van promptly sucked those under to no avail. The offroad duo responded by preparing their winch, and looked at our connection point (not a very good tow spot on the bottom of the van). With some rocks to chock their wheels, the towing began, and we started rolling.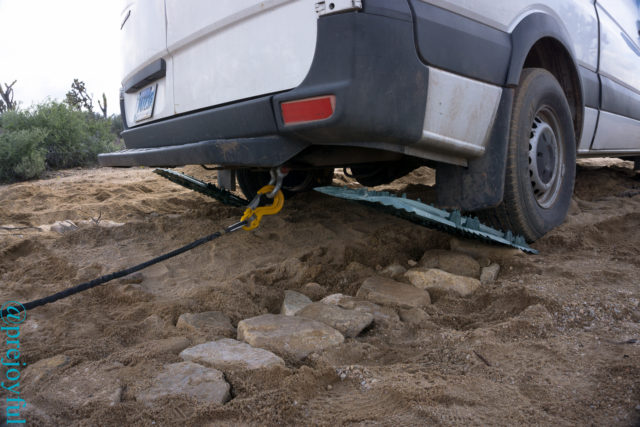 The winch would pull the van free and up onto the sand, then we would move a few feet and sink back down into the sand as the winch cable de-tensioned. As the winch caught up, we would move back a few more feet. Soon, we had covered half the distance to the road, and the van rested on top of firmer sand. We decided to try to just back up onto the road under our own power.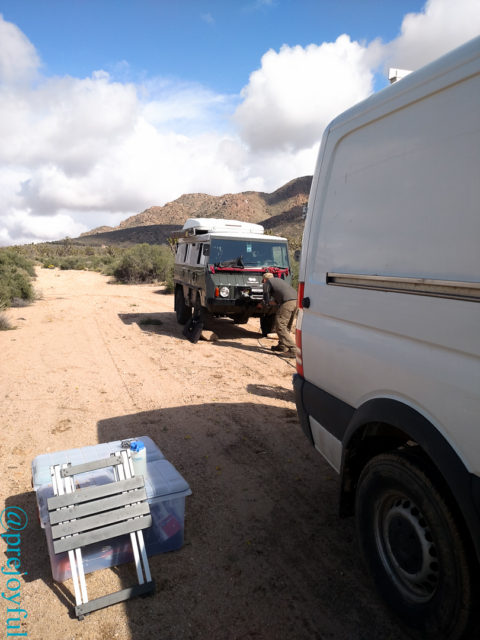 After a hasty pack-up, we said goodbye to the horrible ruts in the wash, and got into the van. Gentle power pulled us backward, and the wheels didn't sink. Soon, we were back on the two-track, and headed out, home-free!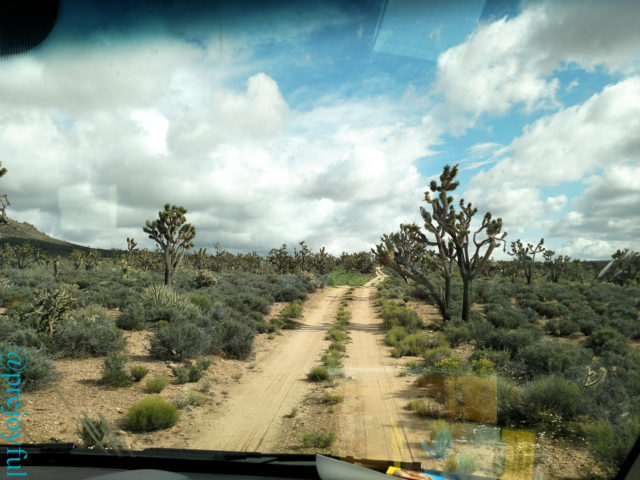 Thanks many times over to those lovely two offroaders from Las Vegas and their Pinzgauer. Thanks for the rescue, and teaching us how to play in the sand properly.