Ed Note: A shorter version of this appeared as a guest post on Bedrock Sandals'  blog!
Sometimes you need that weekend getaway trip – the one that rejuvenates and recharges you, and prepares you for another week. It turns out you need those weekend trips even when you live in a van. They just don't have to be on weekends!
Joffrey and I have been traveling and living in our van for nine months. We enjoy the luxury of hiking and climbing and being wherever we want to be.  But sometimes life in the van can feel just as hectic, unorganized, and tiresome as our old work-week schedules.  We need those short, logistically easy, and freeing weekend trips just as much as we ever did.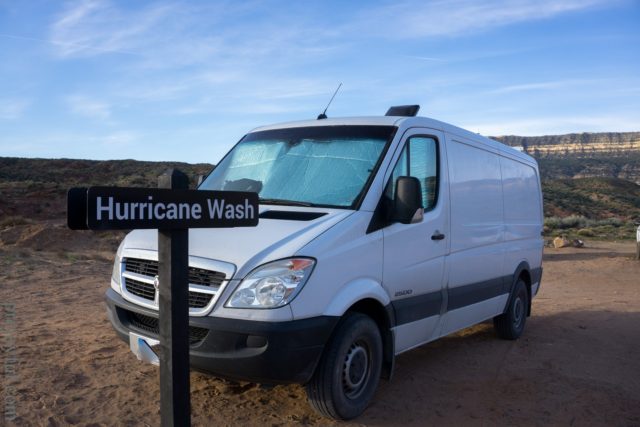 Feeling burned out on vanlife and generally the hot desert southwest, we headed out to Grand-Staircase Escalante to hike into Coyote Gulch for an overnight trip.  The planning was easy: get to the trailhead, fill out a permit, hit the trail. We had been there once before to start the trip before our WFR course in Moab, but felt uninspired, filthy, and burned out once we arrived, so we left in favor of finding showers. This time, we were back with slightly more determination.
After our 35 mile journey down Hole-in-the-Wall road (better referred to as Hole-in-Your-Car road) we arrived at the Hurricane Gulch trailhead, filled out our permit, found a previously used pull-off to camp, and began packing. As usual, there was much debate regarding gear for this one night (Joffrey and I have a habit of making things as complicated as possible – something about being a mathematician and a physicist?). After much debate about possible freezing temperatures, rain forecasts, lightening our pack loads, and what to eat for dinner, we settled on carrying sneakers and sandals for possible varying temperatures and water crossings, but went for our individual bivvys over a tent.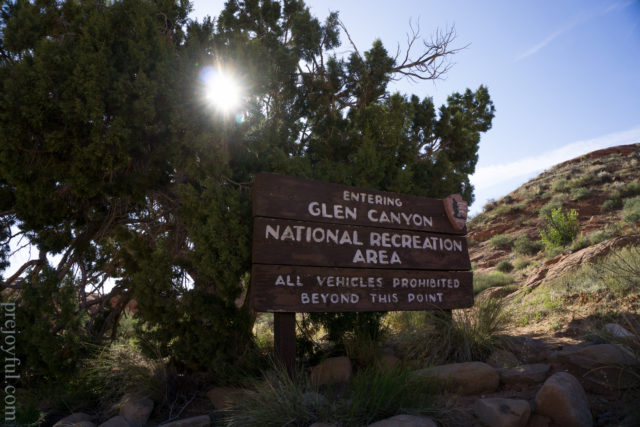 The trailheads in Escalante are all well signed, and while trails aren't marked on maps, this particular route was well worn and easy to follow.  As this was an impromptu trip, we weren't sure what water in Coyote Gulch was like – a river? A seasonal stream? We decided to get to the first spring noted on the map and continue only based on water availability. Walking down the dry gulch in the cool early morning temperatures helped me find my enjoyment of the desert again after one too many long hot days leading up to this trip. The loose gravel wasn't particularly fun to walk in, but we were enjoying the blooming cactus and other desert flowers in vibrant pinks, yellows, and purples.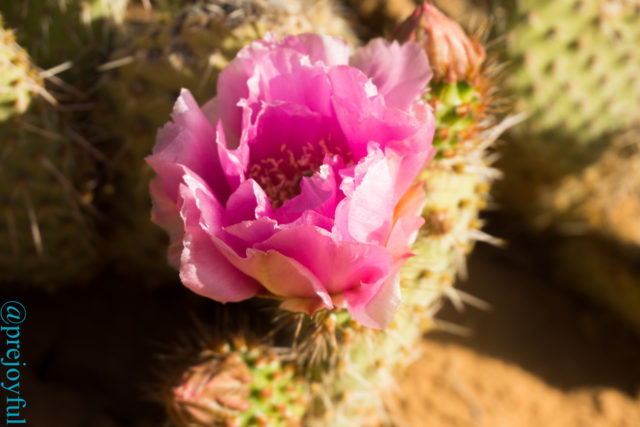 About 10 minutes after leaving the trailhead, early in the morning, we ran into two hikers.  As they approached, my brain couldn't figure out exactly what their itinerary had been.  It was too early for someone to have come out for a day hike and already be returning.  They weren't carrying anything for an overnight – even by ultralight standards.  Where were they coming from?  As we greeted them, they asked us how far the parking lot was.  We told them 10 minutes – confused.  One of the pair began explaining they had gotten lost in the rock hills.  It was only then I noticed torn pants, bruised legs, and bloody noses from the two of them. They had been out, overnight, for more than 15 hours.  They were so close to the cars that we decided not to escort them out, after checking that they had water available back in their car.  They assured us they were fine.  Later we would reflect on this disorganized conversation and realize that none of us had clarified which parking lot we were discussing.  Joffrey and I were left hoping that their car was actually at Hurricane Wash and not some other, farther location.  It's easy to get turned around in the desert, or to climb up a fascinating formation only to find that getting down is much more technical.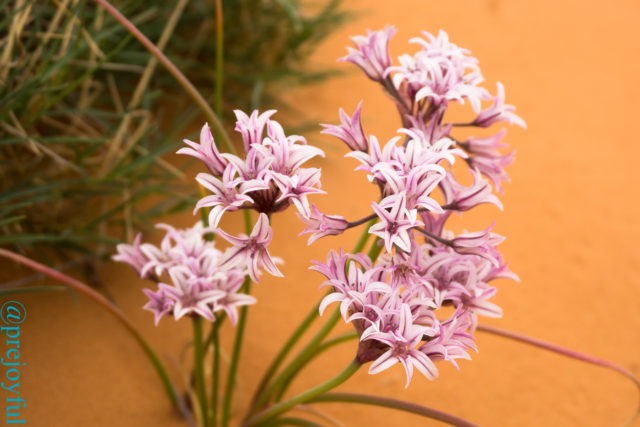 As we progressed, the Wingate sandstone surrounding the wash formed steeper walls, leading us deeper into the canyon.  We crossed the boundary into Glen Canyon Recreation area, and soon began to encounter trees and trickling water.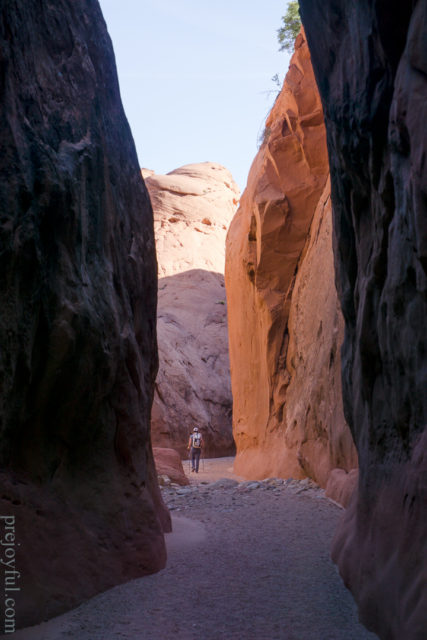 The entrance into Coyote Gulch was beautiful.  A wide, shallow, clear creek runs down the middle of the Gulch.  The trail winds around this creek, crossing and re-crossing the cool, refreshing water.  River shoes are a must, so we were thankful that we had brought our sandals. We spent most of the day walking in the water.  It was easier to follow than the trail, and the water warmed slowly throughout the day.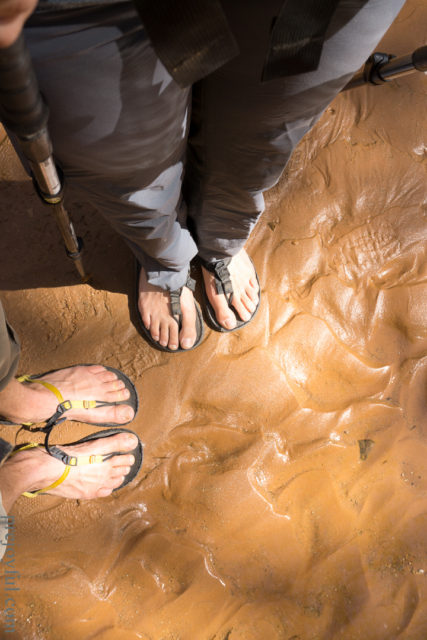 The trees had new leaves, enveloping us in the intense chartreuse green of early spring.  This intense green provided an incredible contrast to the striking red walls of the canyon.  We had been immersed in sandstone for months, but the color juxtaposition and lovely hiking reawakened our appreciation for these beautiful canyon lands.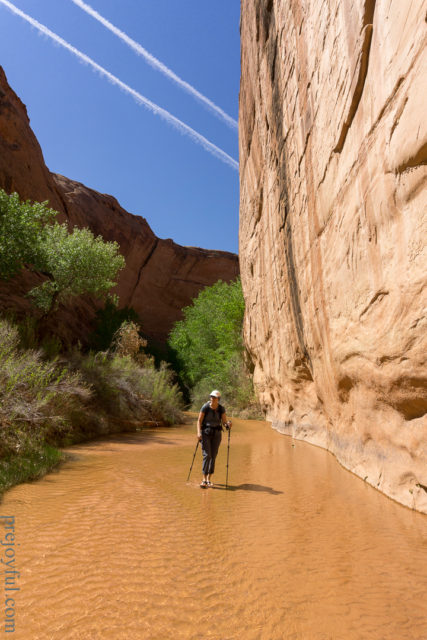 This was one of those hikes that recenter us, reminding us what peace and happiness feel like.  There's a simple joy in going whatever pace you want, with little on your back, no weight on your feet, with the perfect breeze, spring blooms, and warm water rushing between your toes. No worries or stress about our next trip, or future homes, jobs, or families.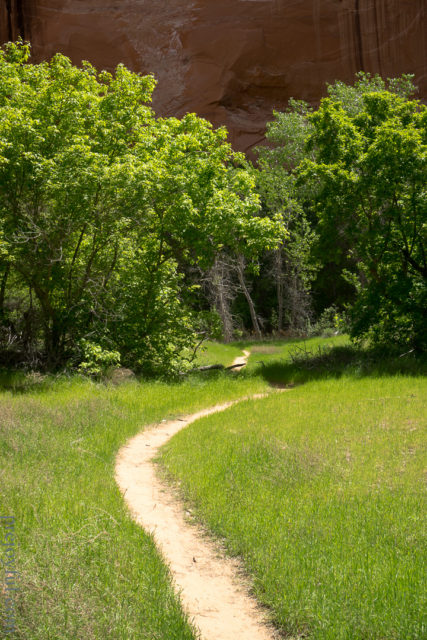 The hike is not remote.  It is not technical.  It is well documented.  There were plenty of other groups around, ranging from larger groups of ten to smaller groups of two.  Despite the traffic, we found the canyon to be in a generally good state.  The water was clear, there was very little micro-trash to pick up, and it seemed that people were respecting LNT ethics of this beautiful canyon.  The river winds, as rivers do, so there is a feeling of isolation since you can only see a short distance forward and behind.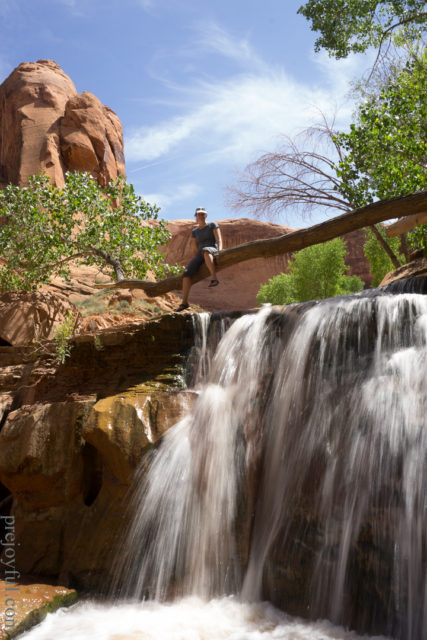 The highlights of the hike were certainly the well-known Jacob Hamlin Arch and Coyote Natural Bridge. Both took us by surprise as we walked around corners, and both were utterly beautiful.  Jacob Hamlin Arch is huge and majestic.  These were both delightful formations, and well worth the walk in to visit.  In the canyon near these features the bends were shadowed by huge overhanging cliffs, almost like gigantic caves.  There seems to be an above-canyon route from 40-mile Rd. (40 miles down Hole in the Wall Rd.) down what appeared to be about 3rd class ridge to Coyote Gulch just downstream of Jacob Hamlin Arch. We saw a group of what appeared to be novice backpackers navigating their way up this easy climb with help of ropes and pack-hauls (their packs looked very heavy!).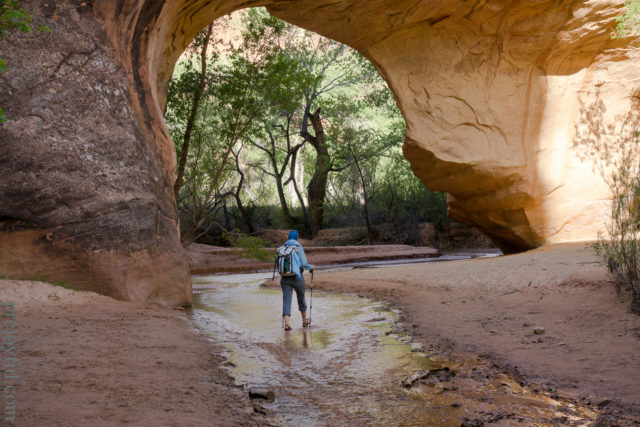 Towards the end of Coyote Gulch we were stopped by a huge boulder jam.  Joffrey navigated the way around, but it was steep, covered in loose sand and was above a big drop-off into the canyon.  I did not like the look of it, so we decided to leave Coyote Gulch here, just before its confluence with the Escalante river.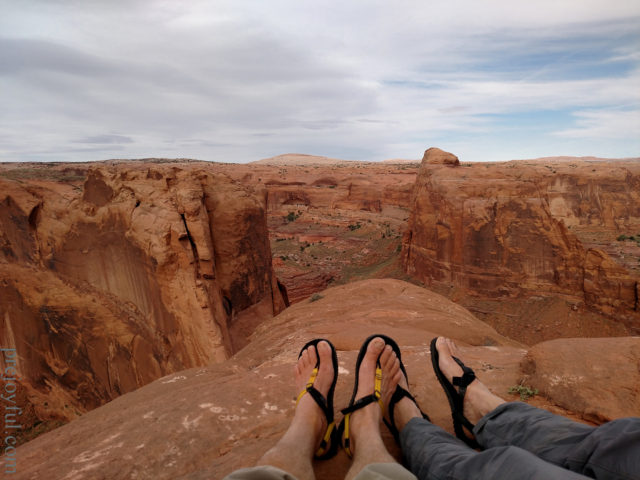 We followed a long sandy track upwards, away from the river.  It took us up and up to Crack-in-the-Wall, a detached rock flake, which gives an access point to the canyon from the plateau. Crack-in-the-Wall requires sliding sideways through a narrow passageway between two slabs, walking across a ledge, sliding through another narrow rock section, to pop out onto the gently rolling sandstone plateau. In our unplanned explorations of the area, we were happy to get fantastic views of the winding Escalante River and its bright green Cottonwood-lined banks.  After playing in the formation, we quickly loped back down the sand dune trail and walked our way back up the Gulch to find a campsite.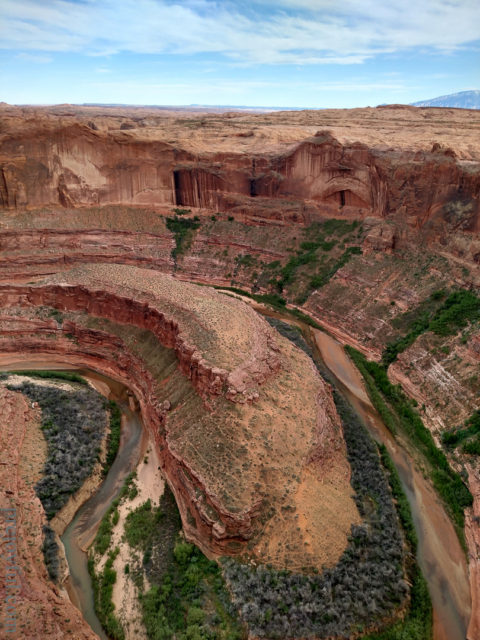 We found a nice overhang to protect us from the possible rain, and cowboy camped after enjoying dehydrated leftovers. Bats darted in the dusk, and the sounds of the river lulled us to sleep.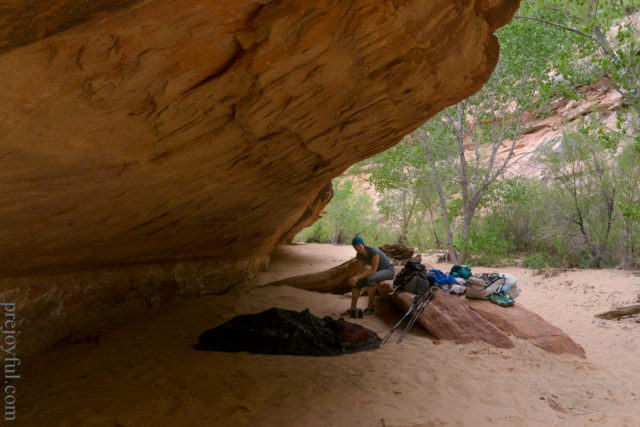 We woke in the early morning, rolled up our bivvies, and were walking at dawn. The nasty weather forecast spurred us on. With no sunlight on the water, the river was cold, and we tried to follow the trail on the banks more than we had during the warm day before. As we walked through the canyons, clouds roiled overhead, and the white puffy clouds we saw at first light began looking much more ominous.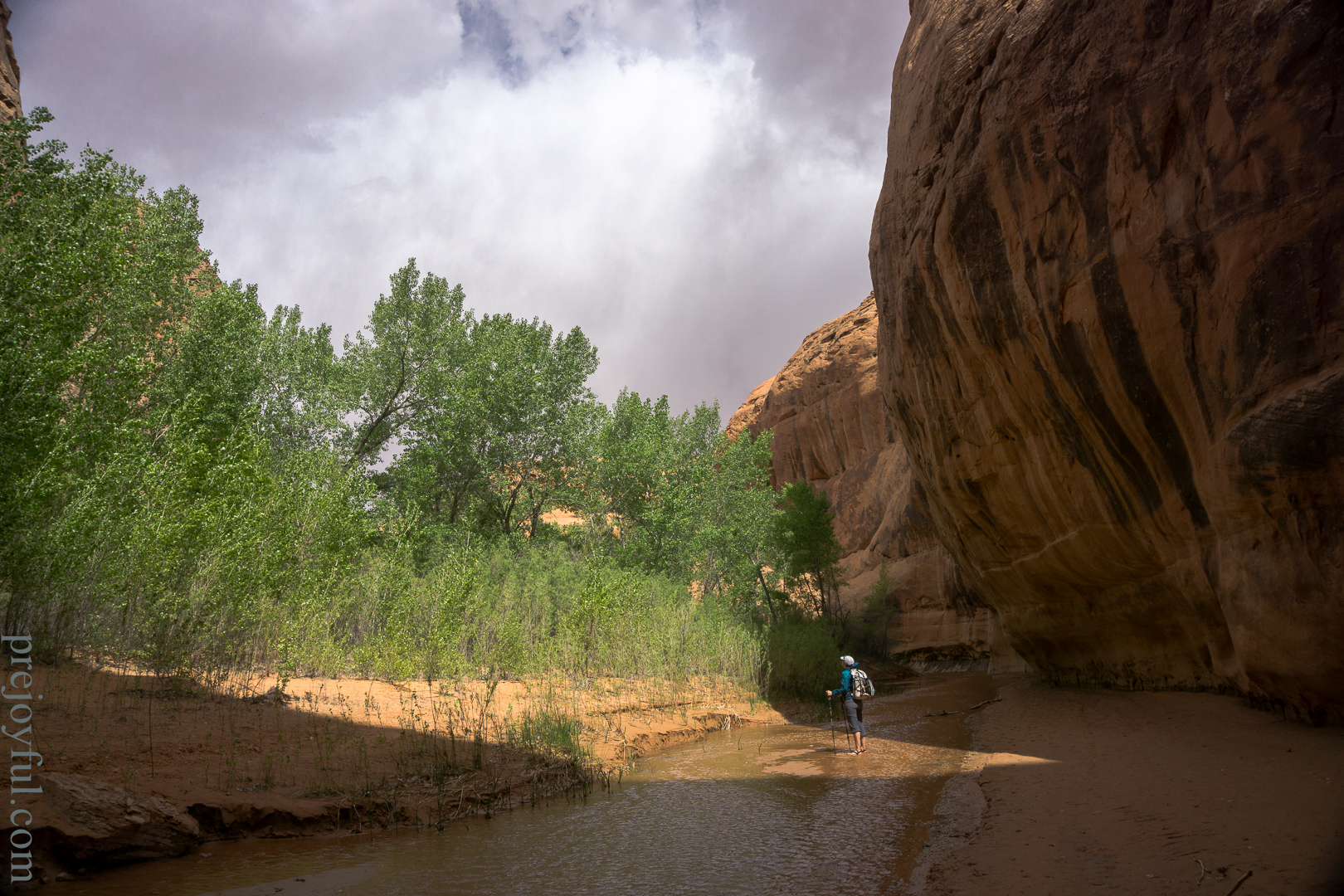 The silvery undersides of the Cottonwood leaves shimmered as gusts of wind shook the branches. We spotted a kingfisher skimming the creek and diving between the canyon walls. We put on our raincoats and walked on through the water and sand, the red canyon walls even more impressive against the dark clouds above.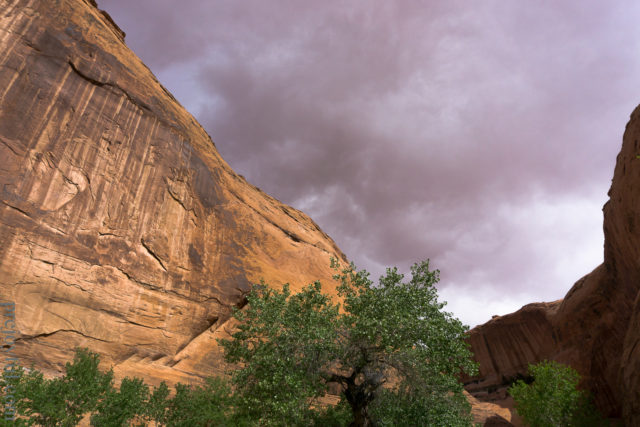 Somehow both Jacob Hamlin Arch and Coyote Natural Bridge caught us by surprise again, and we were once more awed. Sheets of rain shuddered intermittently against our jackets as we splashed our way back up Coyote Gulch. After some indecisive chatter about our planned path, we decided to take Hurricane Wash straight back to our van, rather than taking the longer route to Red Well and returning to our van via four miles of road. Nobody really likes a dusty road walk anyway.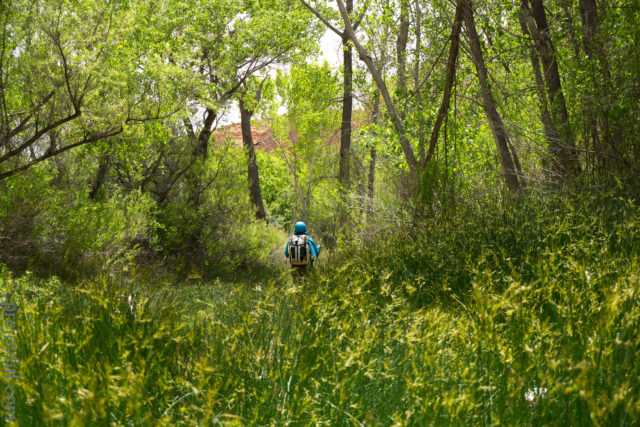 We leaned into the wind which howled down Hurricane Wash. The wash's name suddenly seemed apropos. Wind whipped sand up and into our eyes.  We trudged on through the loose sand and gravel of the gulch, heads down, stopping periodically to shield our faces from particularly violent gusts.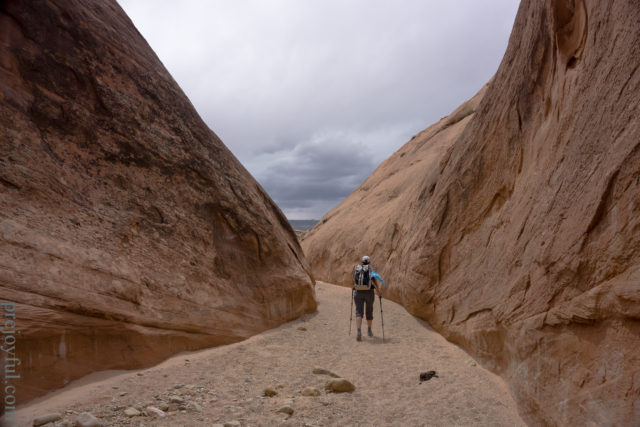 While the first day had reminded us what peace and happiness felt like, the second day quickly reminded that all things are transient. But a little prejoy, even on a weekend hike, only adds to the joy of completion. Eventually we were back at the van, sand-scoured, but recharged, pleased to be where we were, ready for more vanlife.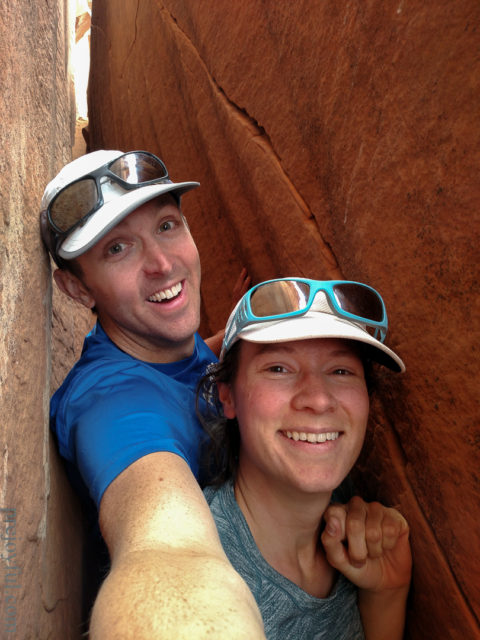 More information:
We had

Nat. Geo. map 710: Canyons of the Escalante

, but used it mostly to plan the hike, we used

Backcountry Navigator

with

caltopo

maps, as usual, but very little navigation was really required.

Stopping by the

Escalante Interagency Visitor Center

can be helpful (they will give you wag bags for free!), but their hours are awful, and you can self-register at the trailhead – it's free.

A 4-wheel-drive vehicle is not necessary to get to the trailhead, but Hole in the Wall Rd. is a very long dirt road with lots of washboarding, some sand, and some slickrock.

This is a very popular hike – there were lots of people there even on weekdays. There are quite a few campsites along Coyote Gulch, and one pit toilet which looks fairly new about 2 miles up from the confluence with the Escalante river.
If you're out there, it can be fun to hike the little slots off the dry fork of Coyote Gulch (Spooky Gulch, Peek-A-Boo, and Zebra slots are probably the most well-known), well up-"stream" from this hike. Info is all over the internet and the Visitors Center can provide info and little maps. Here are pictures of some of those slots.