Waayyy back in September (2015), on our first visit to San Francisco, we took a day trip to Richmond, CA. Our friend Gen (of YAMA gear) had recommended a some minimalist footwear that we thought we'd try. We arrived at Bedrock's new manufacturing location to try on their sandals.  The rest is nine months of history! We've been wearing our sandals as every-day shoes for the whole van trip (okay, not in the deep snow). They are our go-to walking shoes, our go to slip-on-in-the-middle-of-the-night shoes, our camp shoes, our city shoes.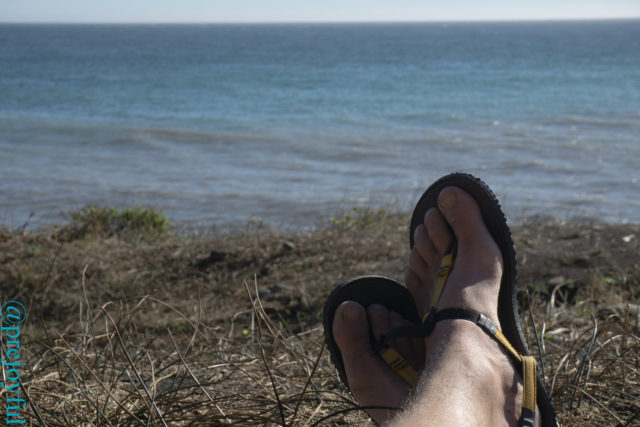 I was a Chaco wearer, for years. Every spring I'd bring out the Chacos, and steel myself for a painful two weeks of blisters near my ankles before my feet calloused up for the summer. I stood by them as excellent shoes. Joffrey insists that excellent shoes never give you blisters, even for only two weeks. The Chacos also became a problem as my pack weight lightened; they were too hefty to be camp shoes. They also moved their manufacturing from the United States to China, which, while common, rubs us the wrong way. Finally, they never lasted as long as I wanted them to.
While I was hesitant at first, the Bedrocks have been the answer to all those problems. They are minimalist, yet very comfortable. I have the cushier, thicker Gabbros and Joffrey has the even thinner, lighter Earthquakes. Once I got the right strap adjustment after a couple of days, I haven't had to fiddle with the straps. My Gabbros weigh about 4.5 oz for the pair, and Joffrey's Earthquakes weigh in just a fraction of an ounce less.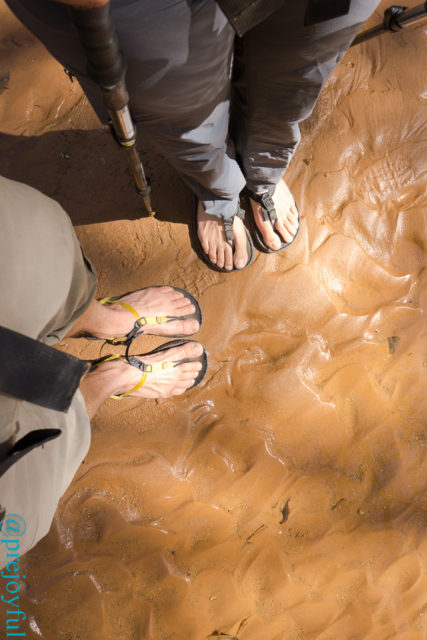 I've always been an advocate for carrying sandals with me on backpacking trips. My feet overheat, even in my favorite broken-in sneakers, and sandals offer a respite in the evening, or an option if blisters become a problem. Joffrey's ultralight philosophy make him adamantly opposed to carrying the extra weight of shoes. He has slowly come around to the idea that the Bedrocks really don't weigh all that much, and can be great footwear additions – especially on any hike where there will be a river to explore. These sandals go with me everywhere now.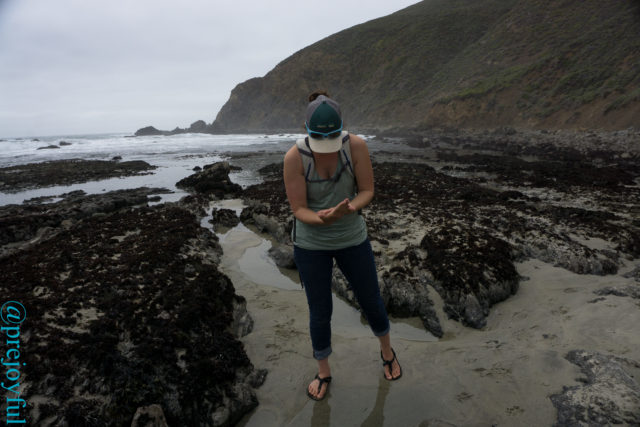 The sandals are super-man level durable, and they've taken every trip, turn, rock, and run that I've thrown at them. The flip-flop like toe design is bomber with zero sign of the anchor point losing strength or failing, and it doesn't rub between my toes. The soles are Vibram, and both varieties of treads have great traction. We have each put around 100 trail miles on our sandals as well (mostly backpacking), and the tread is showing some wear, though mostly from city walking. The tops are covered with "ballistic" nylon, which is comfortable against the feet, and has held on strongly with little wear. After almost 9 months of use, the sandal beds have bowed to conform to our feet, giving them an even more comfortable feel.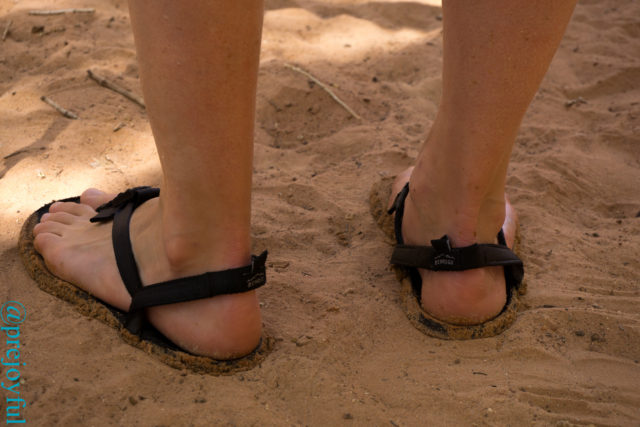 The strapping system is interesting – there is a single strap which winds its way from between your big toe and other toes to each side of the heel pulling your heel forward, then re-attaching to the toe strap with an adjustable buckle. It's quite simple, and quite durable. The system makes them highly customizable, and everyone seems to figure out their own system.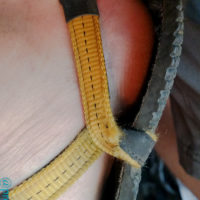 Once they are set up, they don't need to be adjusted at all, and slip right on my feet. The nylon strap has a few rubberized sections which help keep the strap in place, keep the heel in place, and protect against wear on the bottom of the sandal.These mostly have held up, but are not fatal to the sandal if they lose their elasticity. Mine wore out due to pure user-abuse (I leave my straps under my heel sometimes when I walk around), but a little sewing fixed them right up.The narrower webbing on the Earthquakes does show some fraying where the webbing rubs against itself (see photo), but Joffrey's sandals still have plenty of life left in them. The thicker webbing on the Gabbros seems not to have this issue.
Last, but not least, these sandals are made in the good ol' USA at their little factory-office in Richmond, CA, just north of Berkeley. Bedrock tries to source all their material from the US as well, not just the final product. That means that they do their best to use the US produced Vibram sole options, buy their webbing from US produced military webbing manufacturers, and get all the sewing and laser cutting done here as well. I can't imagine what a pain in the butt it must be to start a new company, put effort into creating a new product that functions so perfectly, while also actively searching for materials that come from this country.  I'm impressed, and I'm completely sold on these sandals. Both of us would definitely buy these sandals again (though Joffrey says he might get Gabbros next time for the additional padding). We're also super excited about their new (super comfy!) less minimalist sandal, which will be released this month!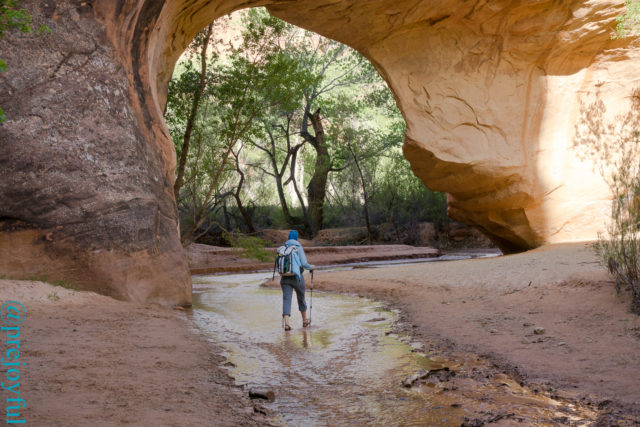 More Resources:
Note: we paid for our sandals in full – these are just products we actually use and love!