We have long dreamed of skiing into Yellowstone in the winter. It's been described as a winter wonderland: a place of magic with wild animals still abundantly visible against a snowy backdrop, and plumes of geothermal steam rising from the meadows.

This was one of the trips firmly on our to-do list for our year of #vanlife. We planned for a trip in February, and as other time commitments appeared, we scheduled them around this trip to our best ability. I made sure to pick up my home-made pulk sled from storage, and made moves to finish a one-ski-quiver for backcountry touring and downhill uses. This led me to new Telemark setup mounted on my carbon G3 skis. Annie's path toward skis was less clear. She has been a downhill skier (inbounds) for most of her life, and wanted a pair of skis that performed well on groomed slopes, but wanted also to be able to handle looser snow we might find in the West. She also wanted a pair of cross-country (XC) skis for general touring. Torn between two options and wanting to save valuable space in the van, she opted for a setup similar to mine – an Alpine Touring setup with hard plastic boots that free up with a "walk mode", but can lock down for alpine downhill skiing.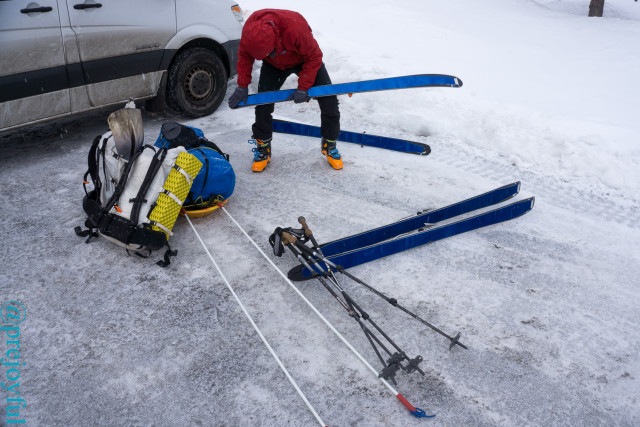 These choices of skis with nylon skins became our touring setups, in place of cross-country skis. The route we planned into the park was mostly flat, but we plotted a more adventurous route out which would take us up and over the Continental Divide, where we envisioned the floatation of the big skis and their downhill abilities would come in more useful. Seeing average lows in the single digits Fahrenheit at the end of February, it seemed that the insulated hard plastic boots also might be a good choice, particularly if the weather turned.
As it turns out, Yellowstone is a very popular winter destination. Not many people ski in, but many people take snowcats in from the South, West, and North Gates. The roads from these entrances are packed snow and are groomed nightly for the day's deluge of motorized visitors. Skiing on this snowpack over the relatively flat terrain of the park roads turns out to be fairly easy.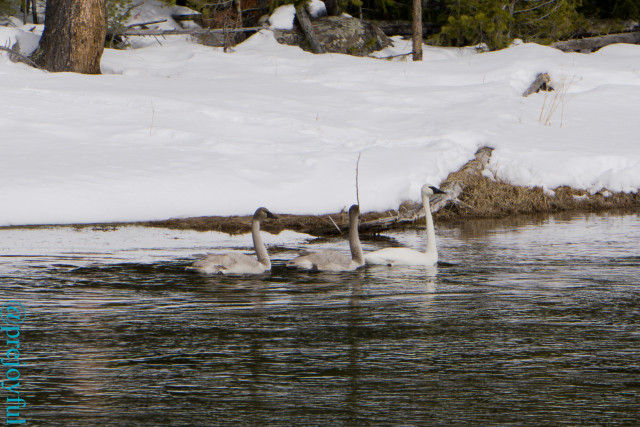 We booked cabins at Old Faithful for two nights, and plotted for one overnight for the 32 mile ski along the snow road. For the route out, we expected to spend two nights on Mad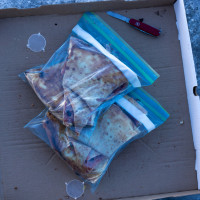 ison Plateau during an arduous backcountry route across the Continental Divide, out of the park to a forest road sometimes used by snowmobilers. Chatting with backcountry permit office rangers was quite helpful. They answered my questions about snowpack, temperatures, winds, avalanche risk, campsites, ski trails, and more. That said, I did not get a good impression of just how popular and travelled our route in would be. We started on a weekday, and, it seemed like over 50 vehicles passed us in each direction each day. Some were guided snowmobile groups, and others were large vans retrofitted with tank-treads or huge snow tires.
On our way to West Yellowstone, we bought two large pizzas. We bagged the pizza, to be eaten for lunch on our trip. This was a tip I learned from my friend Lucas on a winter trip to Katahdin in Maine a few years ago. It's delicious!
In West Yellowstone, we packed up our gear, got a permit to park The Fire Truck at the visitors' center (free, from the chamber of commerce, co-located in the Visitor's Center), and took off a little later than intended (around 9 am), after skiing to reach the front gate, where we realized we'd left our park pass in the van.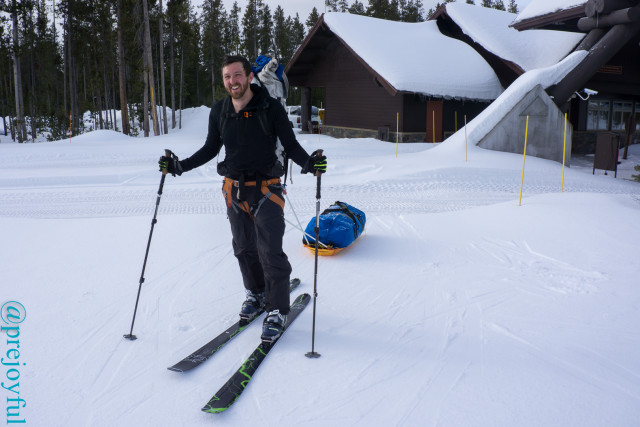 Starting in earnest, we were quickly aware of a few things. One: the nylon skins I had bought on sale have essentially no glide, except on very hard snow. Two: These boots and skis are heavy! Three: It was way too warm. With highs near freezing and in the sun, we quickly overheated, and sweat profusely in our over-warm boots. This, along with the unrelenting nature of double-plastic boots, led inevitably to blisters. Before long, we both were stopped on the side of the road, boots off, trying to figure out our footwear. Annie had it worst, as her boots were fit more for alpine downhill skiing than for touring. We repaired our hotspots, made boot adjustments and continued the slog.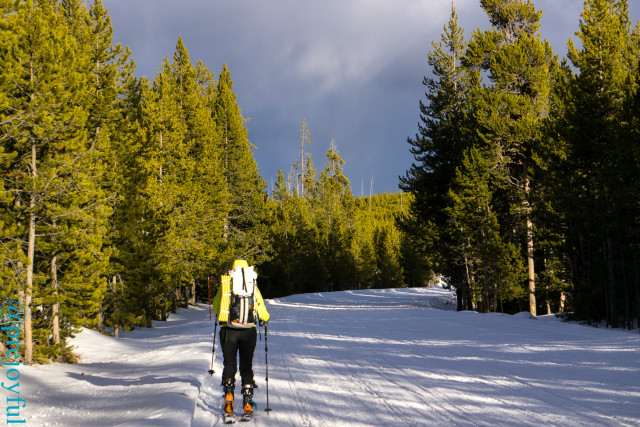 Snowmobile parades and snow coaches zoomed past us, always courteous to slow down and give us space. After the first few miles, the road wound along the Madison river, and we began to see some wildlife. Bison, ducks, geese, swans, all made appearances, and we saw occasional tracks from wolf, bobcat, and coyote.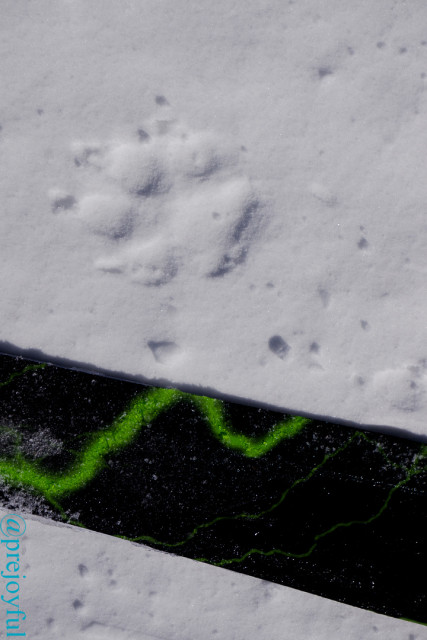 As we struggled on in the warmth, the snow became softer and we got even less glide. Vehicles continued to pass us, most with friendly waves. In the afternoon, as we stopped for a drink of water, a small group of snowmobilers stopped a short ways ahead of us, clearly looking at something across the river. When we reached them, they pointed about 200 yards across the river, at three wolves, trotting along the river bank. I quickly pulled out my camera and took what pictures I could. What a treat! We hadn't even made it through our first day, and already I had seen the animals I most wanted to see.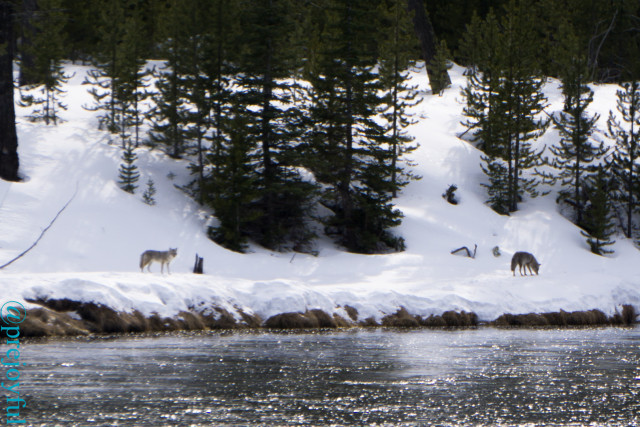 The animal sightings would cause us to forget our pains, and buoy our spirits for a while, but before long it was on to the trudgery. A park ranger on a snowmobile stopped to ask us where we were going and what our plan was. He told us that the bathrooms at Madison Campground were open, where to camp, and also that there was a warming hut! If we got cold, he said we were welcome to go inside and start a fire. This was more than I expected. I had heard on the phone from the backcountry permit ranger that the toilets would be open, but expected pit toilets and little more. As it turned out, the bathrooms were heated with running water and warm air hand dryers! Certainly good safety margins for Annie's first cold night out.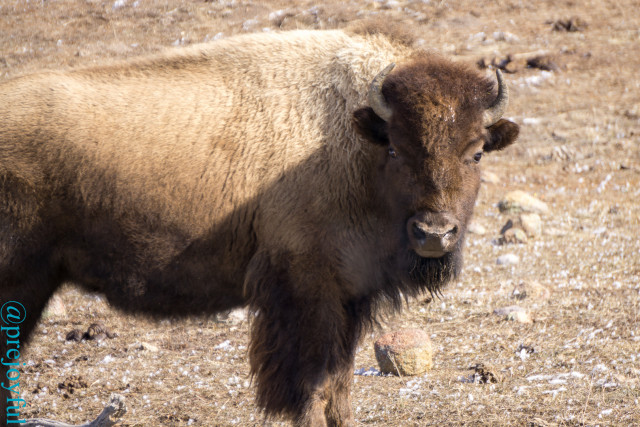 We plodded on, and as dusk drew about us, we neared the campground. The last half mile of the 16 mile day was perfectly agonizing. When we arrived, we were dismayed to find that the snow was all melt-freeze crystalline with a thick crust that barely would not hold body weight. Aside from sheer rock, this is the worst condition for pitching a trekking-pole shelter. Exhausted, we dug out a decent sized platform and shoddily erected the YAMA Cirriform tarp with stakes flimsily piercing the snowy crust. Digging and making proper deadman anchors for all of the tie outs seemed too much. Fortunately the night was calm. We made dinner, and finally maneuvered ourselves into the tarp. With the dug out floor, the tarp is surprisingly roomy. It took little time for us to warm up our Feathered Friends Spoonbill UL double sleeping bag (with 2 oz 900 loft overfill), and before long, we drifted off to sleep.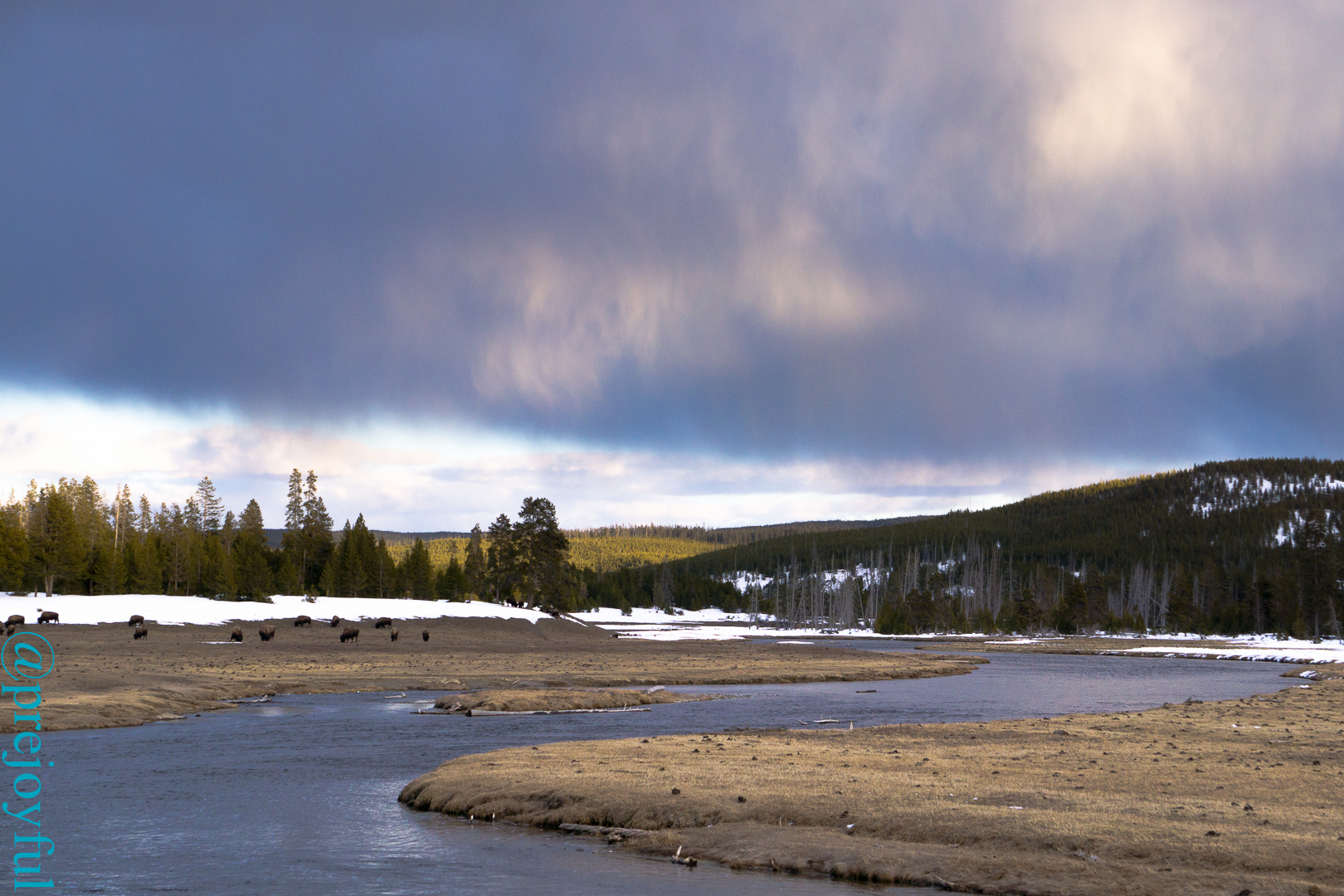 We expected lows of around 8 Fahrenheit (-13 C). This being the inaugural trip for our Spoonbill sleeping bag, we were unsure if it was warm enough In fact, we were quite warm all night, and didn't need the backup bag we had brought. When we arose just before first light, the thermometer on the warming hut read about -10 F (-23 C), and before we left our site, a ranger told us the low for the night hit -15 F (-26 C). That's pretty chilly!
There was some frost built up on the YAMA tarp in spite of good ventilation (I think frost settled on everything as we were near a warm river), and breezes would knock some down onto us, but it was not too bad. Our plastic boots however were too cold to easily get our feet into. Fortunately, we had the heated bathrooms and their hand dryers. Looking like hobos in our down booties, we warmed our boots to pliability in the bathroom, and set out later than intended at about 8 am.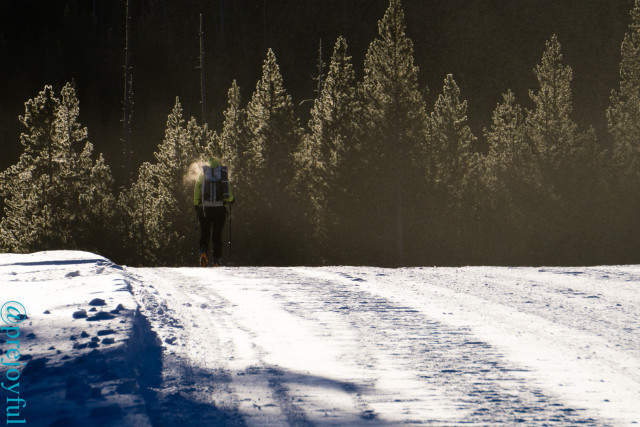 This day was even hotter – the air temperature was lower, but no afternoon clouds shielded us, and our path took us through open meadows beaten by the sun. Early in the morning, one of the first snowcoaches to pass us halted to let us know that there was a herd of bison behind us on the road. We kept pushing, but on longer straight stretches could see them behind us. This kept on for several miles with river on one side and steep slopes and cliffs on the other. When the terrain opened up, we stopped for a snack, and let the bison pass.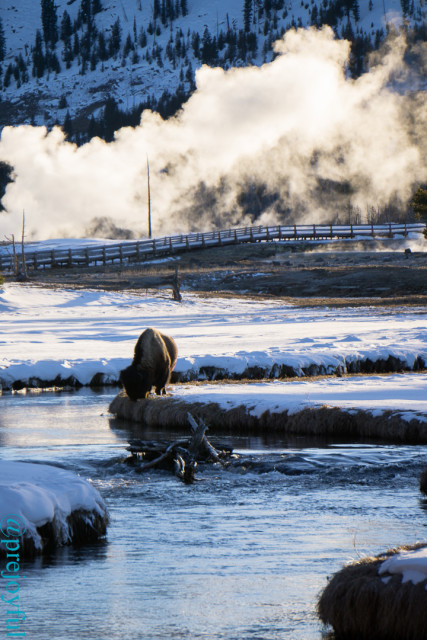 Out into the clearings and meadows, we saw evidence of the first big geothermal features we would pass. Steam rose above trees and plains, and streams produced eerie fogs. Small herds of bison roamed the open spaces, silhouetted against the snow and steam. We saw signs for a pull-off for Lower Geyser Basin, and struggled until we reached it, stopping for lunch.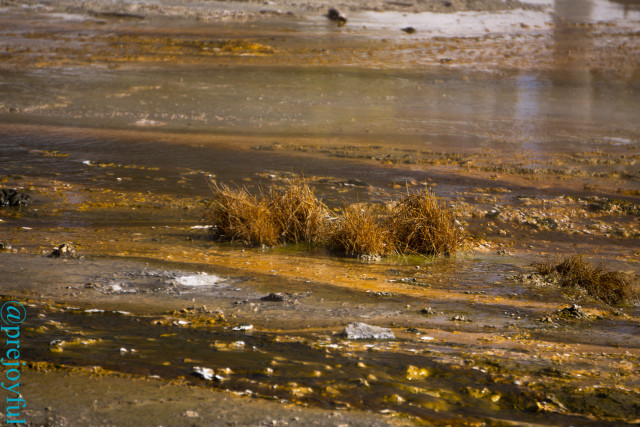 Several snowmobile tour groups stopped here to see the mudpots, pools, and geysers, and many were impressed with our efforts. However, we were too beaten to walk the short boardwalk loop to see the sights. Once done with our pizza lunch, we begrudgingly trudged on. It seemed interminable. Eventually, we reached a modestly sized hill, and we removed our skins to try to ski down. It reduced efforts for a short while, but the hill was not steep enough to keep us moving at any speed, and soon I had to re-apply my skins.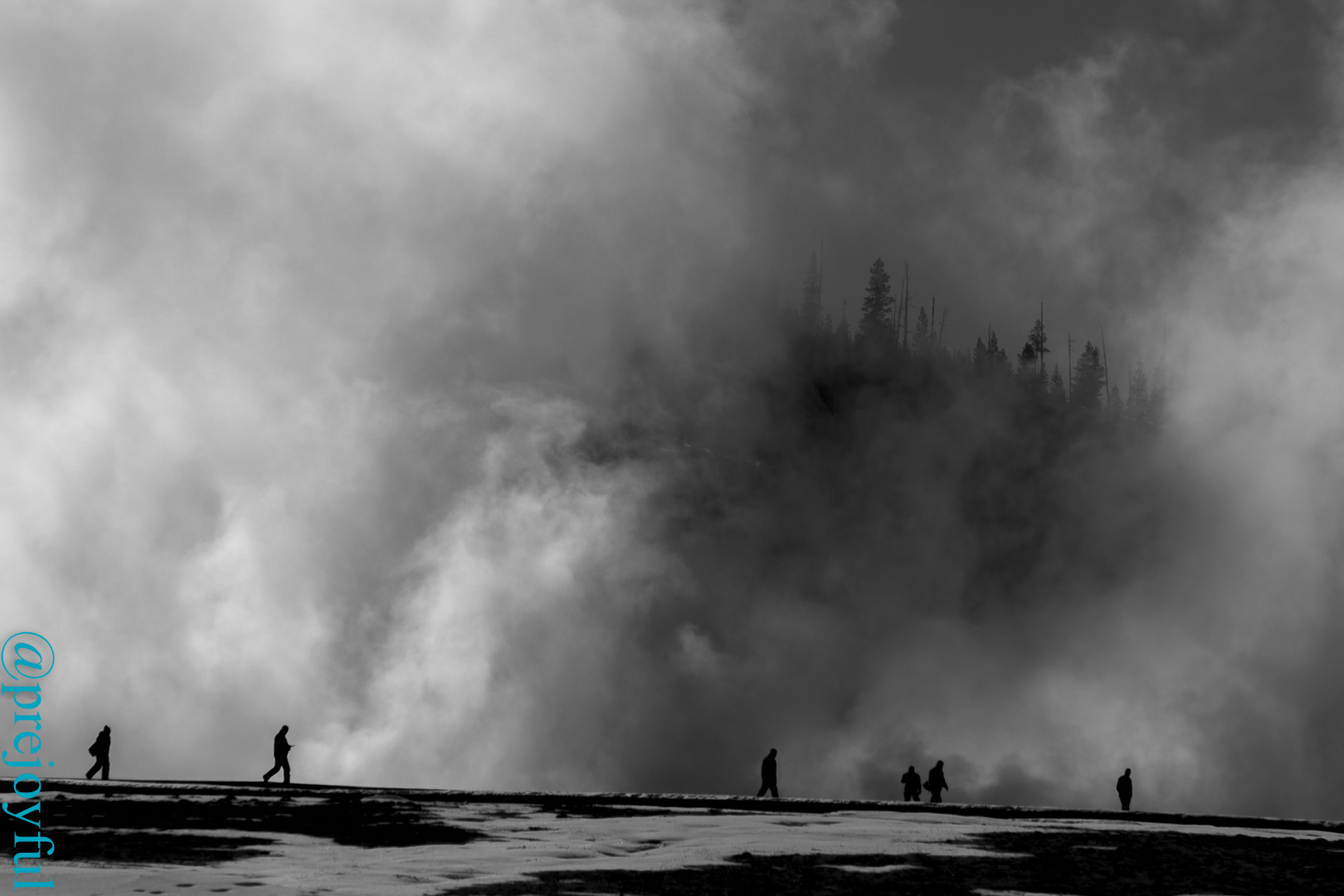 On, and on we went. But Old Faithful remained distant. As the sun set, we stopped for a snack, knowing we would not finish before dark, but needed sustenance to push through. We moved on, and just as darkness fell and we had to put on our headlamps, the road ran dry at an interchange. We decided to take the snowy route up and over the interchange, doing a little zig-zag up and over the road and back down to the road to avoid the bare patch.
It was dark. We were exhausted, and fumbling over our maps in Backcountry Navigator, which told me we had already covered well over the 16 miles described by road signs we had seen early in the day. Eventually, we found it. We happened upon a woman just finishing her shift, who asked if we were the people skiing in today. We were indeed.
Apparently, we had already been missed, an hour after dark, and many people knew we were due. Rangers had been alerted, but no search started to our knowledge. We were shown to the Old Faithful Snow Lodge where they were happy to check us in. The lodge had a restaurant, and bar, which sounded kind of nice, but we were tired, and mostly wanted to get to bed. Backcountry Navigator ticked over 18 miles on the day, a healthy dose over the 16 we expected to kick our butts. Nevertheless, we managed to cook on our Whisperlite outside our cabin and eat before crashing and sleeping through the night.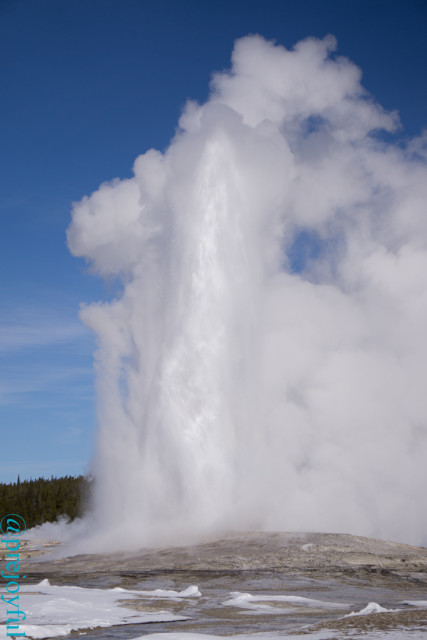 The little cabins are cute, affordable, and have hot showers! What's more, the cheapest versions have two full beds, so two couples could easily share to make it even more reasonable. The next step up cabins have dual queen beds, slightly less finicky heating systems, and nicer showers.
We awoke sore and tired, and took stock of the damages. Our feet were blistered rather badly, and putting our boots back on to ski much more seemed unlikely. Annie told me that skiing out was only a last-resort option. We looked into our options, and I called a few of the companies that run snowcoach tours. Eventually, I arranged a ride with Backcountry Adventures in West Yellowstone. We had to pay the full round trip tour cost, but they had space for our skis and pulk.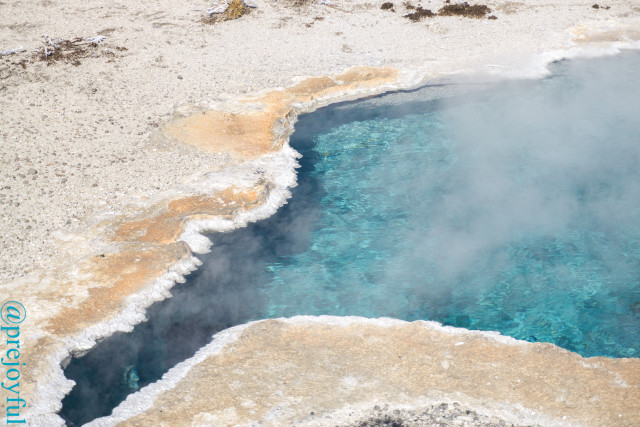 With ruined feet, we took our time. We went to watch Old Faithful erupt, and walked around the boardwalk in the area. It turns out that the eruption is much different than in the summer as there is much more steam in winter. It can be difficult to distinguish the water and the steam erupting. As we left Old Faithful, we lucked into Beehive geyser erupting, which only happens every 10 hours or so.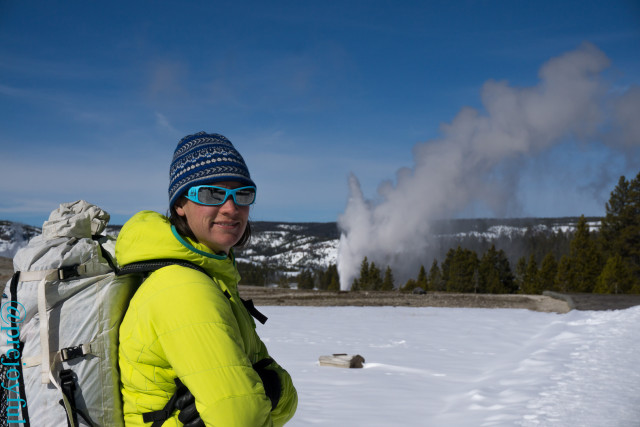 Though our feet hurt, the various hot springs, pools, geysers, and fumaroles in the Old Faithful area are so colorful and fascinating that we were captivated and forgot our pain. I took many pictures. These are perhaps not as good as they might be in summer, due to the vast amount of steam covering many features. Regardless, steam is partly what makes Yellowstone so magical in the winter.
That evening, we enjoyed a couple of drinks in the Snow Lodge, and worked on a puzzle. We made some new friends at the bar discussing the various cross country ski adventures nearby. Hotels are not normally my scene, but we really enjoyed our time in the Snow Lodge.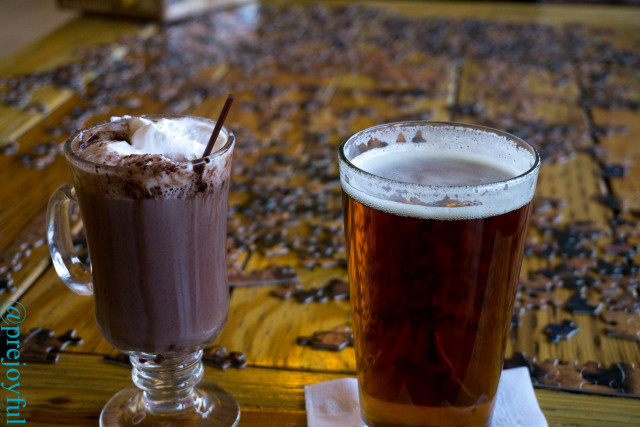 The next day, the snow coach was set to pick us up around noon, so we went for a tour of the Visitor Center and its many little infographic displays telling us about the fascinating wildlife and geology of Yellowstone. When the driver arrived, we got our gear on board, and away we went in a huge-tired van! There were only 5 guests on board the van, so we had plenty of space, and the driver was friendly and happy to entertain our many questions and stop for various wildlife sightings.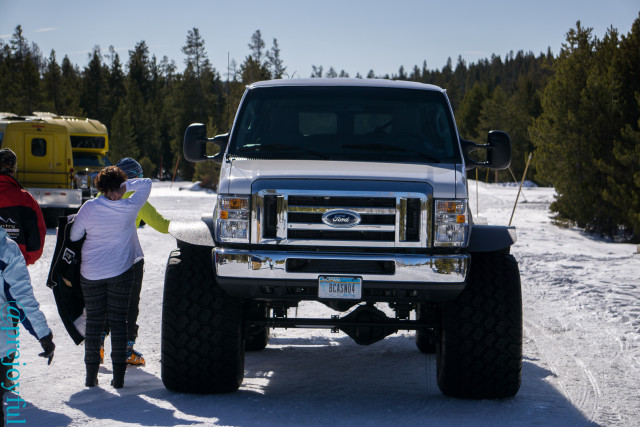 On the way out, we stopped at the Lower Geyser Basin, which includes one of my favorite things in this world: The Fountain Paint Pots. These bubbling mud pools are easily one of the neatest things I've seen. The thick, colorful mud bubbles and writhes as if possessed.
Continuing the tour, we drove through  Firehole canyon to look at waterfalls, saw some Elk, many bison, swans, and even an otter in the river before arriving back in West Yellowstone.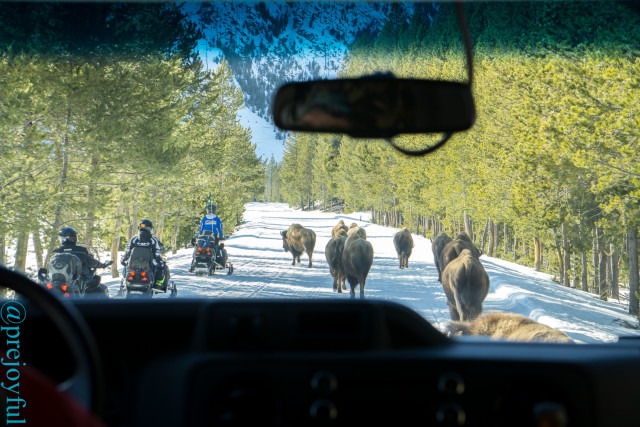 The trip was not what we expected or wanted in terms of physical adventure, but we had bitten off more than we could chew with the gear we chose. The route we planned up and over the Continental Divide should be quite doable with lighter equipment. Even with skins that have some glide, we would have moved much faster and more efficiently. If the weather were colder, our boots would have been less overkill and perhaps if we didn't sweat through them, blistering would have been less an issue. Regardless, it seems that choosing a wide cross-country (XC) ski, or lightweight backcountry scaled ski would be a vast improvement for this sort of trip. After chatting with some folks in town, we even think that if you're a strong skate skier, you could ski the whole way in from West Yellowstone in a day, starting early. We did not get to experience any of the groomed or frequently tracked XC trails in the area which go past many other geothermal features. We'll have to go back!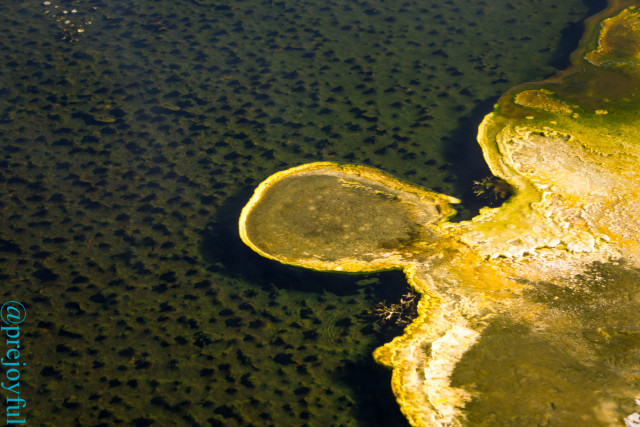 In spite of the boot/ski failure, we had a wonderful time. Yellowstone is gorgeous in the winter, and the whole time there I was thinking about other places to explore and how best to do it. For anyone interested in seeing Yellowstone with less snow, but also fewer people than in the summer, note that in April sometime the roads are cleared and are open to bicyclist for about a week before cars are permitted. Sounds like a perfect time for a bikepacking trip!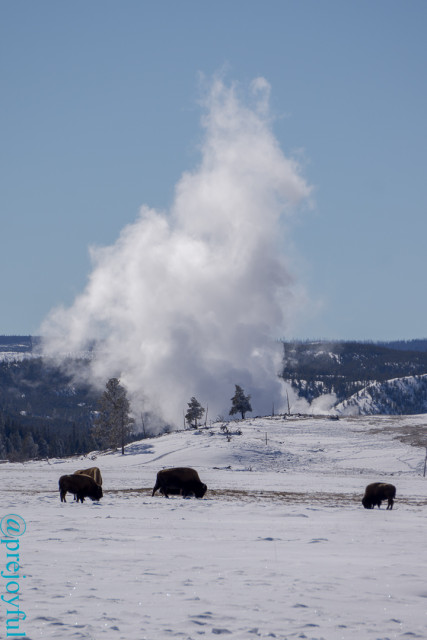 Notes and resources:
The National Geographic map (302) is… fine.
Backcountry Navigator Pro with Caltopo maps is great!
Yellowstone Backcountry office
Snowcoach and snowmobile guided tours in Yellowstone (we used Backcountry Adventures who have nice LNT stickers in their window!)
West Yellowstone Information center location (and Chamber of Commerce)
We ate twice at The Slippery Otter Pub which has a funny name, decent beer and food, and is open all year
Afterward, we rented XC skis from Freeheel and Wheel and spent a lovely day skiing Rendezvous Ski Trails