Joffrey and I have been using our Hyperlite Mountain Gear Porter Packs since the beginning of our trip in August.  We've used them backpacking, skiing, traveling on planes, and for day trips.
I use the Porter 3400 and Joffrey uses the Porter 4400, both in 150 denier white "cuben fiber" now called Dyneema Composite Fabrics. This fabric has incredibly high tensile strength, is waterproof, very light, and the thicker 150D material we have is quite abrasion and puncture resistant. I have a medium torso pack, but with a large-sized hip belt. Joffrey has medium/medium. We both have Porter stuff pockets attached for external storage (that's the black-nylon netting you see on the outside of the pack – it's detachable and is sold separately). The packs sport a lightweight internal frame, which helps them feel comfortable on your back, and helps transfer loads to the hipbelt where it belongs. The packs weigh in at around 2.5 lbs with the attached external pockets. Removing those pockets trims that weight down even more.
The customer service over at HMG was phenomenal when we ordered them – helpful, knowledgeable, and adaptable. My large-sized hipbelt and the 150D fabric on the Porter 3400 were both customizations for my pack. The packs shipped quickly, even with the custom modifications.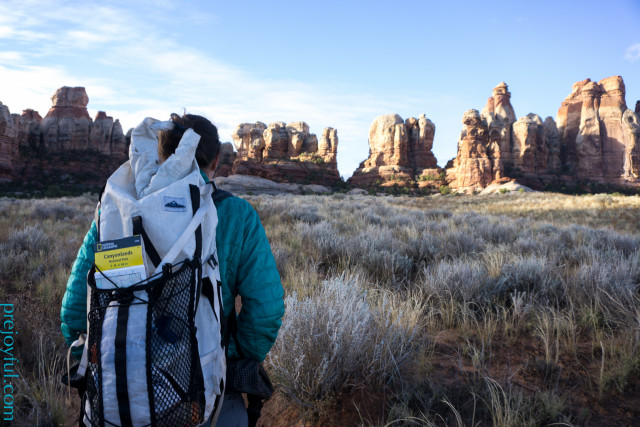 So far, we generally love these packs. They carry weight beautifully, including carrying loaded bear canisters comfortably.  The compression straps are beautiful on this pack.  They balance weight well, and the top Y strap helps everything stay stable inside, while drawing weight up onto the shoulders.  The roll top can be fastened several ways: buckled down the sides, or together as a loop closure, depending on user preference. Joffrey's larger pack compresses down well, although it doesn't look at svelte as mine.  He rarely needs the extra space, but it does come in useful in the winter when gear is so much bulkier.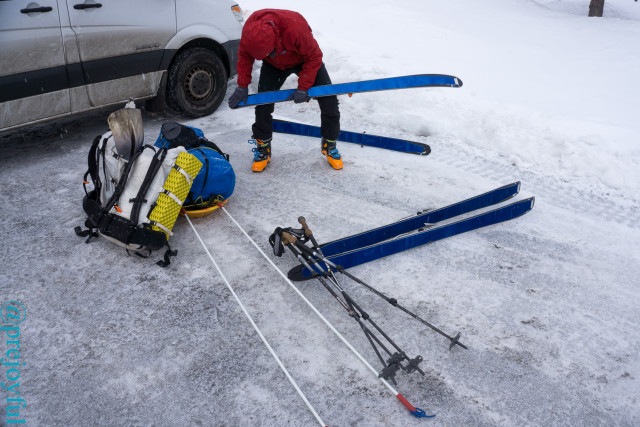 We liked the Porter for it's versatility and daisy chains.  The Porter pocket seemed to be the answer to our hiking style – having a few things like snacks and water outside the pack for fast, efficient breaks.  The pocket has been totally fine, but I personally would probably buy the 3400 Southwest if I could go back.  I miss having multiple compartments, rather than a single pocket.  I also really miss having a port for a drinking bladder, which the Porter does not offer. This is what allows the pack to be nearly submersibly waterproof (not quite, but a short dunk isn't likely to soak your gear).  These niggles haven't been urgent enough for me to change packs yet, though.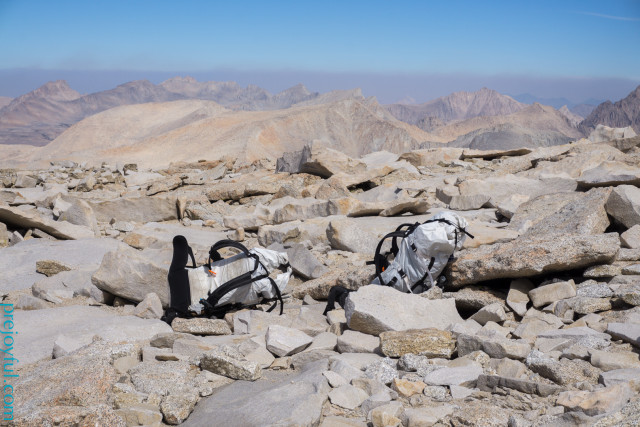 We love the heavier denier cuben.  It has taken a serious beating, and doesn't show any appreciable damage. We've taken the packs off-trail in the granite talus fields of the high Sierra, into canyons of abrasive sand and limestone filled with all kinds of prickly things, in the snow, on the beach, in and out of the van, stuffed, filled, emptied, over and over. These things are durable!
Having a pack that's made of a waterproof fabric has been a completely different game than lining packs with trash bags.  I personally still use water resistant/proof stuff sacks for clothing layers, but packing has been a lot more versatile without worrying about overall waterproofing. Coming from a more traditional backpack, you could easily leave your pack covers at home; you certainly won't want or need one.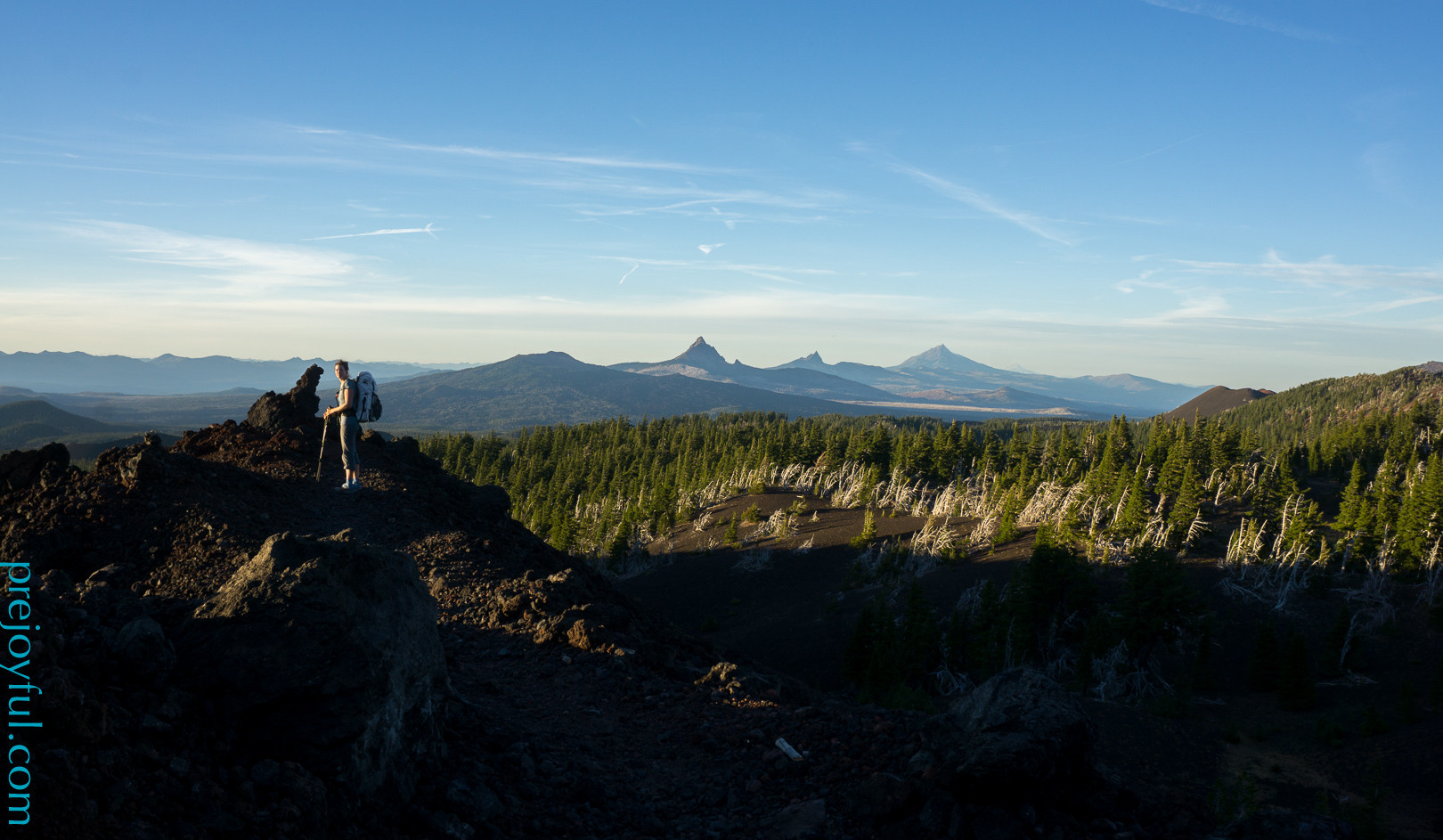 Joffrey hates the hipbelt pockets.  He thinks they're hard to use when the pack is buckled around the waist.  This is due to the completely lack of elasticity, as well as the location and length of the zippers. The pockets are not huge either, holding only a couple of granola bars, or a headlamp and compass comfortably. Putting more gear in them causes them to rub your forearms as your arms naturally swing (without trekking poles). These issues don't bother me as much, as I did not have a pack with hipbelt pockets before, so they add a quality of life for me. The inflexible pockets are, however durable. Joffrey's old GoLite Jam had several patched holes in the hipbelt pockets.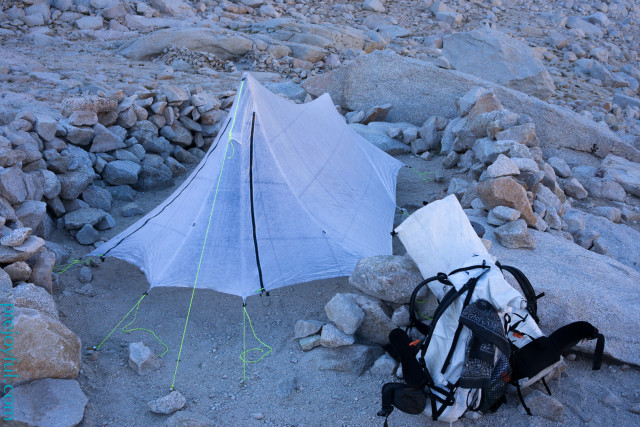 My main complaint is the shape of the hipbelt.  I have the large belt so that the wide portion of the belt would rest completely around my hips. This aspect fits well.  The frustrating part is that the hipbelt has no curvature or angle to it.  It hugs my hips and sits beautifully when I first clip the pack on in the morning, and during general walking.  As soon as I enter third/fourth class terrain where I might be bending at the waist to use my hands or climb over steep terrain, the waist belt wants to pop above my hips and onto my natural waist.  It doesn't resettle onto my wider hips naturally – I have to unclip and adjust the weight to make the pack carry correctly.  This doesn't seem to be a problem for straight and narrow manly hips like Joffrey's.  I'd love for them to consider a women's waist belt design that takes anatomy into consideration. The ULA Circuit's hip belt has this feature – it is both wider than the HMG belt, but also has dual adjustments for top and bottom of the belt, allowing for an angled adjustment for the belt to rest more naturally on womens' hips.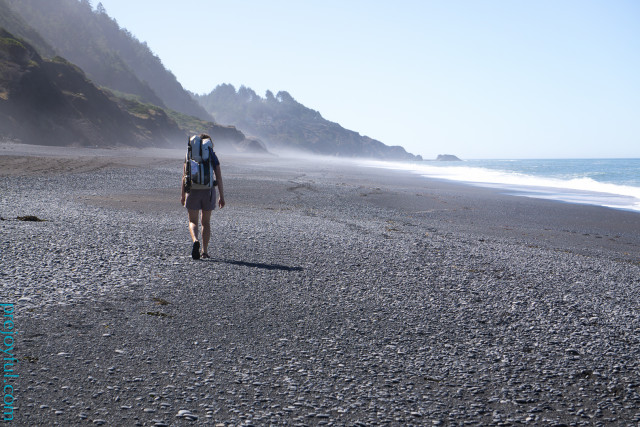 Last but not least, we love ourselves some American-made products! These are hand-made in Maine! Go Maine!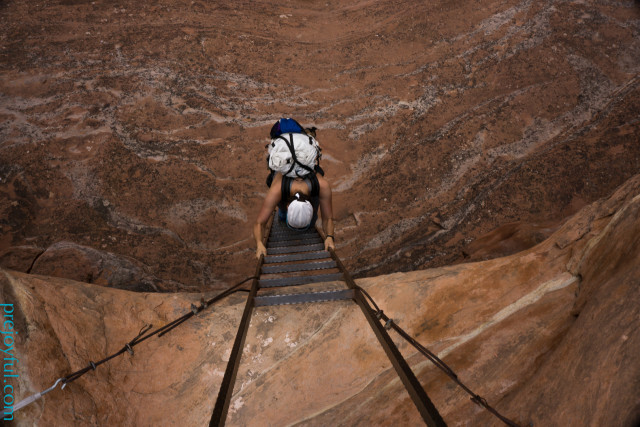 Overall we give the packs four thumbs up for being really reliable, generally comfortable, and incredibly flexible in the activities we've used them for. Joffrey continues to eye the smaller 2400 versions, as well as the ice climber pack or the ski-loop customization options. Perhaps one day…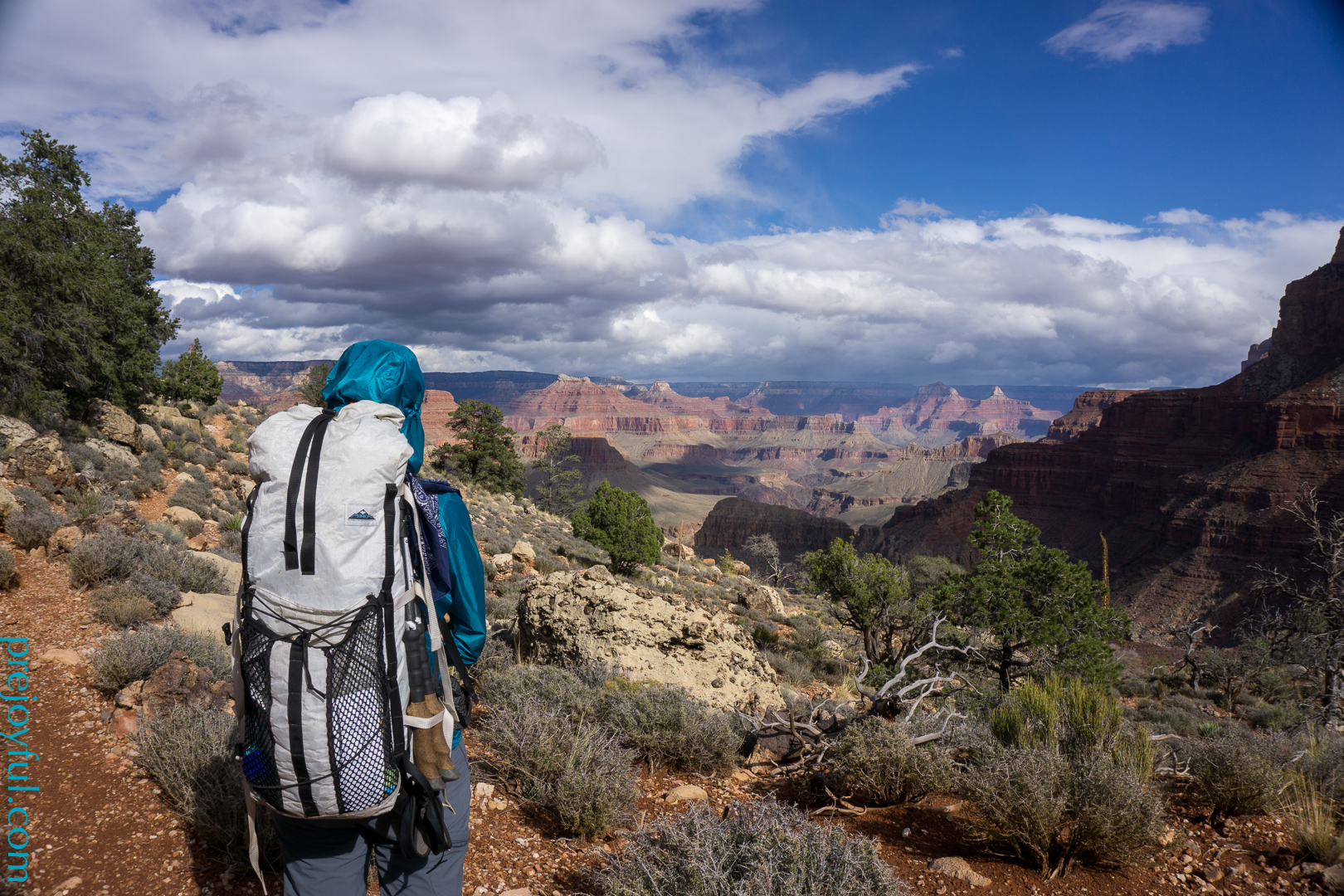 Additional resources:
Hyperlite Mountain Gear webpage (recently updated – as of early 2016)
Hyperlite Mountain Gear blog (talks about a number of pretty exceptional adventurers putting their gear to the test)
Alan Dixon recommends these packs (mostly the smaller versions), and includes them in several gear lists.
Another review from someone who has done similar stuff to us
Another review for the Ice Climber version, from the perspective of mountaineering and ice climbing