With only a few weeks advance notice, we were invited to a last-minute attempt at the Grand Canyon Rim-to-Rim-to-Rim (R2R2R) in 24 hours with friends from the DC Ultralight community. Annie had been to the Grand Canyon several times on backpacking trips with her family. I had never been, so she was keen to take me there and show me around. This was a good excuse to get us to the GC.

We enjoyed a fun night of car-camping and reunion with friends at the North Rim, then journeyed to the South Rim, where I failed to start my R2R2R quest due to a bourbon hangover. But others ventured off on a slower-paced journey. The next day, I did a 30-miles of the 44 mile route, while Annie worked. That was plenty for me.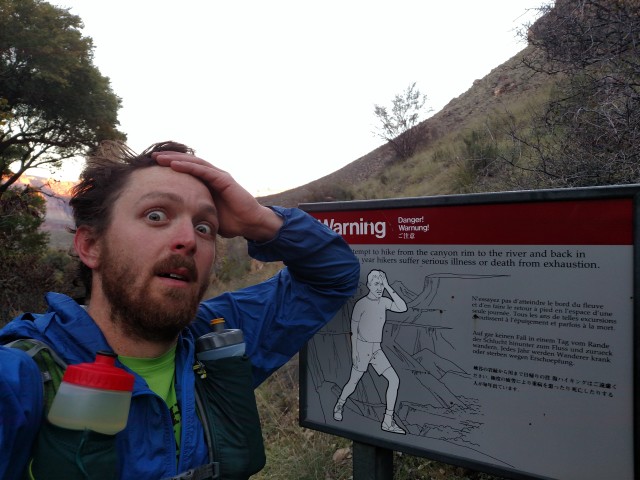 After seeing the R2R2R gang off, we headed to the backcountry office, and asked about possible routes. We had a Nat. Geo. map of the Grand Canyon, but it wasn't very informative, and lacked splits. From the backcountry ranger, we bought a better map, and formulated a route. The ranger strongly advised us against days over 10 miles, but we pretty much ignored that piece of advice (though our mileages were modest), and followed a route he suggested down the Boucher Trail to the Boucher Rapids (10 mi), then up and across the Tonto Trail to Salt Creek (14 mi) then to the Bright Angel Trail and out (12 mi).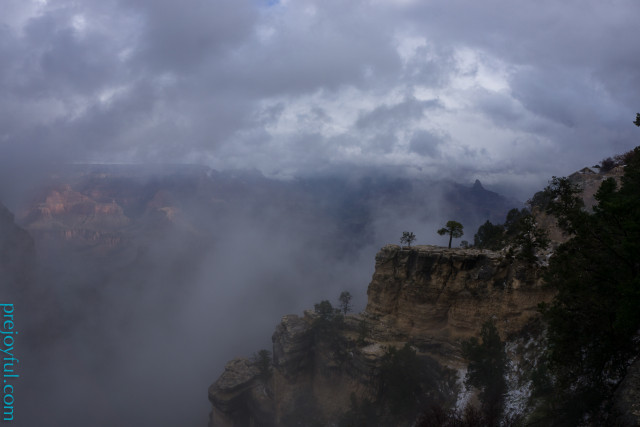 The next day, we got a slow start packing, then trudged through sleet to the bus to the west. We finally started walking at around 11 am, and the wind swept rain and sleet into our faces as we started our trek down into the canyon, which was buried in clouds below us. The Norwegians have a good word for particularly delightful form of precipitation: sludd [shl-uh-D]. Eventually, the precipitation stopped, the sky cleared, and the helicopters came out. Being in a confined space like a canyon really helps funnel the sound of aircraft overhead and make nearly any craft audible, but the helicopters were particularly obnoxious.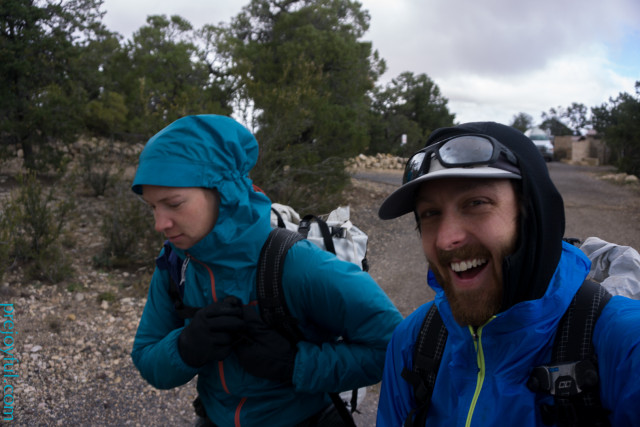 It's a long way down. The Grand Canyon is nothing if not big.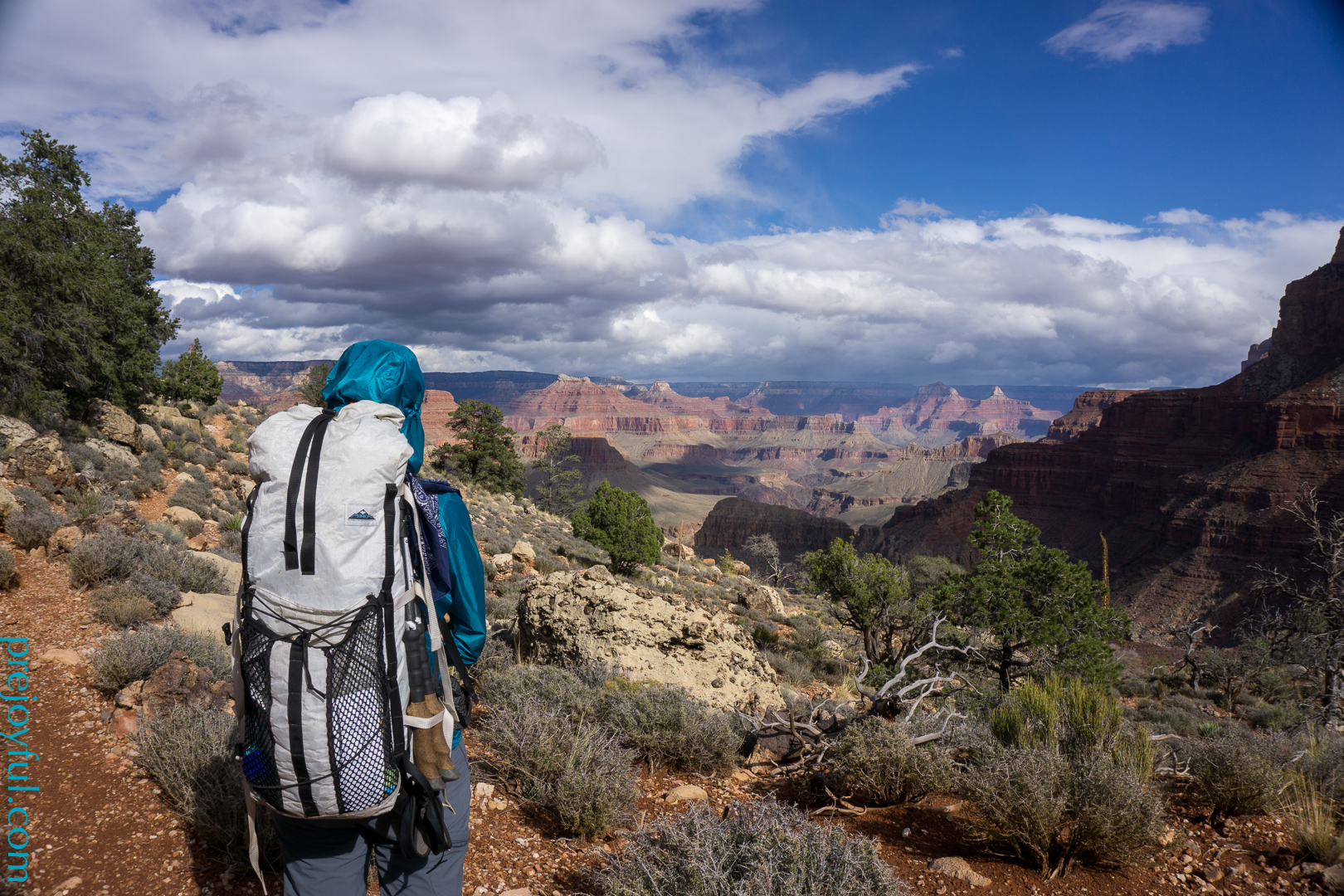 After contouring around atop one of the hard, red, limestone layers, we eventually dropped down through the cliff band and a layer of limestone that contained many fossils of ancient sea creatures!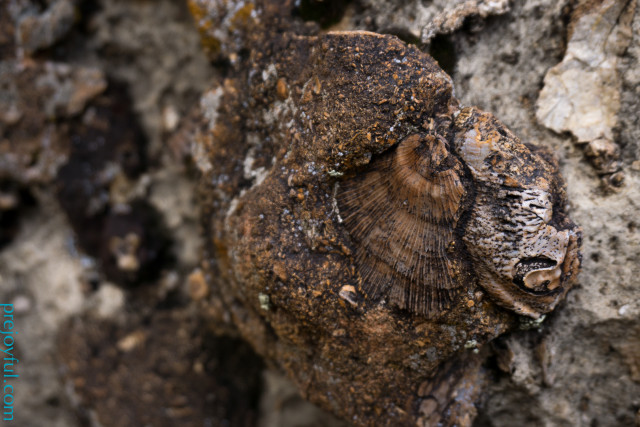 Finally, winding down a riverbed of loose stones, we arrived at our campsite at Boucher Rapids just after sunset, and quickly set up camp. We found there a map that another hiker had left behind – she met us on the trail earlier and gave us her contact info so we could mail the map back to her (which we did: hi Cathy!). This must be a popular spot. The mice were aggressive, running nearly up to us to try to get food. When we went to bed, I found a mouse in the outer pocket of Annie's pack! I was nearly as frightened as it was…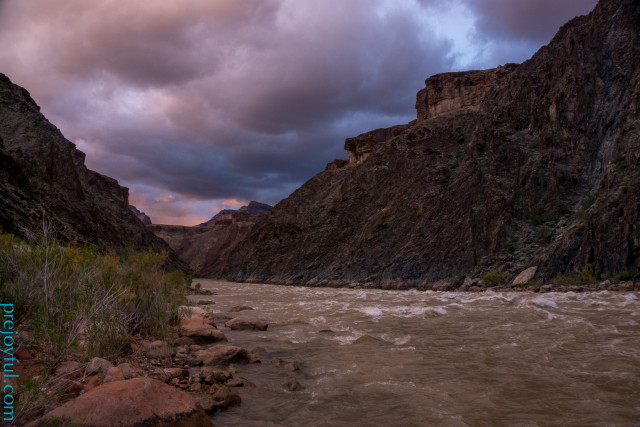 The next day, we achieved the Tonto Plateau and walked east along the Tonto Trail for most of the day. The backcountry office ranger had told us that the water source by our intended campsite at Salt Spring was somewhat radioactive, nearly as radioactive as the next spring east along the trail, which failed an EPA inspection, and is signed as unpotable. This had us a little worried, but we felt confident that we would find water shortly before our site and tank up.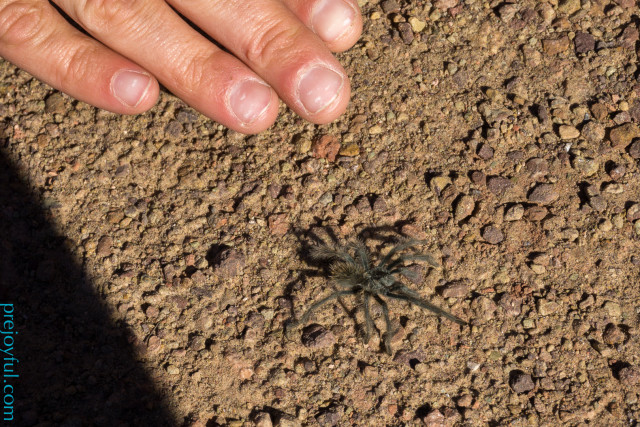 Of course, we didn't find water at Cedar Spring as we expected, only a few wet spots in the drainage without enough accumulation to fill water. So on we trudged, dreading drinking the radioactive water ahead. We decided that a liter split between us at dinner would probably produce the least potential damage. I was fairly certain that the amounts of radiation would be absurdly small, but not knowing the type of radiation (ingested alpha emitters are bad news), I was somewhat wary.
In the morning, we filled another liter of water in our Sawyer bag, but delayed squeezing it and drinking it until we were through the remaining "clean" water we had. As it turned out, we just made it to Indian Garden Campground without dipping into the tainted water.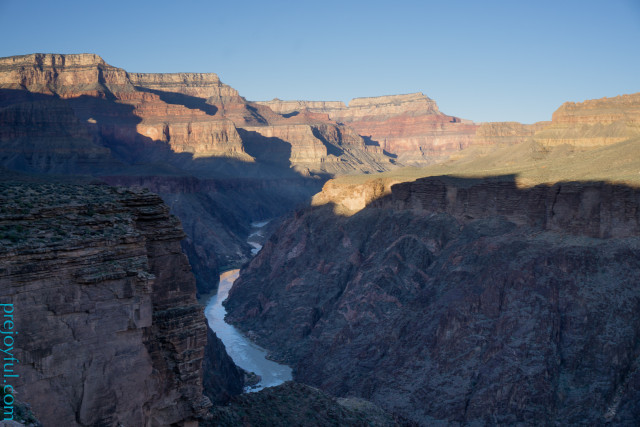 Once on the Bright Angel Trail, there was an enormous amount of traffic. People of many sizes and kinds were out walking the trail. We saw some authentic cowboy/cowgirl looking folk leading mule trains, and saw numerous tourists in very clean sneakers somehow avoiding the mule droppings and puddles. Though the climb is rather long, it's never terribly steep, and we made our way to the top in plenty of time to enjoy chocolatey desserts at the El Tovar Hotel in the park, and shower before we had to leave.
Resources:
The map we used (much better than the Nat. Geo. maps of the GC we've seen).
Backcountry permit info. We hiked in the second week of Nov. which drastically cut down the traffic, and let us get permits easily. I recommend speaking with a backcountry permit ranger – they can be quite helpful.