On our way from the Moab area south to the Needles District of Canyonlands National Park in Utah, we met with some distractions. Namely, the highway in to the main Needles District ranger station goes through Indian Creek. For climbers, you will know that this is one of the climbing Meccas of North America (perhaps the world). Miles of perfect Wingate sandstone cliffs line the highway, split by perfect parallel cracks. I knew of "The Creek" from climber lore, and I knew it was in Utah, but I didn't know where it was, until we were suddenly, and so unmistakable there.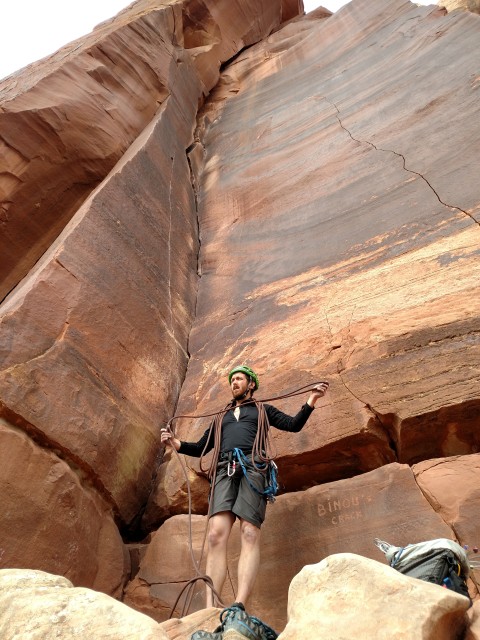 We stopped. We climbed. It was awesome. But then rain was forecast, as seemed so frequently to be the case in our desert time, so off we went into Canyonlands to get a backcountry permit and hike in the rain, leaving the delicate sandstone to dry out.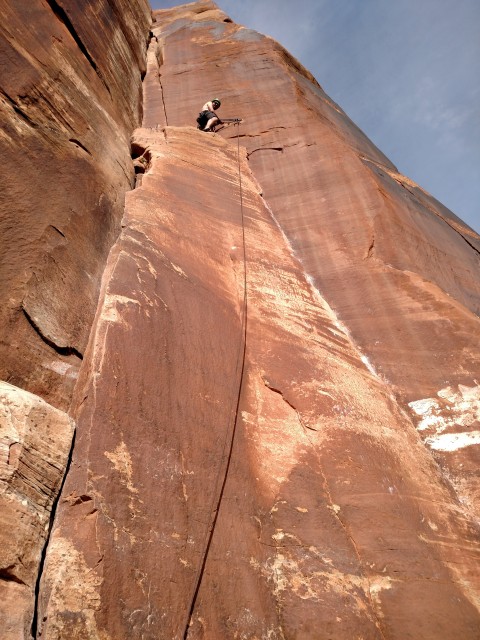 We found a nice, shortish route which, by winding and figure-eighting, would cover nearly all of the trails in this section of the park, save the long north-south trail along Salt Creek, which would have required shuttle logistics. And with that, we headed out into gray day. Annie was coming down with a cold, but trotted along anyway.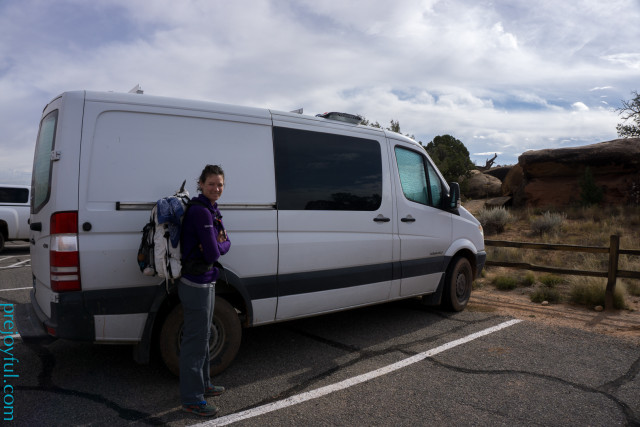 Big Springs was unremarkable until we joined Elephant Canyon, at which point we were walking on slickrock where some ladders had been installed to allow passage. We were surrounded by beautiful sandstone walls and needles, and we encountered a couple of other groups out hiking. The geology of the area seems quite distinct from Indian Creek. Instead of sheer, blank walls with parallel cracks, the sandstone was fractured into knobby spires, and the watersheds dug deeper into lower sandstone layers, forming interesting mushroom mazes.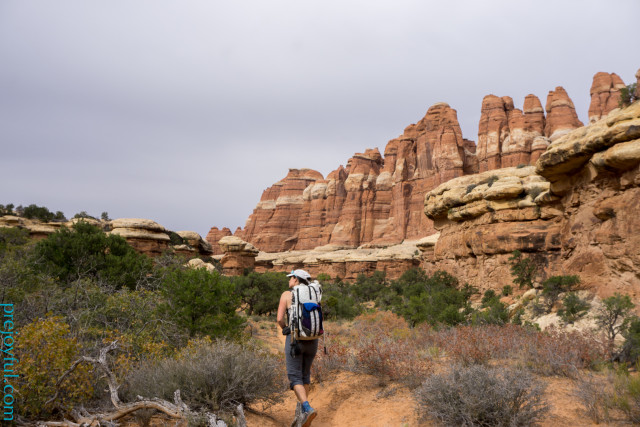 We took the out-and-back to Druid Arch, following a canyon higher and higher toward its source, wondering where this arch might be, until it was suddenly huge in front of us. We had approached it from its side, thinking it was "just" another needle, but after turning a corner around it, could suddenly see through the massive arch. Druid Arch may well be our favorite arch so far – it was definitely a worth the hike.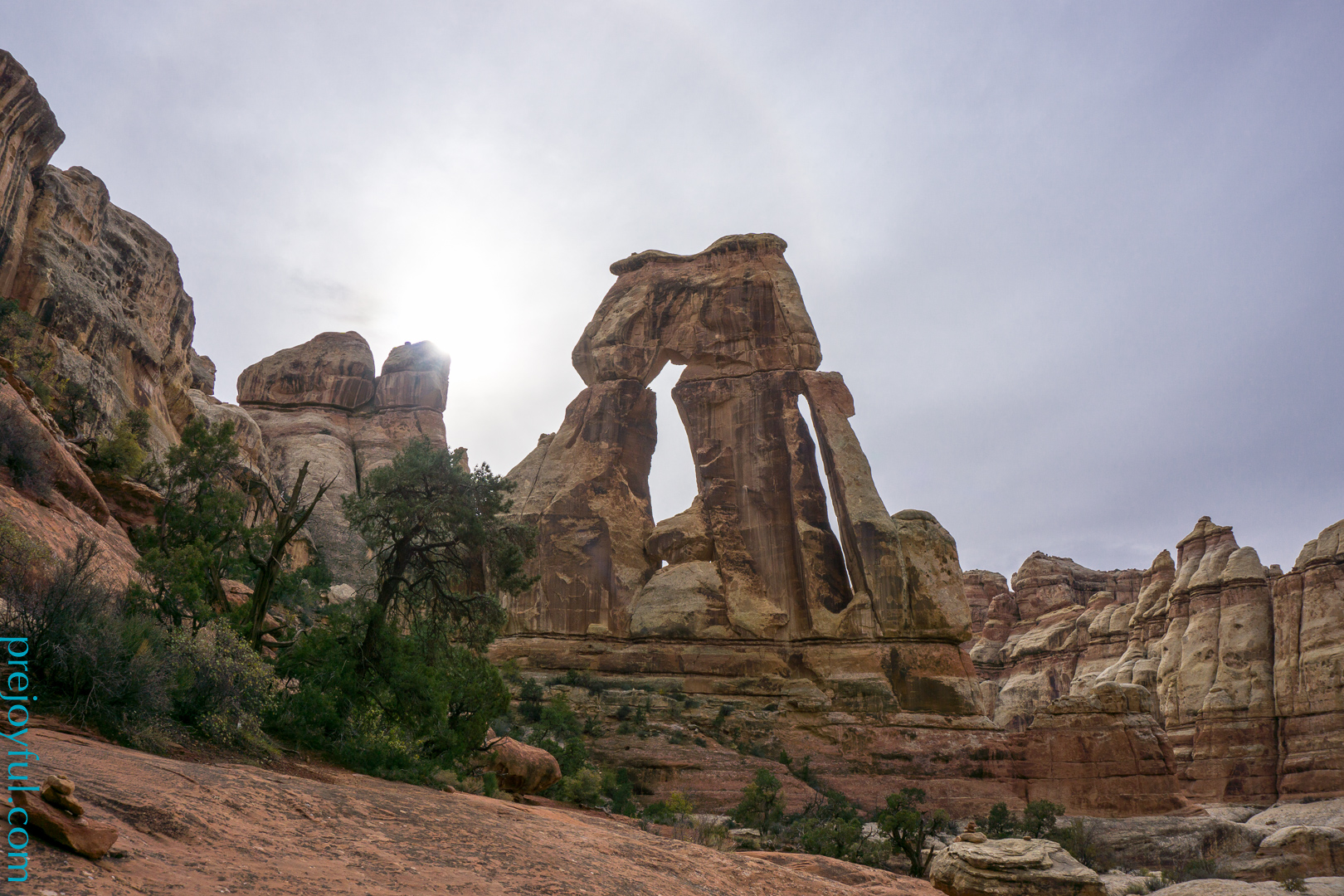 Our designated campsite was in Chesler Park, which is a wide meadow surrounded by sandstone needles. We set up our tarp between two enormous boulders, seeking a spot where water couldn't pool, In the night, it drizzled, but we didn't have a downpour. The next day dawned mostly clear, with some clouds lingering. We left our tarp up to dry, and went for a short out-and-back jaunt to the Joint Trail.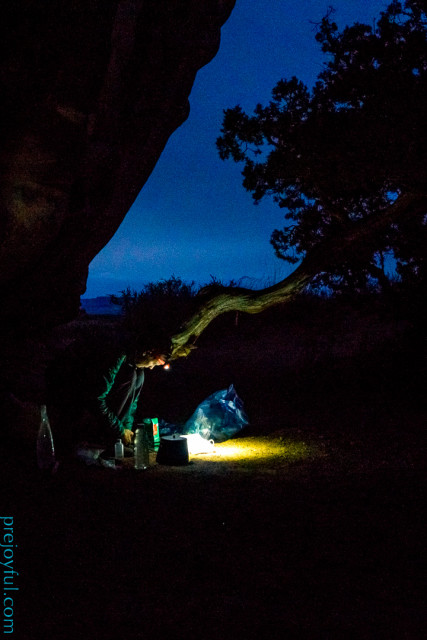 The Joint Trail goes through a narrow rift in a large sandstone formation, which had the feel of a narrow slot canyon, though the formation was not created by flowing water. On an offshoot of the main crack, I had to turn sideways to squeeze through.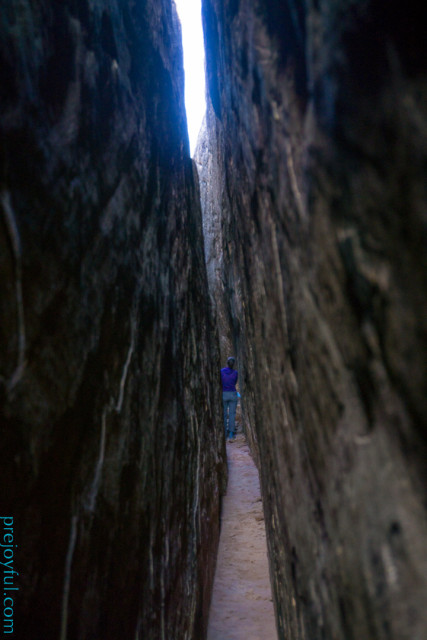 Returning to camp, Annie felt worse, and we scrapped the second half of our hike plan. Annie would walk the shorter way back to the van, and I would take an additional loop around Devil's Canyon before heading back to the van. Sadly, this meant that we missed Lost Canyon, which the backcountry ranger had said was one of her favorite areas in the park.

Devil's Canyon was relatively unremarkable compared to much of what we had walked through. It did take me through a pass between some needles, but mostly I was too close to  the formations to appreciate their narrow pinnacles, then I thrust down into a hot, open meadow, beaten down by the sun with poor views in Devil's Kitchen.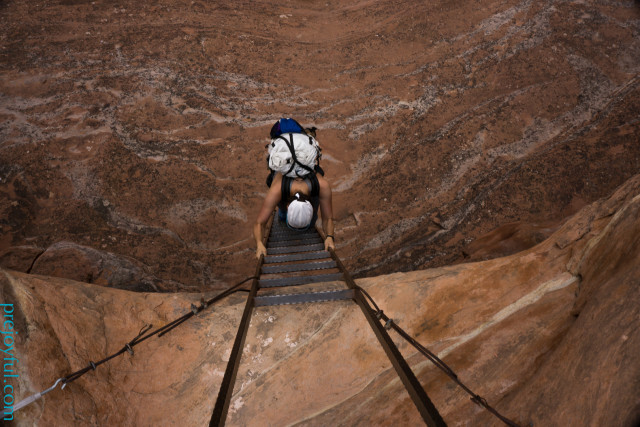 Finally, around that loop, I followed Annie's tracks scampering over slickrock, and through small canyons, seeing only one person until I was within a mile of the parking lot. This lower section traversing Elephant Canyon was a favorite section, and when I rejoined Annie, she agreed that this was one of the better sections.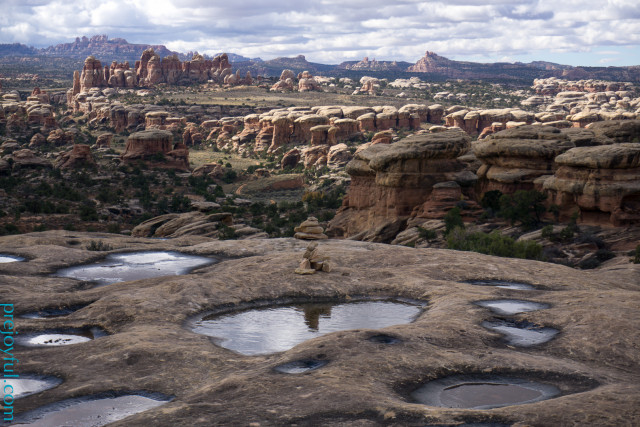 For the longer-distance lightweight backpacker, this area offers the possibility of a 2-3 day backpack with plenty of sights. Off-trail adventures must abound here, and a more adventurous soul might be able to spend weeks in Needles seeing sights few ever see. The Backcountry permit office is in the main ranger station at the entry to Needles along Hwy 211, and the rangers are quite helpful in setting up a backcountry route.  The hours are a bit shorter than some other offices, so be prepared.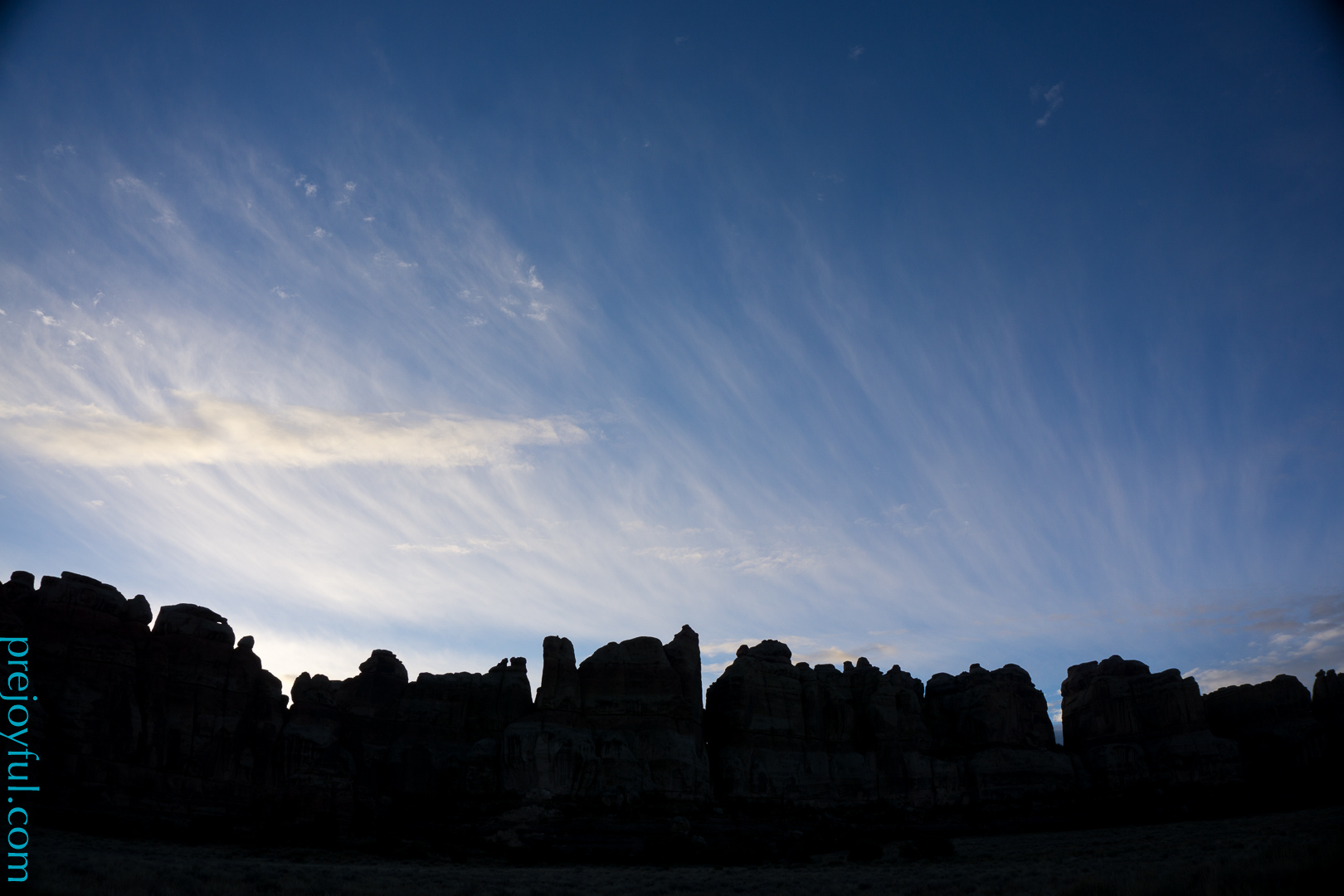 Nat. Geo. Canyonlands Map (we used this map).