We rolled into Moab, Utah on a Thursday afternoon, and did some much needed work in a café.  Moab feels like a small, rural southwest town, but at the same time has the energy of being an outdoor hub.  It is clearly full of people at all times of the year, and this past weekend in particular because some sort of Jeep rally brought a crowd to town.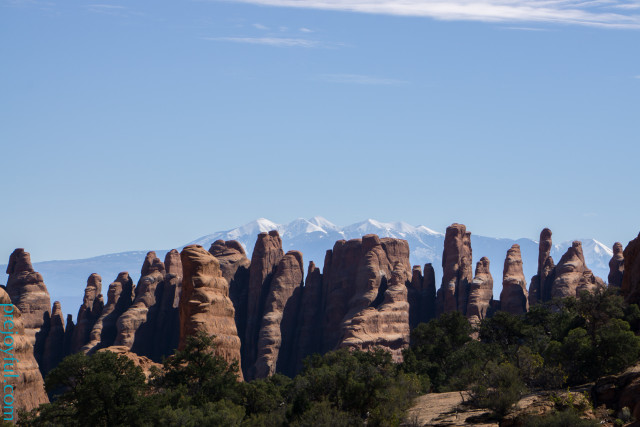 It was beginning to rain when we arrived in town.  We've seen more rain driving through the desert than we saw in our whole time in California and western Oregon. After we found a spot to camp on BLM lands off of highway 191, we situated the Fire Truck so we could open the rear doors and watch a huge lightning storm roll over the horizon towards us.  From our comfortable bed, we had snowcapped mountains to one side, desert buttes to another, and a wild light show over nearby plateau.  Vanlife doesn't get much better than that.  Rain on the van roof lulled us to an early sleep.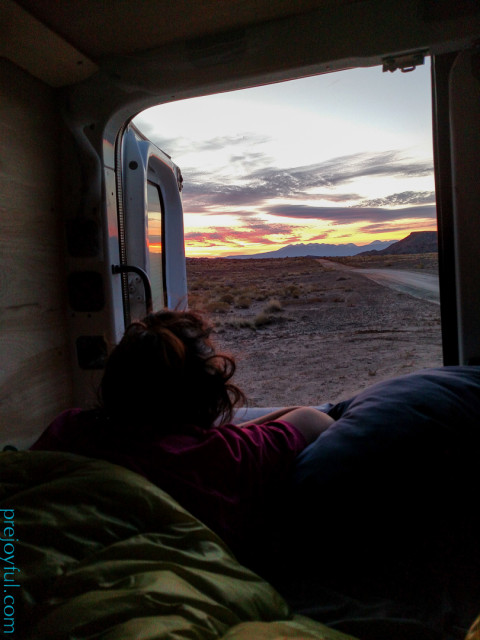 The next morning we woke to sodden desert mud and puddles around the van.  The fine sand and clay create a slick surface, and our wheels spun in the mud as we tried to leave our campsite. I had been dreading this moment, but it ultimately wasn't that stressful.  I knew we could call AAA if it got really bad, but it was more likely that either the road would dry out in a few hours, or a jeep or truck would drive by us.  Instead of wasting our time waiting, Joffrey got to work jamming stones under the rear drive tires.  While getting muddy first thing in the morning wasn't my favorite activity, we managed to get the van out within an hour, and back on the highway.  The Fire Truck is a beast.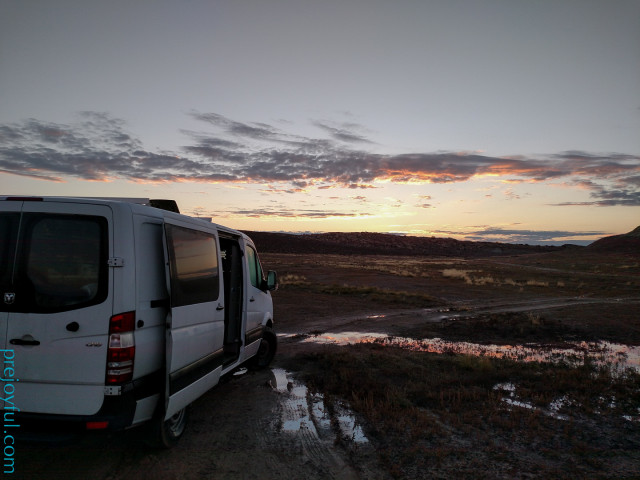 We spent the rest of the day in Arches National Park.  This was my second trip to the park – I had been here once with my dear friend Hannah when she was driving back to Florida from Montana.  It had been snowing, and we only did the quick view points, so I had very little sense of the "longer" hikes in the Park.

Joffrey and I figured we'd be able to see all the Arches in one day, and move on to Canyonlands.  Taking pictures of the park through the early morning fog slowed our travel, but we did a few of the short hikes (Courthouse Towers, Balanced Rock, Double Arch, North and South Window, Turret Arch, and the loop to Broken and Sand Dune Arch).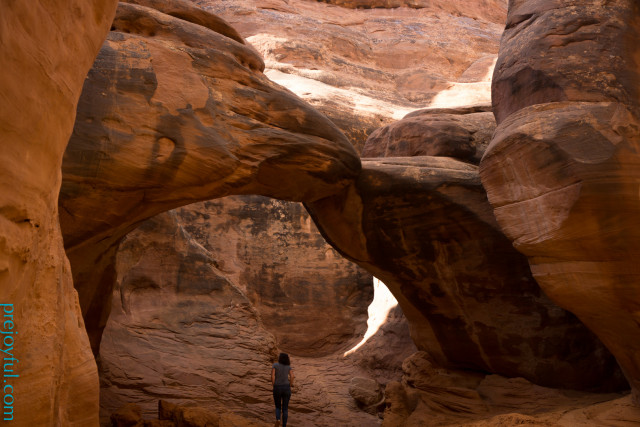 We had to end early because Joffrey had a Skype call to present at the DCUL party to show pictures from our SHR+ trip.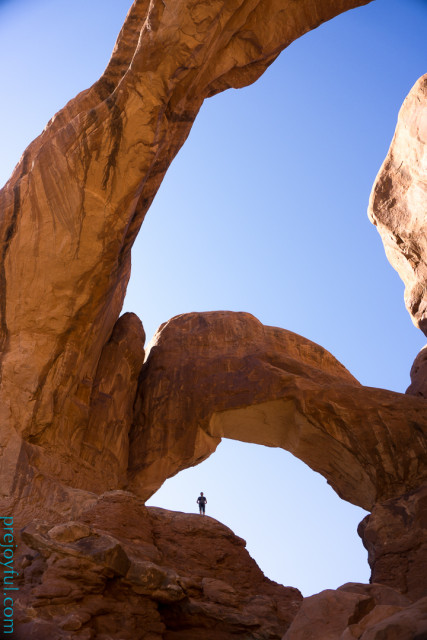 We left the park, and came back the following day to do the 8 mile Devils' Garden loop.  Even in two full days, we didn't see everything in the park.  Each short hike and arch was so splendid that we moved slowly, enjoying the landscape, exploring sandstone fins, and just being tourists.  I have a much deeper appreciation for Arches NP, now, despite how accessible and busy it feels.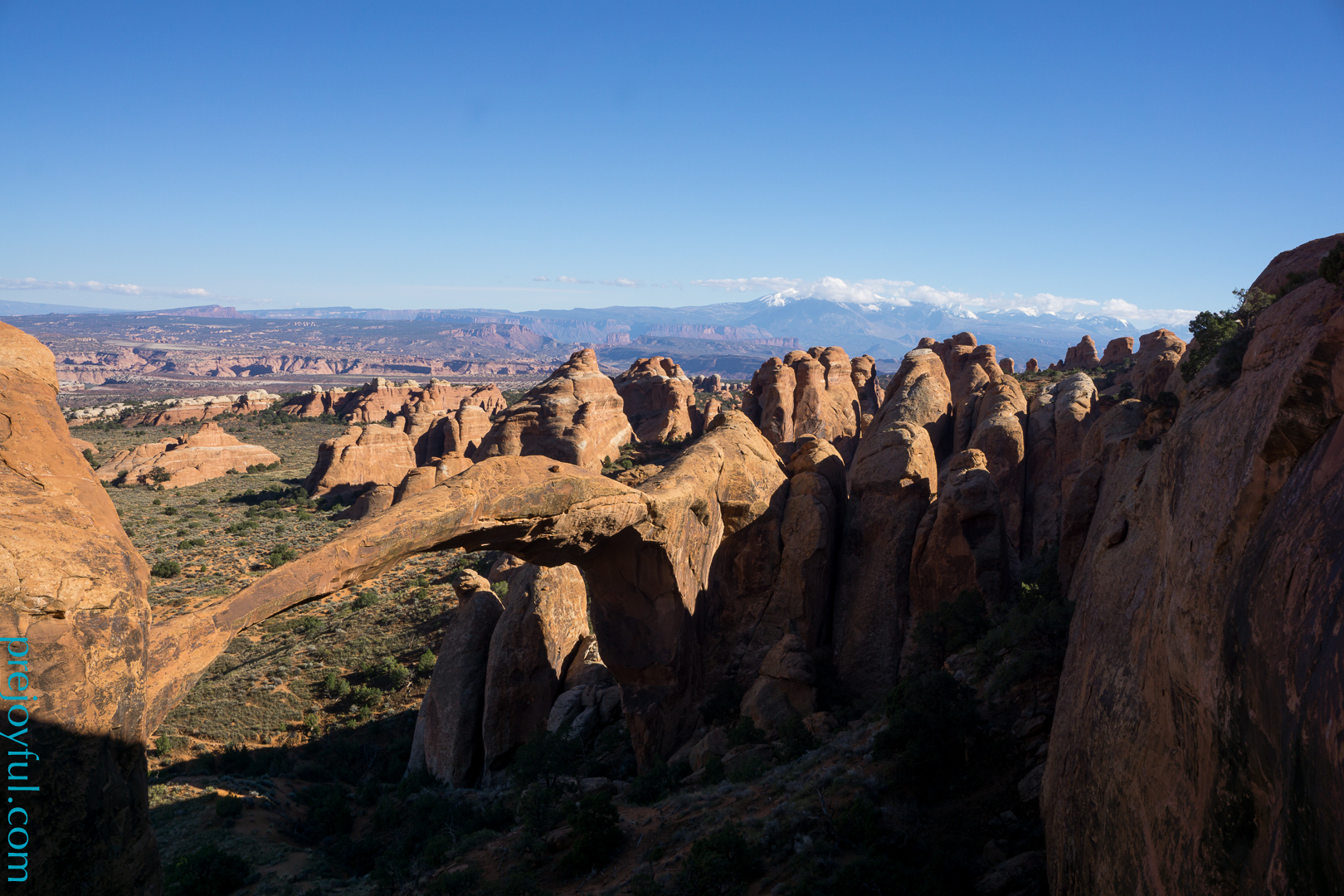 The next day, we ventured to Canyonlands, and hiked the Syncline trail.  It is an 8 mile loop, with three additional miles to walk into the crater area, and two additional miles to hike out to the viewpoints.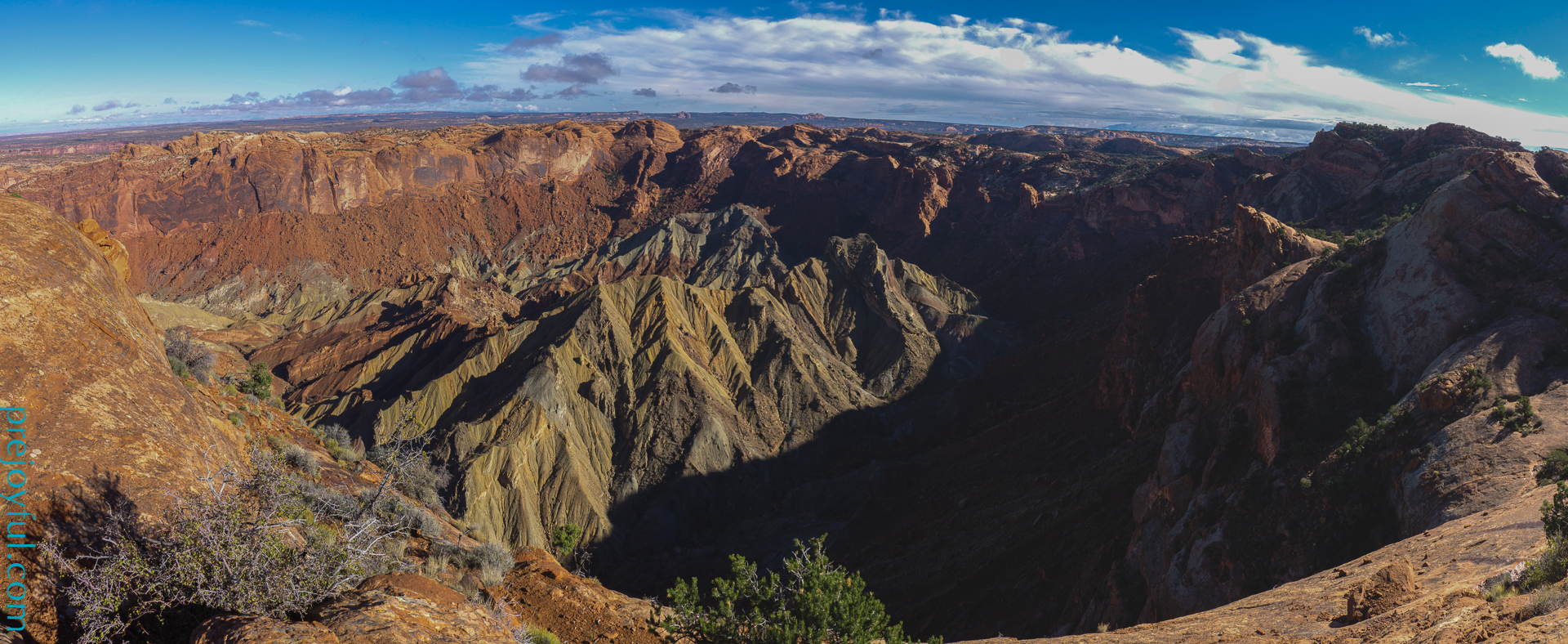 It was a beautiful hike, including some small stream oases, that gave us a good taste of what Utah's red sandstone desert canyons are like, as well as letting us explore the bizarre Upheaval Dome formation.  On our way back to our BLM distributed camping site, we stopped just before sunset to run out and see classic Mesa Arch.  As we ran down the trail, Joffrey noticed the moon peeking just above the snow capped La Sal Mountains.  We joined a small group of people to silently watch the full moon rise, over the mountains, through the arch, and illuminate a wild maze of canyons below.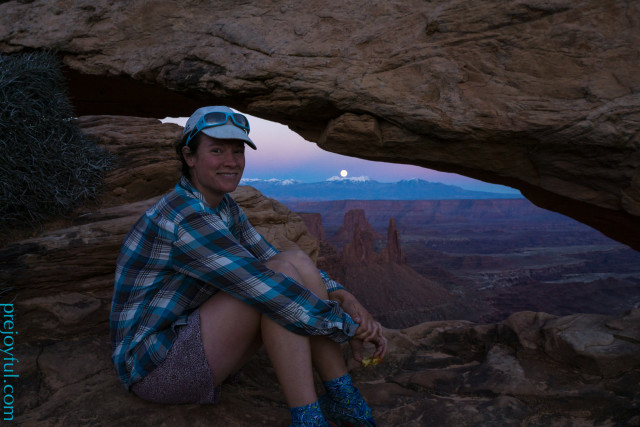 Utah is pretty neat!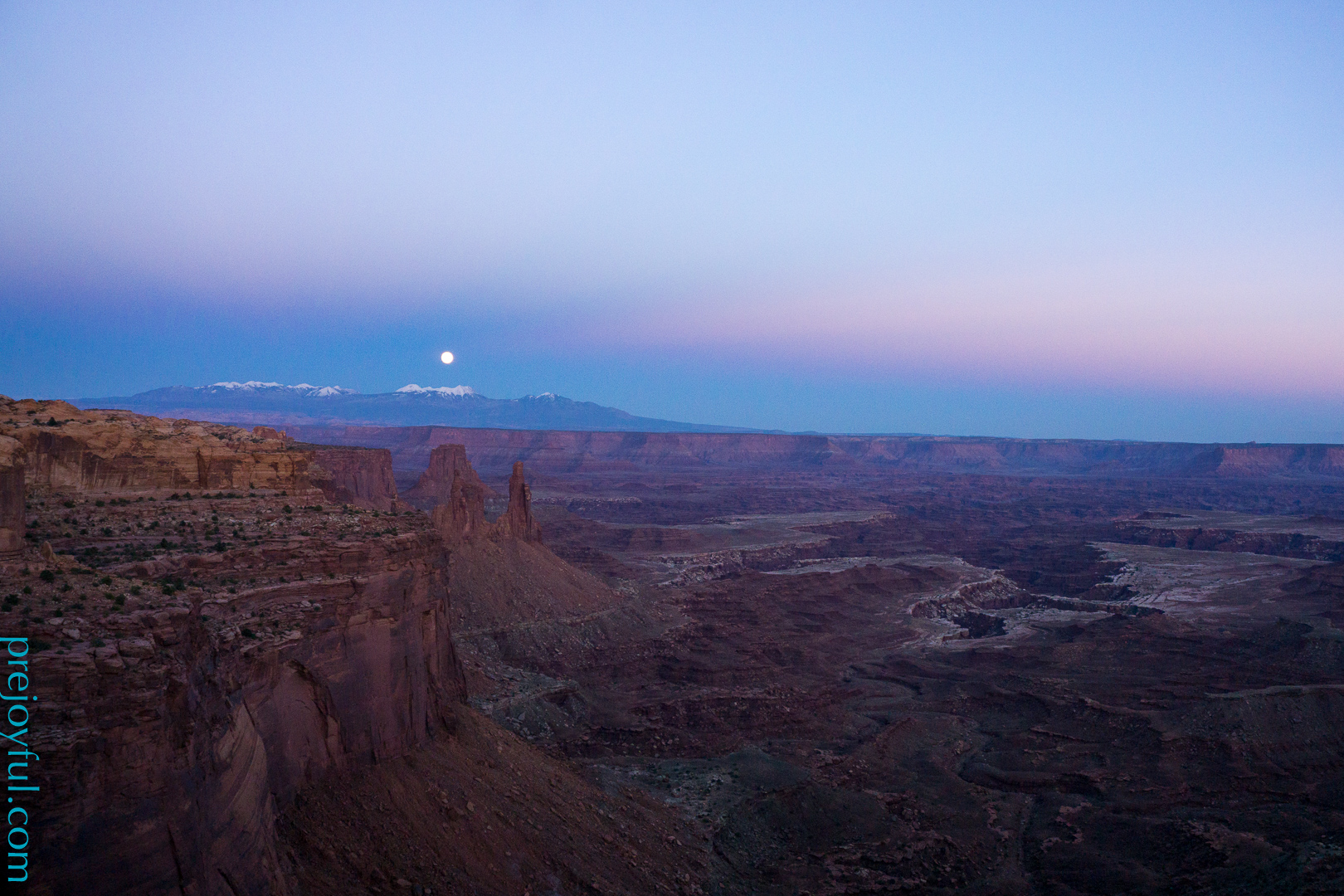 More pictures!
Canyonlands: Islands in the Sky
Moab Resources:
$4 Showers at Moab Aquatic and Recreation Center
Good selection of used and some new gear at Moab Gear Exchange
Breakfast Burritos and WiFi at Wake and Bake Café
Espresso Milkshakes, sandwiches, and WiFi at Red Rock Cafe