I had heard of Smith Rock through occasional highlights from the American Alpine Club, but didn't know much about it. From the Mountain Project page, I could tell it was a big area, and after looking a bit, I could see that it was mostly a Sport climbing crag, but had enough Trad climbing to bother going even if I didn't like Sport climbing (I had only done a few easy pitches before).
We were delayed by a stop in Bend to visit a Sprinter mechanic to get some annoyances assessed. It turned out to be my birthday, and we ended up sampling tastes of Bend while waiting around for the van. We liked Bend rather a lot. If only we could find jobs there…
Finally, on Oct. 2, we made it to Smith Rock. The state park caters to the climber from the get-go. The brochure map name several of the most climbed features in the park, and the climbers trails along the bases of cliffs are well maintained. There is a $5/night campground called "The Bivouac" where there are showers, bathrooms, and even a communal wash sink. The only drawback to this campground is that sleeping in vehicles is not allowed. While there appears to be decent hiking and mountain biking in the area, we were there to climb rocks! We discovered that there are over 2000 named routes in the park. That's three zeros!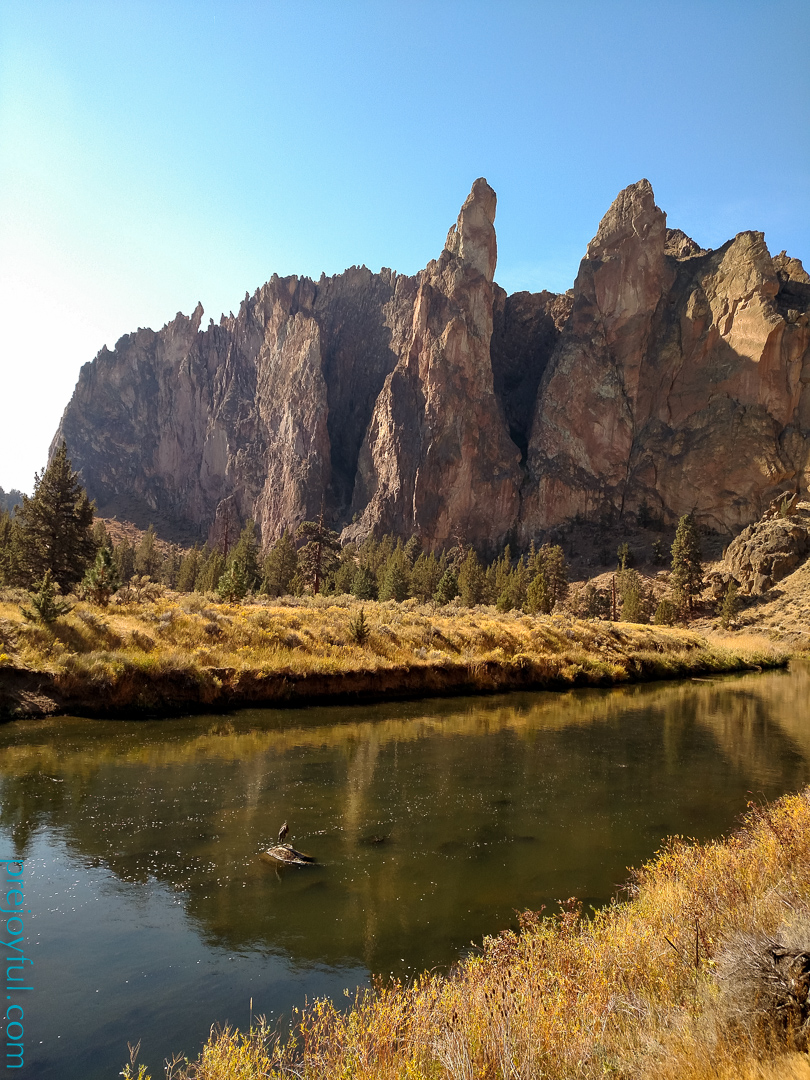 The rock at Smith Rock is of two types, both volcanic. The largest faces are consolidated tuff, an odd but colorful conglomeration of volcanic ash. It is pocked with huecos and little pockets  and covered in little nubbins which are not always well-adhered to the rock mass. The tuff is remarkably solid, especially on the most-climbed routes where the loose debris has already been removed. Most of these routes are bolted, and range from easy 5.5 up to nearly impossible 5.14c (and probably above). The first bolts are often 15-20 feet off the ground, which can be unnerving, but the bolts thereafter are usually spaced about 10 ft apart. Many people bring stick clips to clip the first bolt. Some areas of tuff are solid enough and have enough natural feature for protection, allowing for several trad routes from moderate to 5.13s. There are also other rock formations along the river banks featuring the other type of rock at Smith: basalt columns. These are much harder rock, and form cracks. Most of these climbs are 30-80 ft high trad crack climbs rated 5.10 and up.
We began our climbing modestly, sampling a highly rated moderate 2 pitch climb, which I found to be rather unmemorable climbing, except for the runout toward the end of the first pitch where I needed and didn't have a BD #4 C4. Then we began sport climbing… It was certainly refreshing to leave the big rack on the ground! I almost immediately led something a couple of grades harder than I had led trad before (not that I am climbing anywhere near my limit yet – just building up slowly). After climbing the varied and entertaining 5.9 bolted route Phone Call from Satan, I pulled the rope in the growing dusk… and the rope got stuck. I had forgotten to untie a knot at the end. Fortunately, the route was short enough that I could re-lead on the free end of my 70 m rope. I put on a headlamp and rushed up the route again, fortunately not needing the headlamp until our walk back to the campground. Remember to untie your knots before pulling the rope!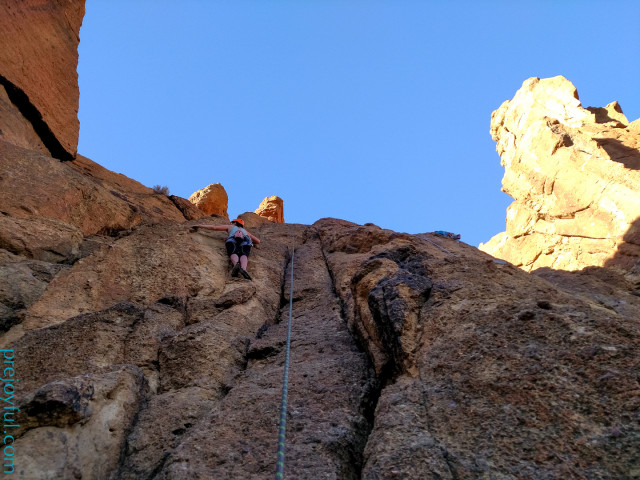 The next day, I led another 5.9 sport route, and, in what is becoming a trend for us, it started to rain on us in the desert. The rain was gentle, but persistent, and made things cold and uncomfortable. I cleaned as I lowered, and we left to go buy a guide book and hang out in the dry, warm gear shop Redpoint which also serves coffee and beer! After the rain stopped, we returned and did a small amount of climbing on a close-by section of basalt. I led my first 5.8 trad pitch, but it was quite short, and really rather odd with an inward flaring crack. Annie didn't like the look of it, and I cleaned on lower, then walked to the top to clean my anchor. We saw a class from Oregon State doing a climbing rescue scenario. It looked rather involved, and makes me hope I don't need rescue while climbing ever! We walked back across the river and I led a classic 5.8 sport climb on big huecos: 5 Gallon Buckets. Annie started this climb, but felt uncomfortable, so I re-climbed to clean, and we walked back to camp in the dark.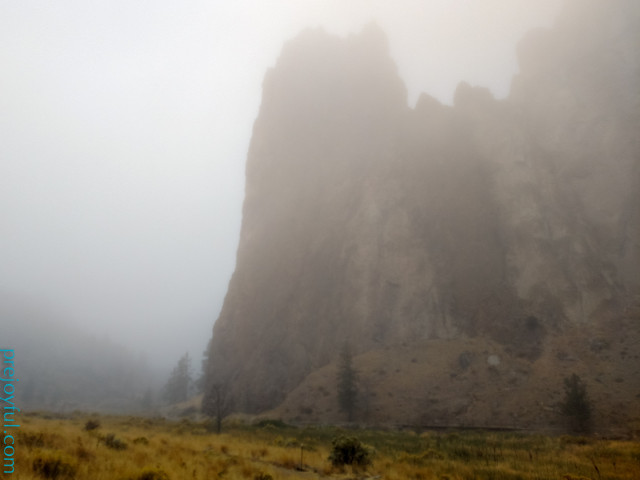 The next day we were only to climb in the morning, then head to Portland to visit a high school friend, and see the city. We made it to 5 Gallon Buckets and decided to give it another whirl. Annie again felt uncomfortable about it, but she made it up! Sometimes Annie gets nervous about climbs and freezes up, even when they are well within her ability. She persevered here and made it to the top! I guess I have no idea what it's like to push past a fear of heights to climb these things in the first place. It's pretty impressive that she follows me up any of this!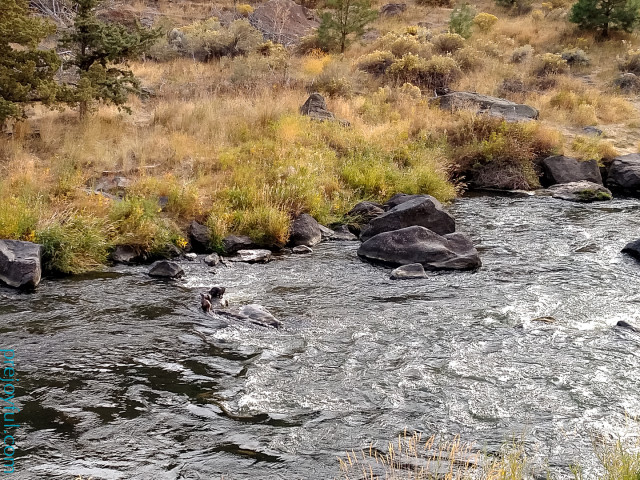 Portland is lovely, but not the subject of this post (go to Ex Novo brewing!). After a short stay, playing with my friend's baby, and a whirl around the city, we decided to head back to Smith Rock to climb some more.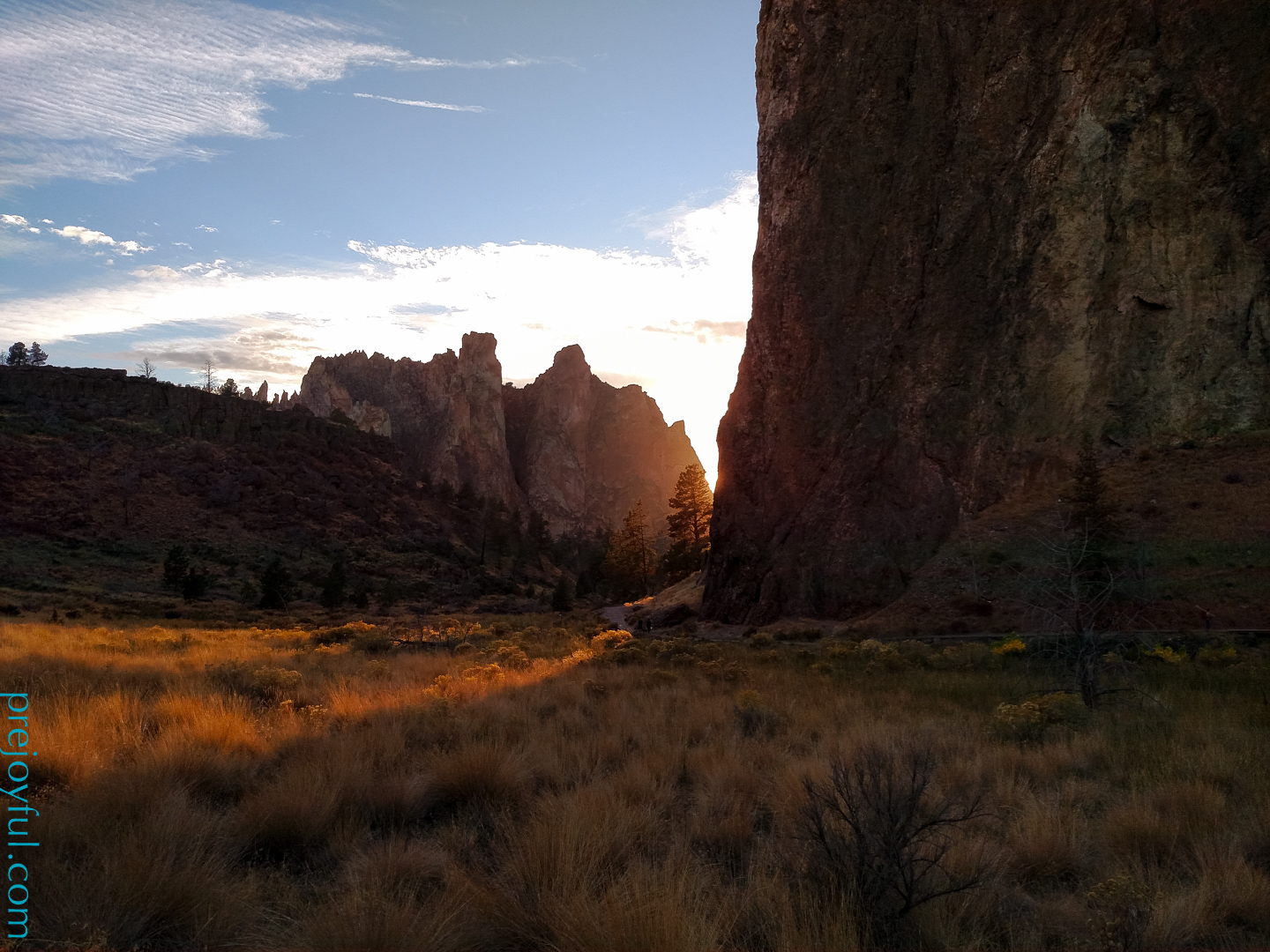 We returned in the middle of the week (Wed. Oct. 7),  and Smith Rock was much less crowded than on the weekend. We hopped on some 5.8 sport routes on a feature called The Peanut, then I led a 5.7 trad corner finger crack, which Annie followed without trouble. We finished the day with a quick two-pitch 5.7 sport route which was fine, but not particularly challenging or interesting.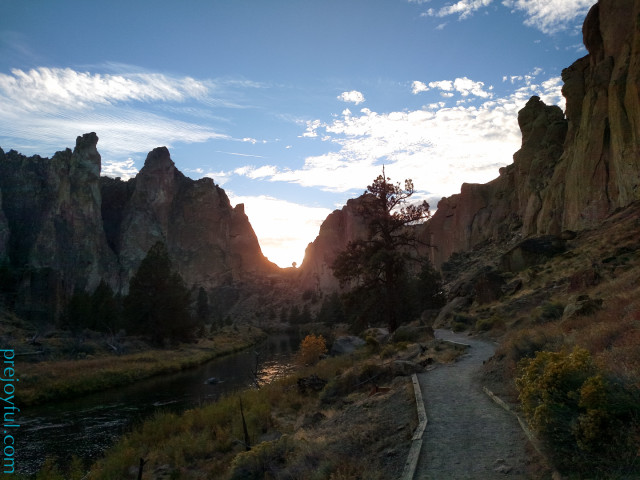 The next morning, we chatted with some other climbers at the campground before heading out rather late to climb a 3 pitch 5.6 trad route on the Red Wall. The first pitch was unmemorable, but the second was a very poorly protected traverse. It was quite nerve wracking as I belayed Annie across without almost any gear to protect a fall. The third pitch was great – varied movement and good gear in a crack. We then went back into the sun for me to try to up my lead grade on a 5.10a sport route next to a 5.8 and 5.9 I already had led. We took someone up on their offer to use a stick clip, and I tried mightily to get off the ground. The opening moves felt much harder than 5.10a to me, but I was tired, dehydrated, too hot, and really hadn't eaten enough today. Combined with my continual failure on the bottom boulder problem made me rather cranky. Eventually, I pulled the extremely high foot to get off the ground and started picking my way up. With my low blood sugar, I got a little bit of jackhammer leg, and had one take after a particularly difficult bolt clip, only to find a great rest right afterward. I made it up with only the one take, and was glad to have made it up my hardest ever lead, and to have avoided a fall. Annie wasn't interested in trying the starting boulder problem, and we pulled the rope and headed back to make a good dinner well before dark for once.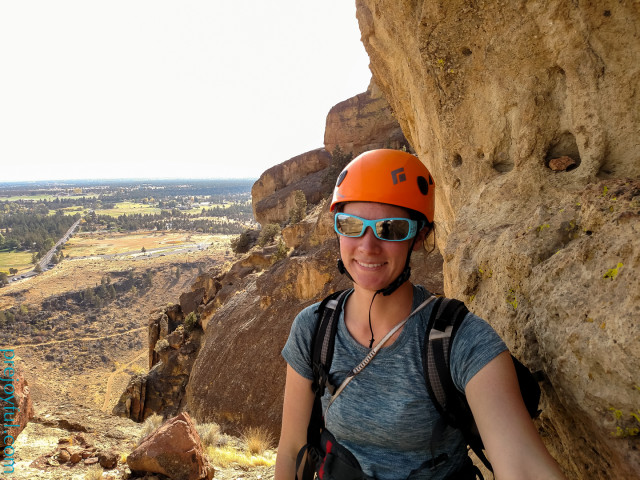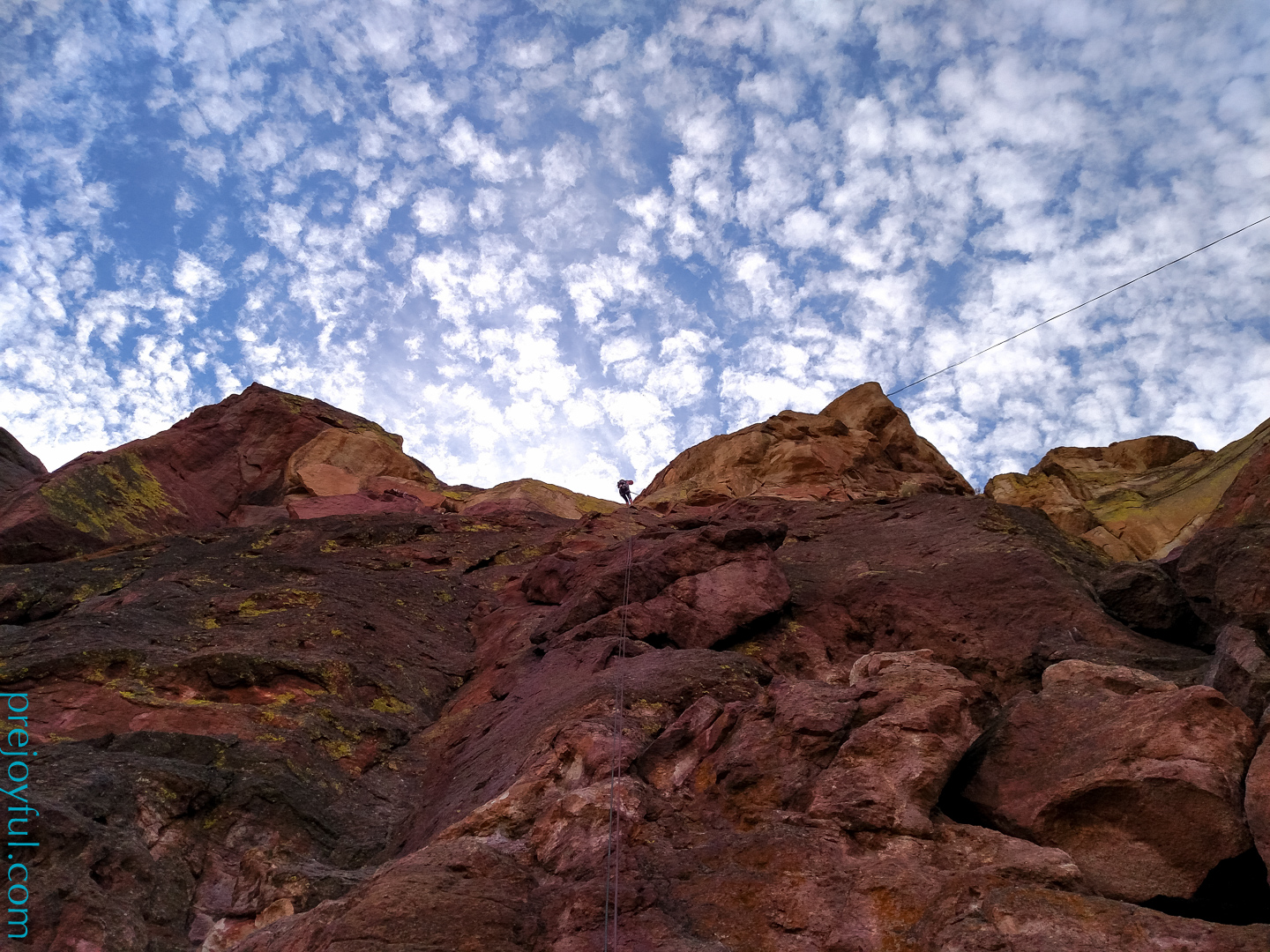 Our last day there, Annie had a Skype call to make mid morning, so I was left to wander a bit. I decided to go talk to a guy we had chatted with the previous morning, and see if he had a partner. As luck would have it, Dave did not, and we got our gear together to head out. He was a crack climber, since Devil's Tower, Wyoming was his home crag. He hadn't really done much of this kind of sport face climbing, so we went out to test the waters. He led the 5.8 Time to Shower, which was fine. Then I led a 5.10a bolted route, which was lower angle but had little crimpy holds and toes. The sun was too hot, so we rounded the bend to Red Wall, where Dave convinced me to try out the 5.9 four-star Choinard's Crack. It was trad, and I hadn't led 5.9, so I was a little nervous, but he helped me look the route over from the ground, pare down my gear, and offered some good advice. I managed to creep my way up it without too much difficulty, though if the crux difficulty had kept up for another 15 feet, I'd have felt pretty uncomfortable. On cleaning, Dave offered even more good tips, and I learned some good things. He even offered to put Annie and I up should we make it out to Devil's Tower, which we fully intend to, though it might have to wait for next summer.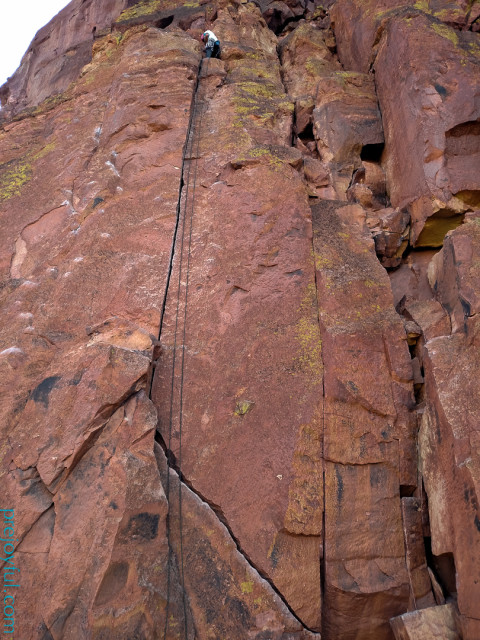 Smith Rock is great. I liked the different styles of climbing there, and would love to go back and get some time on the basalt, as well as trying some of the multipitch bolted routes there. Heck, it might be nice to just walk the trails!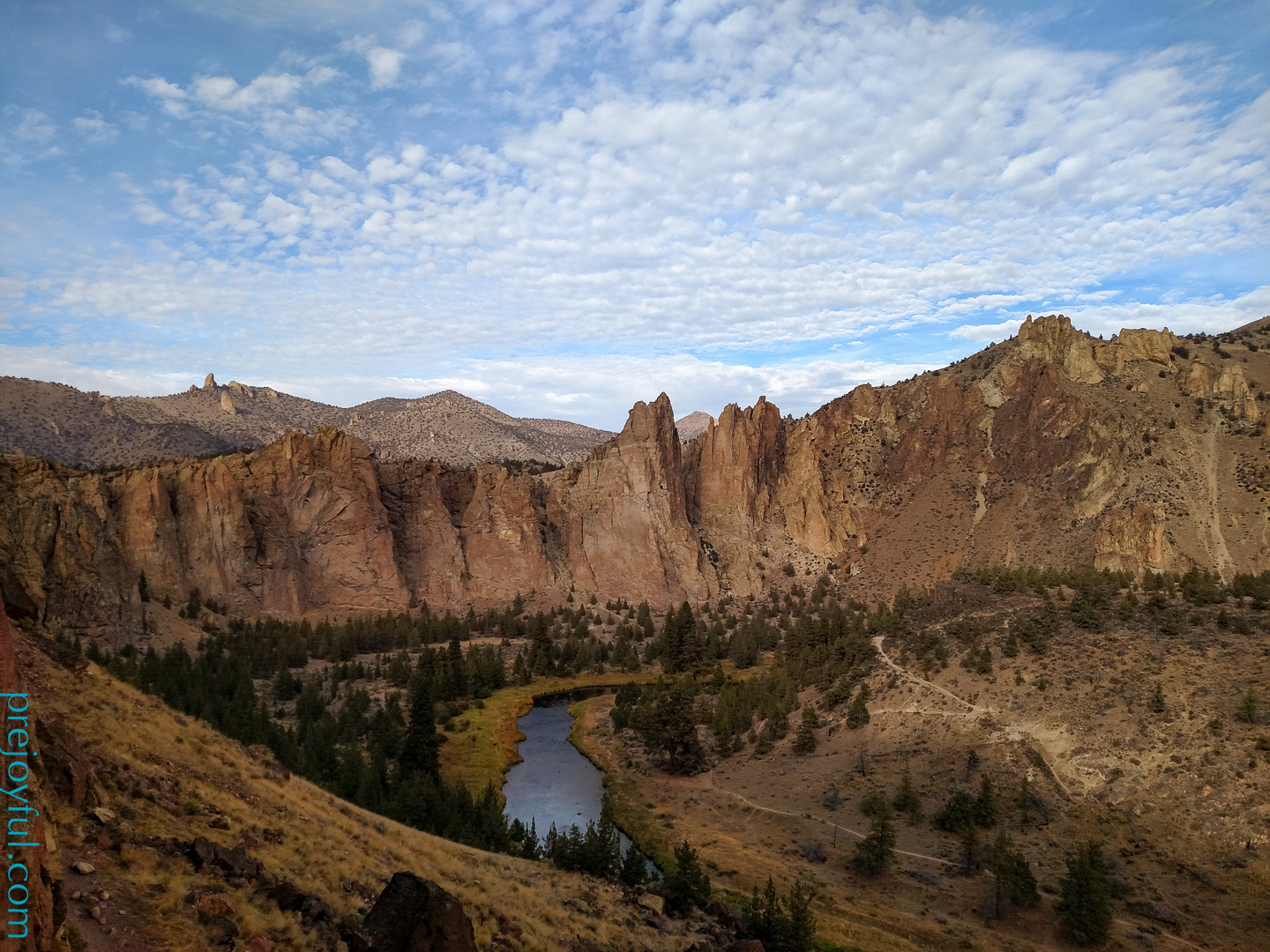 Notes: We used and liked Alan Watts' Rock Climbing Smith Rock State Park guidebook, though it is rather large, and heavy.
List of routes climbed (guidebook star ratings, not mine)
Cinnamon Slab 2p *** 5.6 trad  — needed big gear, I'd give it 1 ½ stars.
Night Flight 1p 5.5 *** sport —  a breeze, but fun warmup
Phone Call From Satan 1p 5.9 *** sport — varied, fun
The Outsiders 1p 5.9 *** sport — fun! I preferred it to 5 Gallon Buckets and Light On the Path on either side. High first bolt, but felt fine to me.
Jersey Shore 1p 5.7 ** TR — trad route, but others had set up a TR – not recommendable
Handyman 1p 5.8 *** trad — short, but sweet
5 Gallon Buckets 1p 5.8 *** sport — a classic, fun, but getting a little worn
Hop on Pop 1p 5.8 *** sport — fairly fun face climbing
Peanut Brittle 1p 5.8 *** sport — insecure feeling before the first bolt, then fine
Lycopodophyta 1p 5.7 ** trad — good introduction to some fingers in cracks, but mostly stemming moves
Bunny Face + Bunny Face Finish 2p 5.7 *** — Okay. The second pitch was easy, but tricky to get to from the first.
Super Slab 3p 5.6 ****  trad — Meh first pitch, horrible unprotected 5.4 traverse second pitch, fun and well-protected third pitch
Light on the Path 1p 5.10a *** sport — The start was a difficult boulder problem, and the first bolt is fairly high; a stick clip is recommendable.
Time to Shower 1p 5.8 *** sport — Short.
Pop Goes the Nubbin 1p 5.10a *** sport — Careful footwork and balance required.
Choinard's Crack 1p 5.9 **** trad — Great thin hands to a perfect rest, then a short section of fingers with lots of options and then the top. Wish it were longer!