We finally disentangled ourselves from the huge, engulfing state of California, all of its mountains and coastline and freeways and sisters and drought. Onwards to Oregon!  We got back on the road, and made it to Crater Lake in six hours.  We biked the Rim Drive (33 miles) around the Lake a few days ago.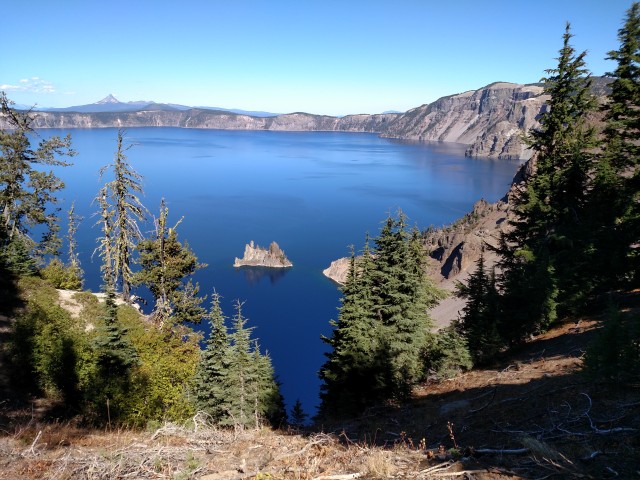 Crater Lake hosts two vehicle-free days for cyclists in September, but the park is super quiet in September anyway.  We had no problems with cars, only with my exhaustion and hatred for biking hills (prejoy!).  It was a fantastic day, though.  The weather was absolutely optimal for biking – cool temps, sunshine, light breezes.  Joffrey was overjoyed.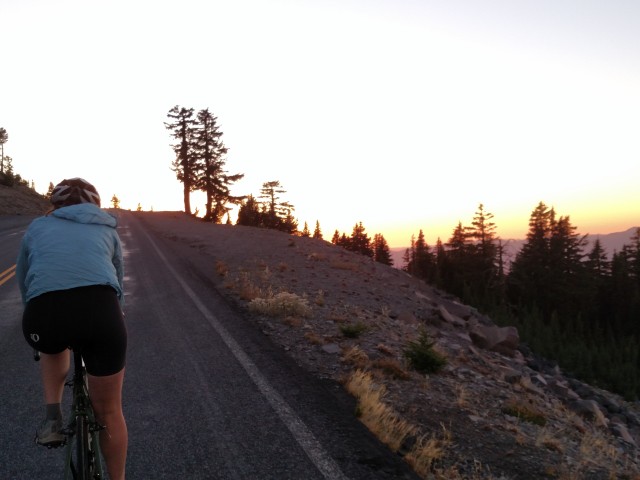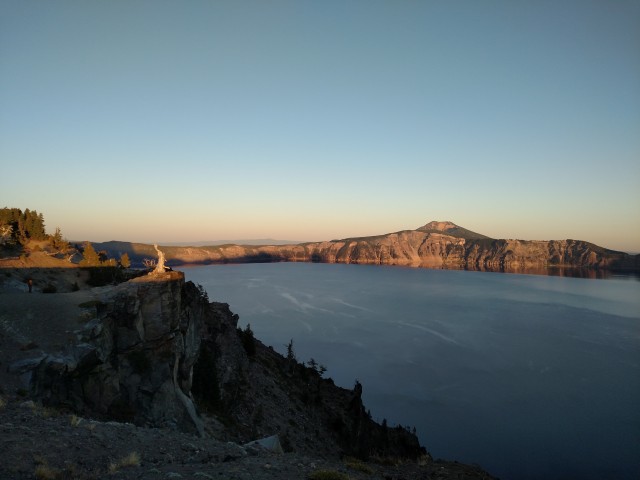 Joffrey came to Crater Lake with his family when he was 8, and later in his 20's.  He has been wanting to swim in the lake since he first visited.  We hiked the mile long trail down to the dock area, and he had some excellent dives and a good swim.  I waded in for a quick swim, because YOLO, but it was way too cold for me.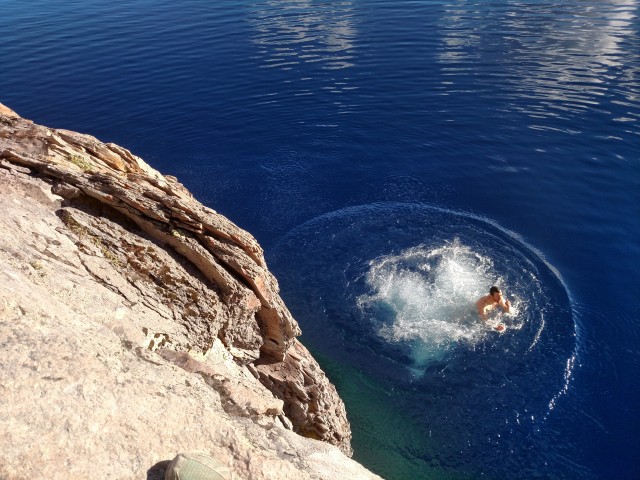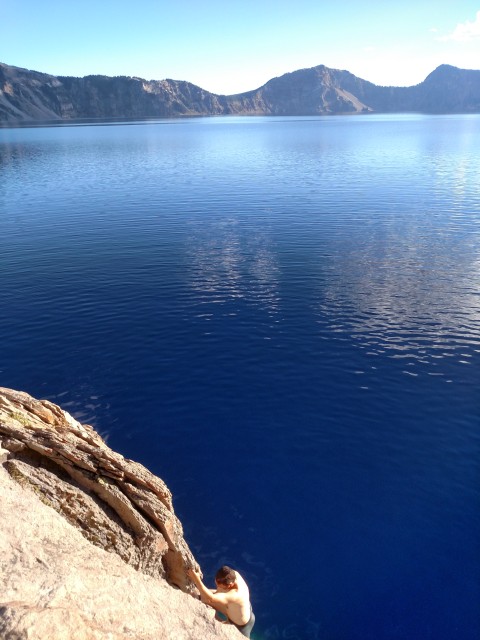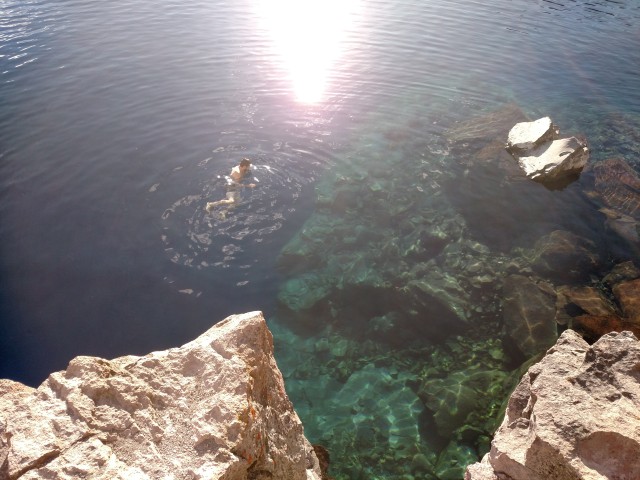 We rode into our van much later than we anticipated, after more time at the lake, slower speeds, a long lunch, and lots of stops at viewpoints.  We were able to bike through a beautiful sunset, which made the last six miles of the trip absolutely glorious.  We had passed a group of six cyclists doing the loop in the opposite direction earlier in the day, swapped 35 mph high-fives when we passed them the second time, and they offered us a ride as they drove by in their trucks.  We were enjoying the last of the sun, and we had our bike lights.  It continues to amaze me that people are deeply awesome & good. We camped in Umpqua National Forest and headed to the Lava Cast Forest the next morning.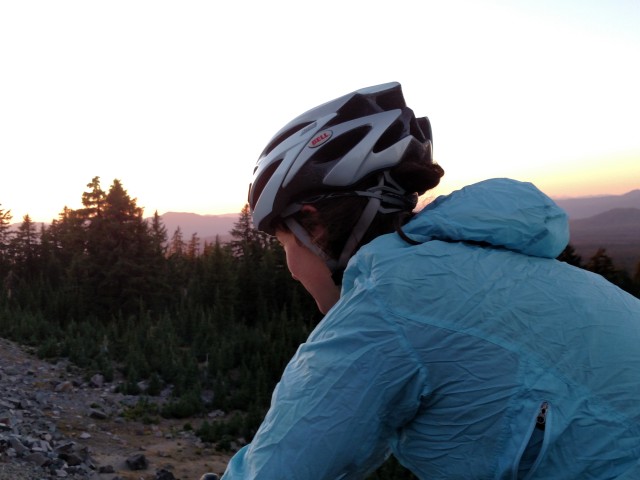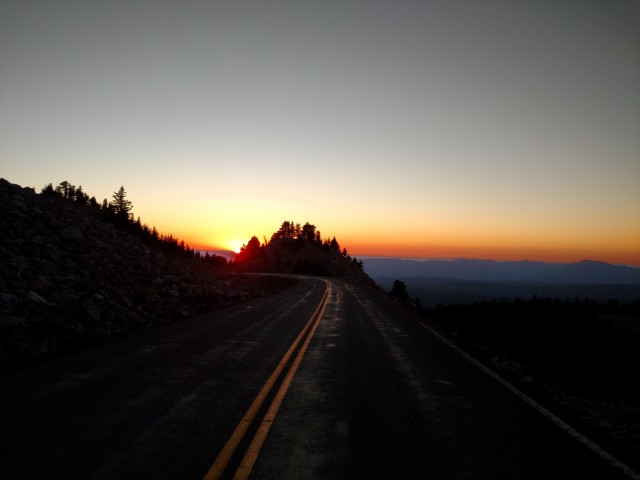 We were starving at the end of the day, and fed ourselves with some delicious Udon noodle soup. It required #vanlife ingredients, minimal chopping, and came together in about 20 minutes. We were ravenous, but we promise that this is delicious always. We made this in the dark with no measuring utensils, so proceed with flexibility. Serves 3 hungry volcano cyclists.
1.5 L +/- water
1 Tbs veg bouillon
3 garlic cloves, crushed
1 thumb ginger, chunks or chopped
1 medium yellow onion
½ package udon noodles
1 package tofu, cubed
4 tbs soy sauce (to taste)
1 Tbs sesame oil
1 bunch scallions
5 oz Arugula (or any greens of choice/availability)
Cut yellow onion into eighths. Crush garlic, chop ginger. Bring water, bouillon, yellow onions, garlic and ginger to a boil. Add noodles to broth, and bring back to boil.  After about 7 minutes (halfway before the noodles are cooked), added the cubed tofu, soy sauce, and sesame oil.  Boil noodles until just about finished, then add the chopped scallions and handfuls of greens to wilt in the hot water.  Serve & eat.