Trip Report
Joffrey and I were initially intrigued with the Sierra High Route (SHR) after reading Alan Dixon's description of his South Sierra High Route Extension.  The photos were beautiful, and Joffrey had considered a big High Sierra adventure, but didn't know much beyond the existence of the John Muir Trail (JMT) and High Sierra Trails (HST, not SHR!).  Neither of us had done any long off-trail routes like the SHR, nor spent time in the Sierra, but extensive descriptions of the route exist online and in Steve Roper's book.  These resources provided us a strong foundation for planning, and confidence that this trek would be a great place to practice our backcountry travel skills.
The Sierra High Route runs from Twin Lakes just SW of Bridgeport, CA to Road's End in King's Canyon National Park, and Alan Dixon's SoSHR comes in from South Lake to join the SHR in Dusy Basin, then continues south, going over Mt. Whitney, and ending in Horseshoe Meadows.
The SHR route was established over a few summers in the 1970s by climbing pioneer Steve Roper as he looked for a higher, more wild backpacking route along the crest of the Sierra Nevada. It spends about half of its miles off-trail, visiting alpine lakes and high passes unseen by those in the valleys on the JMT. The terrain is meant to be non-technical and a 3rd class (a description of difficulties here) or easier route exists through all sections, though good routefinding is necessary to find this route, and an inexperienced, or unlucky traveller might find himself on 4th or even 5th class terrain, which would turn the average backpacker promptly around, or cause the need for emergency pants-washing. Roper intended for the route to be just that – a route, not a trail. Each hiker should find her own route, with ambiguous descriptions of the route with enough information for safety (usually), but not enough to ensure that everyone follows precisely the same track. Of course, there are GPS files available, and the route is now popular enough that we often found use trails exactly on our route. Alan Dixon's Southern Extension of the route follows the same core principles, stays even higher, and goes over Mt. Whitney, making it the culmination of a true trek along the Sierra crest.
Joffrey and I had the goal of completing the SHR with Dixon's Southern Extension in 18 days, for an estimated total of 251 miles.  As we later learned, most do the SHR's 190 odd miles in over 20 days, making our goal rather ambitious.  While we did not finish our route due to smoke conditions from wildfires, we completed a significant portion of the route over the course of 10 days of hiking.
In our first few days, we discovered that while neither of us had altitude sickness, the high altitudes slowed our pace down far more significantly that we had anticipated in planning our splits. 30% less oxygen is a big deal!  

Off-trail mileage for each day was also about

15% higher

than our GPS tracks and map measurements had indicated.

Roper describes the High Route from South to North, and indeed most walk this direction, but we chose to head southbound, as this is how Alan Dixon's Southern Extension is described, and this would allow us to finish with the high point in the lower 48 – Mt. Whitney.

We spent so much time preparing our van for our year-long adventure that we did perhaps not plan the route as well as possible (we didn't research the passes, or consider the terrain difficulty properly in splits), and we certainly didn't do enough conditioning preparation. This route offers physical, routefinding, and navigational challenges, and a dialed set of gear. We do not recommend trying to hone several of these skills at once on this route. We came in without great familiarity for our GPS navigation app, with less-than-ideal conditioning, and not much off-trail routefinding experience. Really too much to do to expect to be able to pull the mileage we intended. All the same, we mostly caught up to our expected mileages every time we had a good section of trail to walk!

A logistical note: this is a point-to-point, and shuttling can be problematic. We opted to park our van at Chamber of Commerce in Lone Pine and take the Eastern Sierra Transit 395 bus north to pick up permits and start our route. Parking at the Chamber of Commerce was $20/week, but was almost full!
The SHR was a mental and physical endeavor beyond what either of us expected.  We had, anxiety about difficult passes and routefinding, tears of stress, torn up feet, hunger, and moments of pure joy. Below is a table of our splits, and some notes on the days, then a more detailed description of our experiences on each day. At the very bottom is a list of resources we used when planning our route. Enjoy!

Day
Start 
End
Trails
Passes, Lakes
Mileage
 1

Twin Lakes, Bridgeport CA

Soldier Lake

Horse Creek Trail, X-Country

Horse Canyon Pass, small alpine lake south of pass, Stanton Pass, Soldier Lake

11.62 mi, 5391 ft gain

2

Soldier Lake

North Fantail Lake

XC, few use trails

Shepherd Lake, Sky Pilot Col, Cascade & Steelhead Lakes, Conness Lakes, Green Treble and Maul Lakes, Spuller Lake, Fantail Lake

11.54 mi

 3

North Fantail Lake

Bernice Lake Trail Junction

XC over Mine Shaft Pass,

Rafferty Creek Tr., JMT

Mine Shaft Pass, Gaylor Lakes, WL10049T, Tioga Pass Hwy (120), Tuolumne Pass, Vogelsang Lake, Vogelsang Pass

19.45 mi

 4

Bernice Lake Trail Junction

Bench Canyon Bottom

JMT, Lewis Crk. Tr. XC

Lyell Fork River Xing, Blue Lake Pass,

15 mi?

5

Deep Canyon Bottom

Upper Garnet Lake

XC, use trails

Twin Island Lakes, Stream Xing, Lake Catherine, Glacier Pass, Thousand Island Lake, Easy Saddle, Upper Garnett Lake

9.83 mi

 6

Upper Garnet Lake

Red's Meadow

XC, use trails, Minaret Lake Tr., Beck Lakes Tr., JMT

Whitebark Pass, Iceberg Lake, Cecile Lake, Minaret Lake, Nancy Pass, Superior Lake, Devil's Postpile

17 mi

 7

Red's Meadow Resort

Milkshakes – $8.95 and worth it.

0 mi

 8

Red's Meadow

Lake Virginia

Mammoth Pass Tr., XC, Deer Lakes Tr., Duck Lake Tr., JMT

Mammoth Pass, Deer Lakes, Unnamed Pass, Duck Lake, Purple Lake, Lake Virginia

16.8 mi

9

Lake Virginia

Second Recess (Trail End)

JMT, McGee Pass Tr., XC, Laurel Lake Tr., Mono Creek Tr.,

Shout of Relief Pass, Ross Finch Lake, Bighorn Pass, Laurel Lake

14.5 mi, 3600 ft gain

 10

Second Recess

Bearpaw Lake

Use trail, XC, Lake Italy Tr.,  

Mills Creek Lakes, Gabbott Pass, Lake Italy, Brown Bear Lake, White Bear Pass, White Bear Lake, Black Bear Lake, Ursa Lake, Bearpaw Lake

11.3 mi, 4600 ft gain

11

Bearpaw Lake

(Exit) North Lake Campground

XC, Mirriam Lake Tr., French Crk. Tr., Desolation Lake Tr. Piute Pass Tr.

Feather Pass, La Salle Lake, Elba Lake, Puppet Lake, Puppet Pass,

Desolation Lake, Summit Lake, Piute Pass, Piute Lake, Loch Leven

~17 mi

 12

North Lake Campground

Hostel California Bishop

Roads, Unnamed Tr., Lake Sabrina Tr., Lake George Tr., use trail, Tyee Lakes Tr., Hitch-hiking

Lake Sabrina, George Lake, Tyee Lakes, Parcher's Resort, Bishop

11.2 mi
Day 0
The previous day we arrived at Annett's Mono Village on Twin Lakes hours before we expected to be there.  We had built in lots of time to 1. Drop off the van at the Lone Pine Chamber of Commerce, 2. take the bus from Lone Pine to Bridgeport Ranger Station, and 3. walk the 13+ miles from Bridgeport to the trailhead, with slim hopes of hitching a ride.  In our first foray into hiker hitchhiking, we were picked up within two minutes of sticking out our thumbs… by another Sprinter Van-lifer, no less.  Thanks Chuck!  He drove us to the trailhead by 11am, so we had almost a full day to kill before heading out.  We swam, read, and drank milkshakes.
Day 1

We packed up our tarp, loaded our bear cans, and headed up Horse Creek Trail.  This was a moderate switch backed trail, yet I moved very slowly up the terrain.  It had been a while since I had carried a full pack, and I was still adjusting to the feel of our new Hyperlite Mountain Gear (HMG) packs filled with bear canisters and six days rations.  We had slept at elevation during our drive West, but had not gotten in much exercise.  It was slow moving, and Joffrey was significantly ahead of me, urging me to move faster.  Luckily I was under the impression that we had about 8 miles to travel that day, and this short distance kept me motivated to move. We met a group of four, finishing a section hike of the SHR, and received the advice to "stay right" at Stanton Pass ahead, though whether they meant their right north-bound, or ours, south-bound was unclear.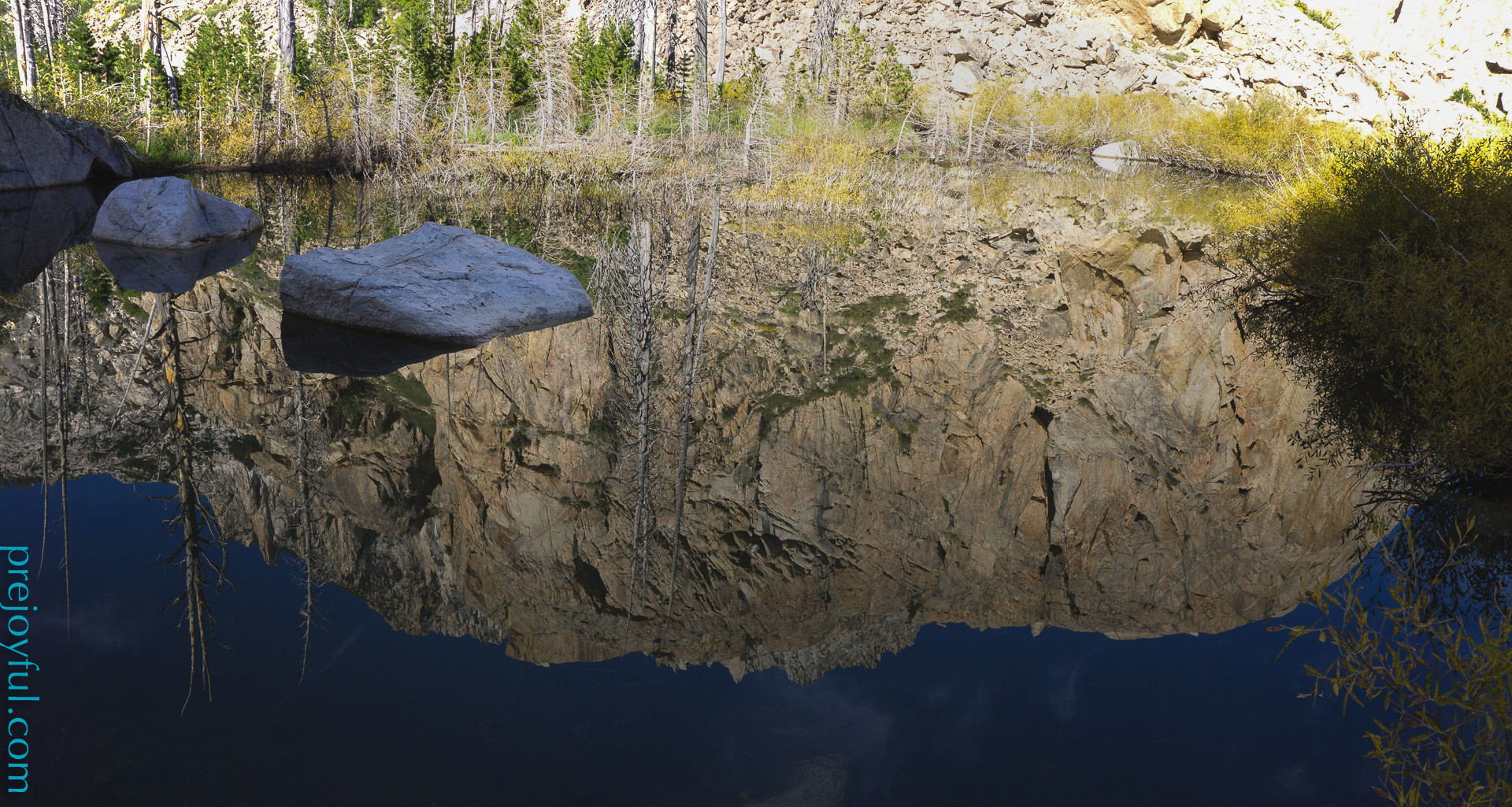 Our first pass was Horse Canyon Pass at 10680 ft.  I had no sense to even be nervous about the pass, but I found myself getting anxious because of somewhat loose talus.  We found the last few remains of year round snow pack, and it was clear that some of it had recently melted – leaving the talus unstable and shaky to walk on.  It wasn't a particularly long pass, but it felt narrow and confining in portions.  Coming out on the other side revealed beautiful alpine meadows, and our first small alpine lake greeted us with cold water.  We took a quick swim before heading on our way. We both continued to feel relatively fresh and optimistic about the route.  Shortly after our swim, as we moved swiftly downhill across alpine meadows, we encountered Brian completing the FKT for the traditional Roper SHR.  Brian warned us about the upcoming Stanton Pass (beware 5th class moves!), but told us that if we could do this pass, we could do them all.  We told him he could run through Horse Creek.  Bad beta from both parties, but we were happy to meet him.

Stanton Pass was tricky in terms of picking the correct line and right side.  At first we didn't trust the advice to stay to the south (right side) of the pass, and Joffrey eyed a different line to the east.  I anxiously looked at the almost vertical rock in front of me, worrying that we'd be doing serious climbing.  As we approached, we found some faint use trails, and did veer to the right – taking us up some Class 3 granite ledges.  While I was fearful, everything was quite sturdy and we were up over the pass in short order.

We continued down ledge systems on the other side, and cross country before dropping down into Soldier Lake to camp, more exhausted than we expected, and later in the evening than we thought.  Our total mileage was closer to 12 miles.  This is mileage that wouldn't tax either of us on a normal trail in the Mid-Atlantic or NH, but was exhausting off-trail and at elevation. 
Day 2

The day started easily, plodding down low-angle polished granite slabs, then through an old avalanche path and woods, across Virginia Creek Trail and its namesake creek, up gentle terrain into the valley leading up to Shepherd lake, and high at the top of the valley, Sky Pilot Col (11650 ft.). This col was loose and scary, and dominates my memory of the day, but there were plenty of lovely bits. Shepherd lake below the col was beautiful, as was Cascade lake, and the surrounding lakes on the far side. The glacially fed Conness Lakes, beautiful meadows, peaks and valleys. We were exhausted, physically, and emotionally from the scariness of Sky Pilot Col, and probably did not appreciate the surrounding beauty appropriately.
The hike into Sky Pilot gave us our first real taste of bushwhacking through willows (unpleasant), then opened to a gorgeous Shepherd Lake. We were feeling behind schedule and did not go for a swim, but dipped our shirts and hats in the cool water, which helped keep us cool as we slogged up to the col. The entry to the col was a narrow valley, filled with large talus, and huge boulder fields, filled with difficult topography not indicated on the map due to the completely melted snow fields.  We first approached the wrong pass, to the north, and had to retrace our steps over to the correct pass.  A stream ran over ice beneath the rock under our feet, and the constant melting made the rock loose. We heard rockfall and constant rock shifting as we moved as quickly as we could at 11000 ft. The final ascent had some very loose scree over hard pack dirt on a surface that felt almost vertical to me, but probably was about 45 degrees. (The topo, and Google Earth show snow in this section at an angle of 35 degrees, but we found no snow on the col.)  On hands and feet, I scrambled a few feet until I felt stable – making a series of these exhausting moves up to the pass.  I waited, terrified, as Joffrey, out of view over the steep edge, worked his way up the face (more calmly than I).  There was no way I was doing 18 days of this, and I told Joffrey as much.  Our first experience with this high angle terrain and poor footing was shaking.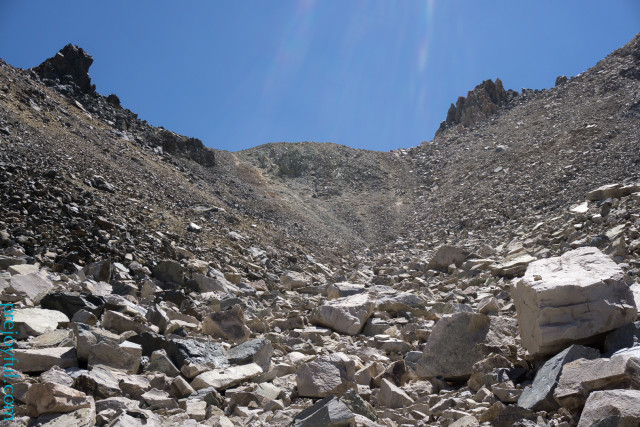 We descended a long loose scree slope where white and brown rock came together down to the small flat area south of Sky Pilot.  This kind of loose, sliding, sandy gravel could be nerve wracking ("offensive to novice hikers" as Roper put it), but it felt like nothing compared to what we had just ascended, and plenty of dune walking in Sleeping Bear Dune National Lakeshore prepared us well for this.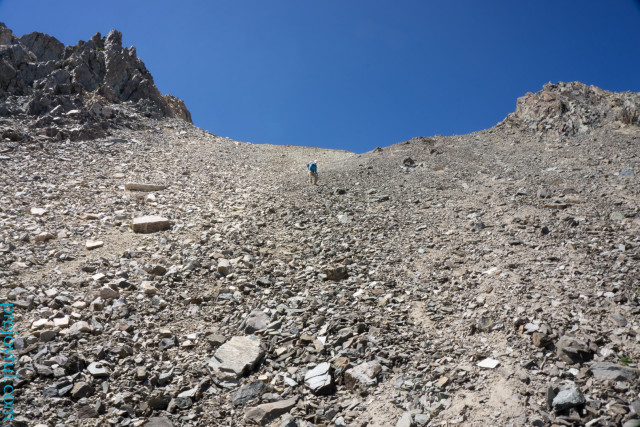 A use trail took us down the steep slopes to Cascade and Steelhead Lakes, where we saw our first groups of people for the day – fishers and day-hikers.  There seemed to be lots of fishing and short hiking in this area due to the access via Saddlebag Lake boats. The lakes were beautiful, but algae bloomed in the creeks connecting the lakes, making me wonder about the amount of human use these lakes see.
Next, we came over a small ridge of easy granite slabs dotted with small tarns, mostly dry ending at the foot of a ridge to the east of Conness Lakes.  The GPS file indicated a useful ridge to ascend, but from a distance we looked at intimidating fractured granite walls.  As we learned, then re-learned daily on this trip, the terrain often looked much more intimidating from a distance than up close, and usually was more manageable than we expected.  This was our first pleasant climbing (Class 2) along granite ramps – easy, unexposed routes up steep faces. leading to a ridge (about 11360 ft.) with a few scrambly moves, then down to alpine meadows and a gentle valley. We found and followed occasional use trails, but our track seemed at odds with most human routes through the area.  It was growing late as we passed Green Treble lake, and it was clear that we would not make it to our intended destination at Lower Gaylor Lake, just inside Yosemite NP, but we pushed on to Spuller Lake, then found a use-path down towards Fantail Lake, where we camped in a nice meadow set back from the lake.  The area around Fantail is relatively dry, but lots of winding stream beds break up the alpine fields. We were well short of our intended campsite for Day 2 (about 4-5 off-trail miles).  It had been a challenging day emotionally and physically.  Failing to reach our destination put an even further damper on our spirits.  We felt dejected, but we were treated to beautiful skies, a good dinner, and some nighttime peace.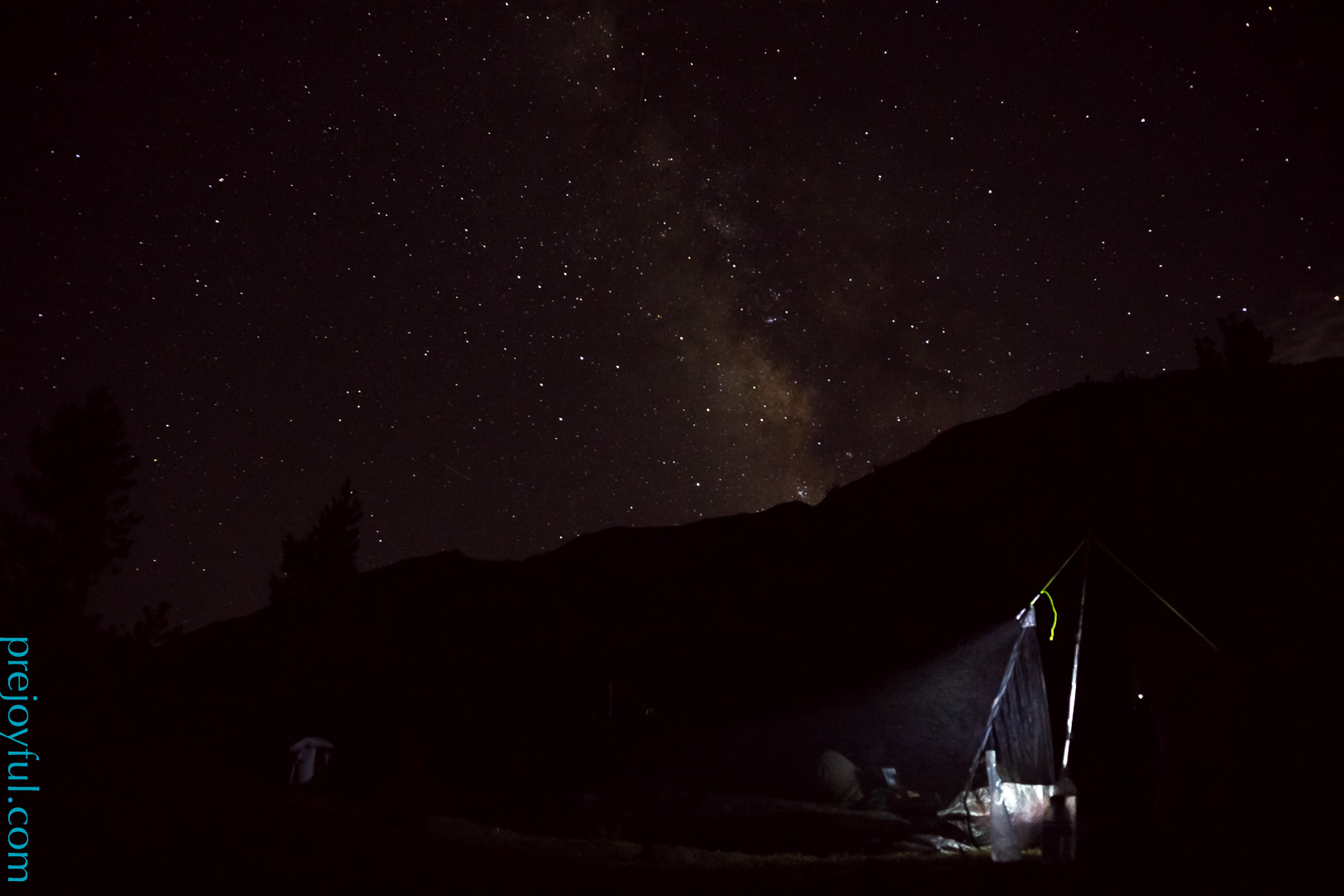 Day 3
In the morning, we discovered that our maps suggested contouring from Spuller to Mine Shaft Pass, rather than dropping closer to Fantail.   We were well rested though, and the granite ramp climb up to Mine Shaft was familiar terrain and not a harsh way to start Day 3.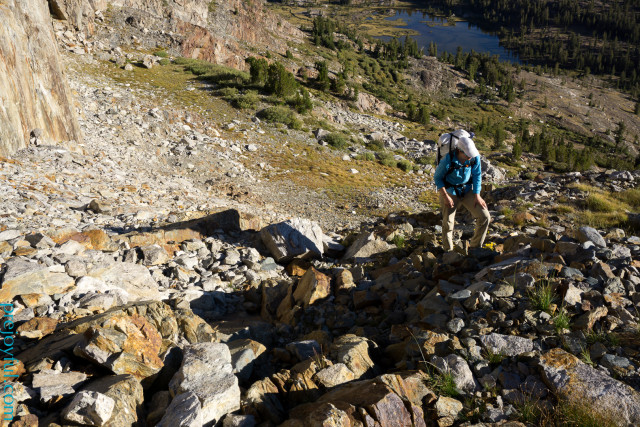 We climbed a series of granite ramps, with wide, safe ledges up into Mine Shaft Pass (10920 ft.).  The anxiety I had felt the previous day regarding our approach to similar terrain was gone.  As we continued the SHR, this familiarity became a theme for me.  It allowed us to move faster, choose easier lines, and avoid the fear and panic I had felt a few times on the first two days.  There was always the inevitable new experience, but general comfort with this rock and these mountains went a long way in regards to speed and efficiency.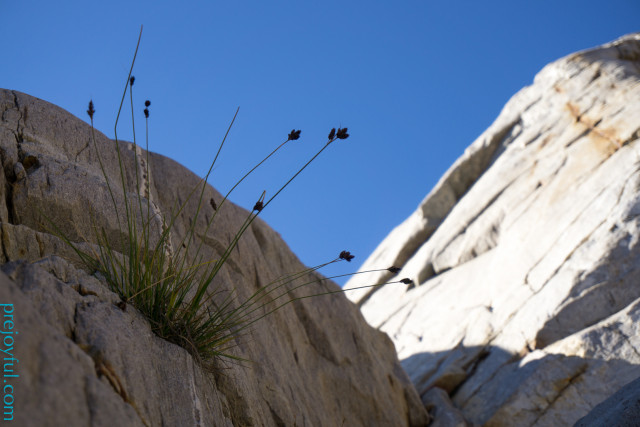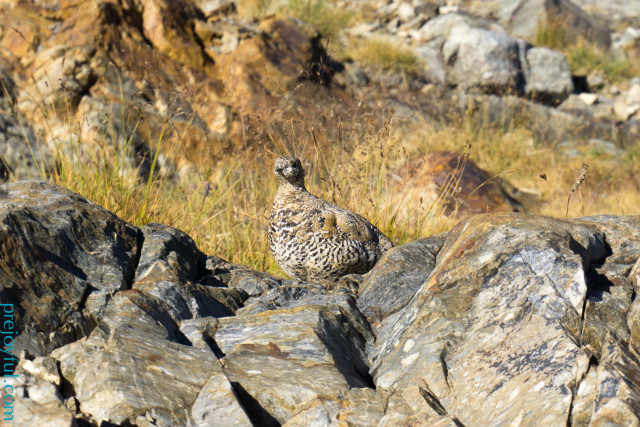 Mine Shaft Pass offered just that – a series of collapsed mine shafts that inspired the imagination. We stood on the edge of each and hypothesized what they were mining, and what it was like to submerse yourself deep into the mountain side in tunnels of these unstable rocks.  We considered the immense effort of bringing mining equipment up to this pass with mules, horses, and huge amounts of human power.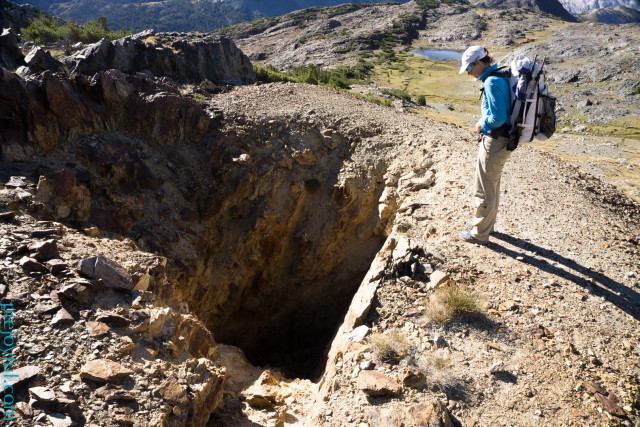 We cruised an easy descent of the pass to Upper Gaylor Lake, still relatively early in the day.  There was no one to be seen, so Joffrey and I went for our second refreshing swim of the trip.  We rinsed our smelly clothes, and had a lovely snack break.  Feeling re-energized we decided to try to push for our intended Day 3 campsite at Bernice Lake, since most of the day would be on trail through Yosemite.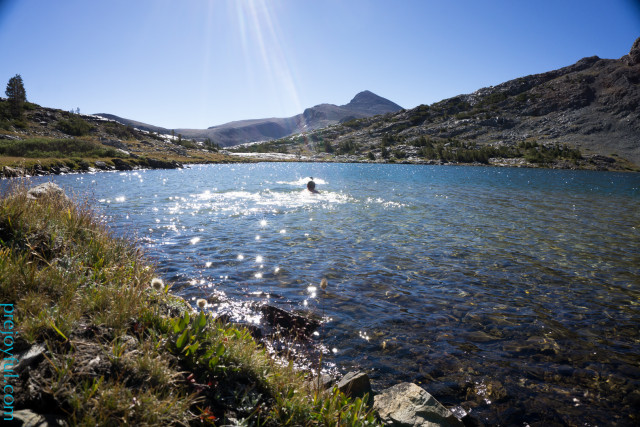 From Upper Gaylor Lake to Tioga Pass Road (Highway 120) we crossed beautiful meadow with easy walking, dried out tarns, and a few other hikers.  Once we hit a trail, we cruised through some low forest area before we crossed the highway.
It felt like a traffic jam of hikers once we were south of the road.  The trail immediately became extremely dusty and sandy, but we were moving fast and still in high spirits to get to Tuolumne. At Tuolumne campground store, we ate two ice creams bars apiece, dodged fat (possibly plague-carrying) chipmunks, and continued our trek.  The remainder of this day felt like a long slog.

Meadows across the valley from Tuolumne in Yosemite.
At first I was happy to be on trail again – familiar and comforting.  Yet shortly the sand and heat wore on my feet; following a track felt mindless; Tuolumne Pass (10000 ft.) was the slowest, most gradual, boring mountain pass to exist; and the sun was relentless.  There were people everywhere, and horses had worn the trail to a sandbox.  Rafferty Creek Trail took us past the busy Vogelsang High Camp, then we joined the John Muir Trail (JMT) up over Vogelsang Pass (10680 ft.), and then down along never-ending switchbacks to Lewis Creek.  We had made up our missing mileage from Day 2, but after more than 19 miles we were exhausted.  I was finished hiking, disgustingly dusty and we chose not to hike up to Bernice Lake (+1 uphill mile), but camp at a lower elevation near the JMT along the Creek.  A day that had started so well, and so positively, ended with sheer exhaustion and dreadful wonder at the 15 days ahead of us. Being back near people, we worried about bears, and slept nervously.
Day 4
We started Day 4 tired.  I had been having a hard time sleeping, as my legs were so sore from each day.  I spent nights tossing and turning, and it was wearing on me during the day.  Neither of us was looking forward to dusty JMT walking, and we had less certainty that we'd hit our designated campsite every night.  This worry was extending to day six and seven, when we were supposed to re-ration at Red's Meadow.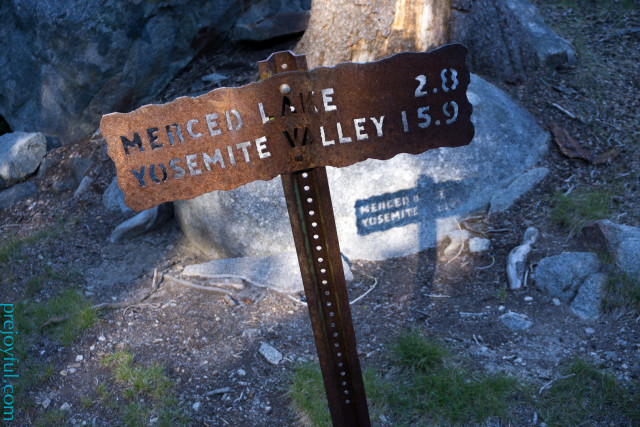 We hiked down the JMT a short ways, then continued up Lewis Creek Trail.  It was a slow, but steady climb.  Joffrey and I were reinvigorated when we happened upon Bert, who was waiting for his missing Sierra Club group.  We chatted with him for a while, talking about places to see and about gear.  While Joffrey is great company, socializing with other people really helped boost both our spirits during this trip.  After talking to Bert, we quickly left the trail and found to our delight some fast paced off trail walking.  The terrain was gentle, and there were no difficult obstacles.  A short steep hill took us up to the gentle cross-country approach to Blue Lake Pass (11270 ft.). We could see our target from a mile away – a large blinding white quartz outcropping.  My nerves were tightly strung, fearing another foul pass, but it never materialized.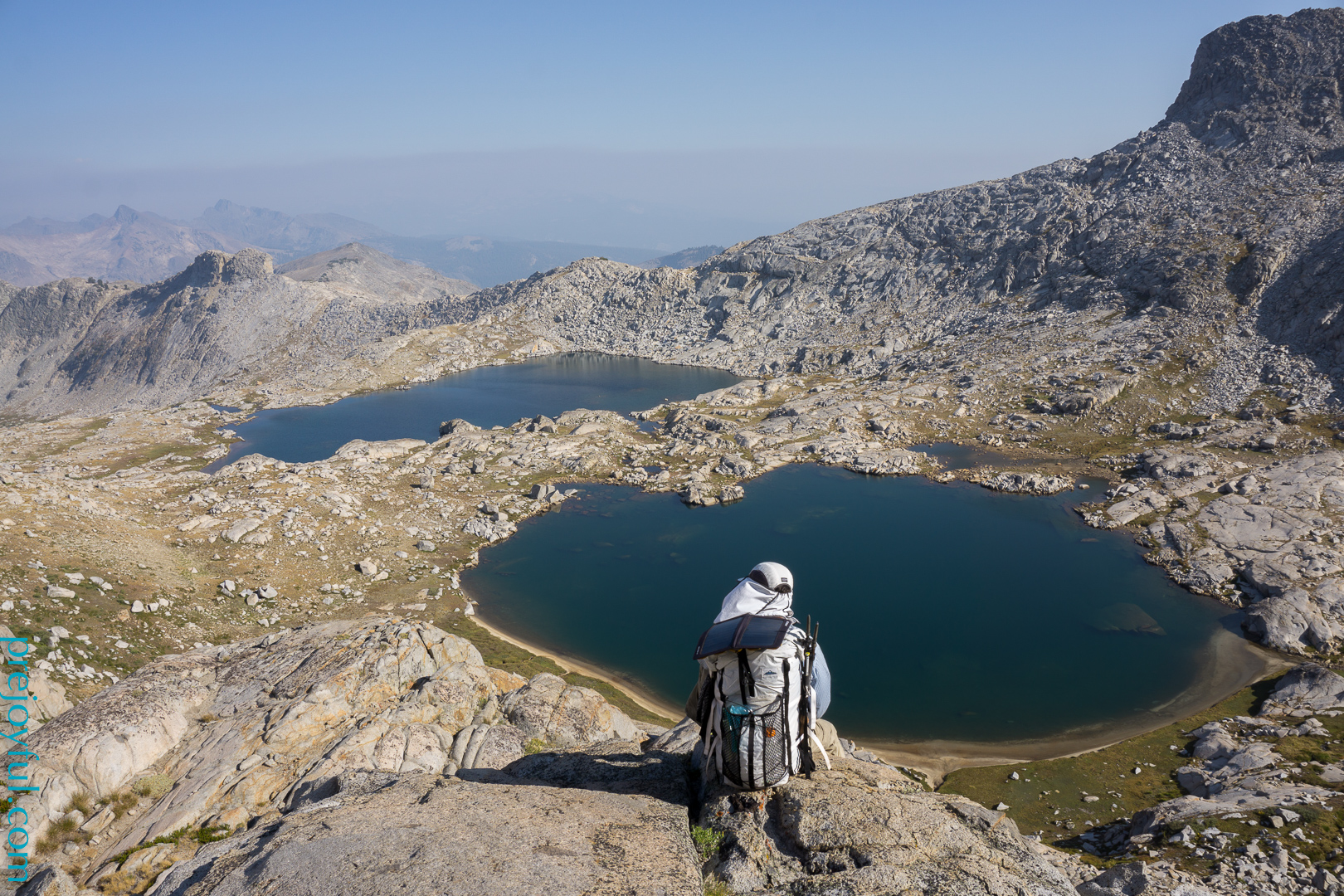 Our GPS track had the route going above a cliff band, but Joffrey chose a better route contouring along the largely stable talus slope.  Despite all my worries that stemmed from my experience on Sky Pilot Col, Blue Lake Pass turned out to be a breeze, and we cruised out of Yosemite.  The pass built some confidence in me regarding other passes, and we had the treat of swimming in Blue Lake in the early afternoon.  Getting to Blue Lake was challenging, though, with a section of tricky downclimbing on steep slab with not much to hold – going up would be better, surely.  The descent from Blue Lake to the meadows at the bottom of Bench Canyon, however, was straightforward.  The canyon bottom was one of our favorite campsites – easy, beautiful, flat, dry, and it was satisfying and refreshing to arrive without feeling like the day had wrecked us.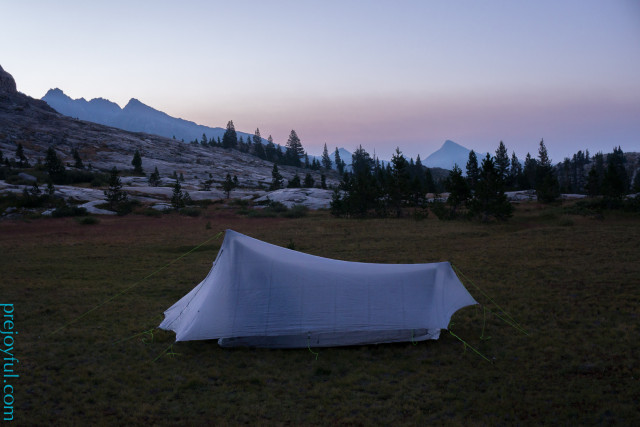 We felt like we were alone in the world. In the distance, we saw the impossibly jagged outline of the Minarets, which were partially veiled in smoke. We could now smell smoke from the Rough Fire in King's Canyon, but it was not bothersome. We looked at the jagged peaks as we ate dinner; surely we wouldn't go there, that terrain appeared impossible to traverse…
Day 5

After our first four days, we had a better sense of the terrain we faced, and a better sense of whether our intended splits made sense. Joffrey did most of the splits ahead of time, and paid mostly attention to mileage and sleeping elevation, not whether the miles were on or off trail, or how many passes we covered.  We knew that our intended route for this day would not work – over 15 off-trail miles with three passes, before regaining trails at the end of the day. Our goal was to make it as far as possible.
The day dawned clear, and the smoke had lifted from the Minarets. I began leading the day, up a steep hill out of the canyon. Path finding and footing were slow, and once we crested the ridge, Joffrey took over again, routefinding through tedious side-hilling talus, contouring around the mountains toward Twin-Island Lakes. Though the lakes were only a few miles away, it took us over three hours to reach the stream between the lakes, which was noted to be dangerous and very high in early season – we found it to be easy rock-hopping. The lakes were full of jumping trout, and we paused to look at the daunting slope we had to traverse to gain the valley up to Glacier Pass. Even Joffrey was nervously quiet, and talked about possible ways to bail from the route, if the terrain was too difficult. The walls appeared sheer, and where not sheer, quite loose. It looked like 4th class terrain for sure.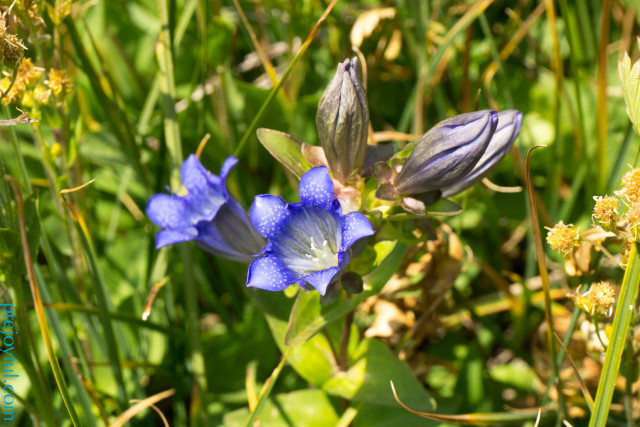 We started up a steep talus field, but soon found that we were on the wrong track – one that would require 4th or 5th class downclimbing, and backed off, and went around. The intended route was 3rd class, and we met three other backpackers, who were just in for a few days and heading to Blue Lakes. We told them of the difficult terrain, but how lovely Blue Lakes were, then continued nervously toward the looming sheer walls to our left. As we approached the route Joffrey thought might work, we ran into some lovely Australians who write walking books (John and Monica Chapman).  They advised us that there was, in fact, a use trail through the impossible looking face, and that unlike Roper's dire description of the traverse, it was a cake-walk. Our relief was palpable, and we stopped and chatted with the Chapmans for a while about the SHR and other adventures. The use trail was indeed easy, and was covered in gorgeous wildflowers. We arrived at the top of the waterfall at the headwaters of the San Joaquin river and lunched, having only traversed 4 or 5 miles, but already exhausted.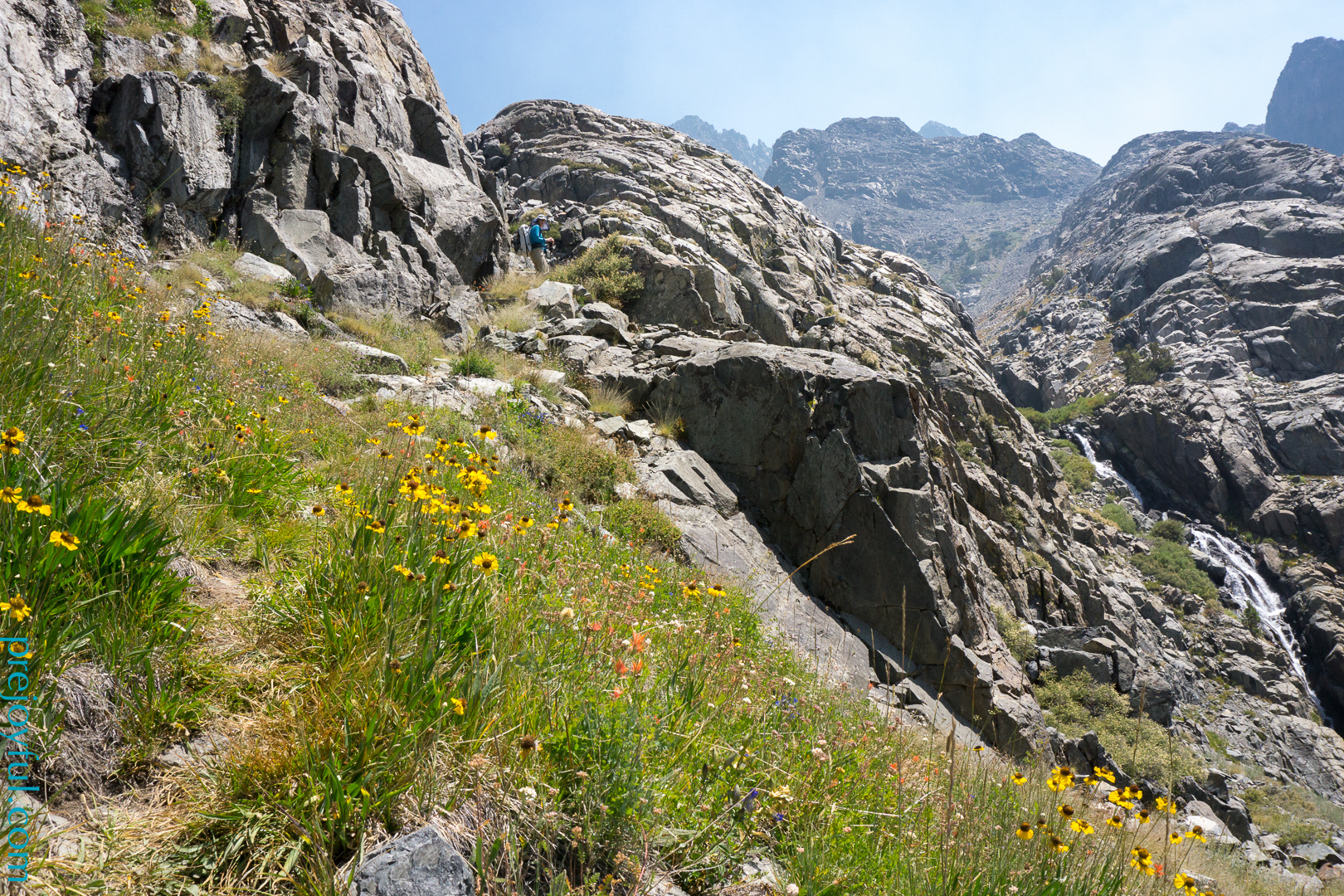 After a break, we continued, on and off of use trails, up a steep hillside, slabs, and talus passing waterfalls up into the heart of the Minarets. Craggy peaks soared above us, with Banner Peak looming large and beautiful to our right. Routefinding was slow, but eventually delivered us to the incredibly beautiful Lake Catherine sparking with its aquamarine blue below mountains and snowfields. I was again nervous about the pass and the steep talus traverse above the lake.  My feet were battered and blistered, making progress through big blocks, and occasionally loose rocks slow, but we made it to the pass. The other side was filled with huge boulders and rocks, making travel very slow, especially on tired legs. Bailing on the route seemed assured, and we unraveled, emotionally and physically distraught.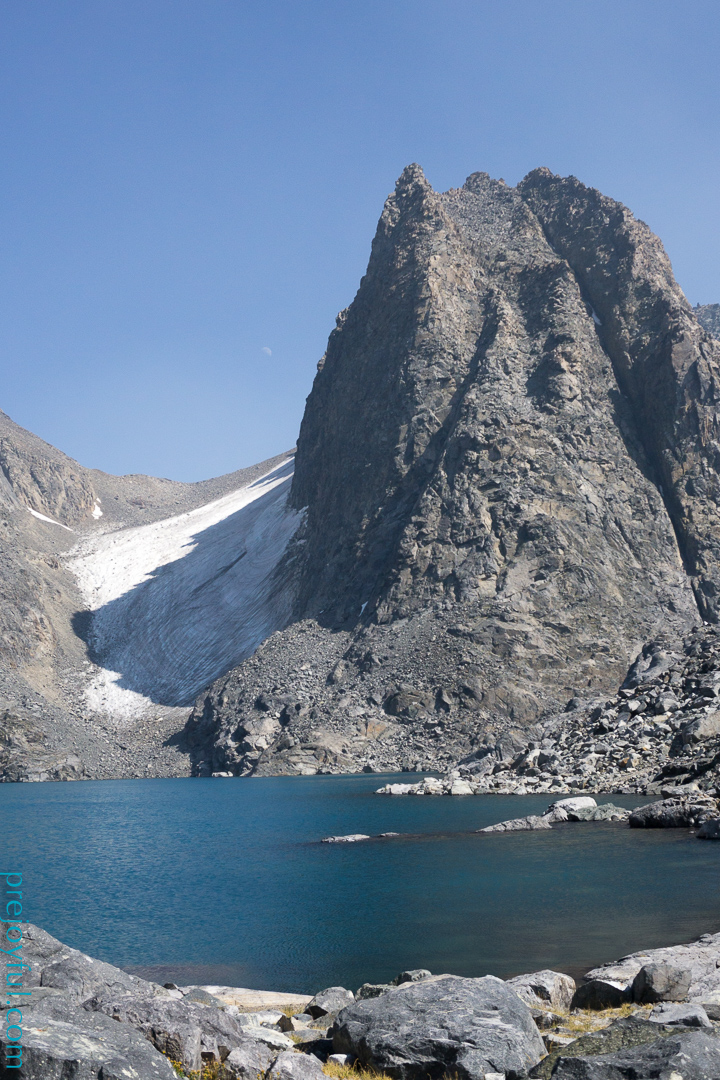 After a moment of rest, we continued, and promptly joined a use trail, and ran into two other SHR thru-hikers. Their packs were heavier looking, and they seemed capable of losing a few pounds also; they looked like they were struggling at least as much as us. Buoyed by human contact, we pressed on, and ran into more people! We chatted with the photographers from Reno out to shoot remote lakes in the Minarets who seemed beaten by the terrain also, but happy to be out. We shared Mike Libecki quotes, which buoyed our spirits more as we walked along above Thousand Islands Lake (which Joffrey snarkily estimated has thirty-odd islands).
We met another backpacker camped on the bluffs above Thousand Island Lake, and chatted for a while with him as well. He had done the SHR in 20-some days a few years previous. It seemed almost everyone we talked to alotted at least 20 days for the SHR, while we had a longer, higher, more ambitious route scheduled for 18 days. It made us feel good for trying something so hard, but also a little silly for not recognizing the difficulty of the route.
We continued over another easy col, and down to upper Garnett Lake, which sat directly below Banner Peak. We ended our day here, having completed only about 8.5 miles, just before Whitebark Pass, which was pass #2 on our itinerary for the day. While Joffrey set up the tarp, I prepared dinner, and treated water. At the lake, I spotted animal tracks – we now think bobcat and coyote, but at the time, I worried I saw mountain lion tracks. I didn't tell Joffrey, knowing his fear of mountain lions.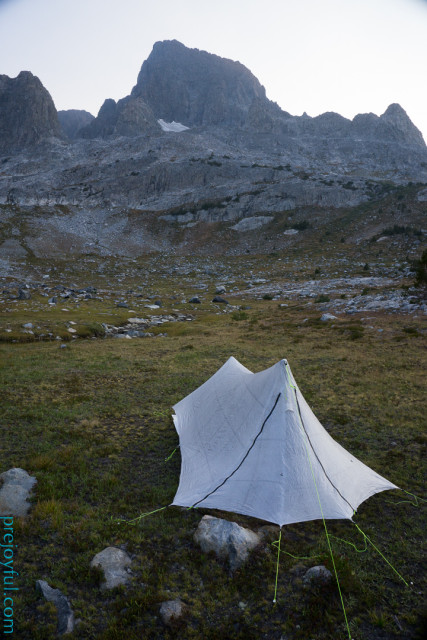 Day 6

On Day 6 we made up some distance from the previous day.  Our itinerary had us arriving in Red's in the middle of the day, picking up a resupply, and moving over Mammoth Crest to the Deer Lakes.  Since we were behind our route by almost a half day, and my feet were feeling wrecked (blisters, skeletal stress, lots of swelling) we dearly wanted to make it to Red's Meadow and take an unplanned rest-day. We were set on making up some lost time to arrive at Red's in the late evening.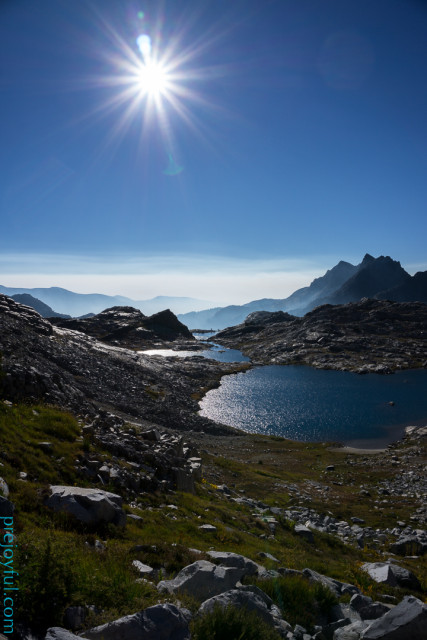 We cruised up Whitebark Pass (10500 ft.), and after some difficulty with the topo (USGS quads were in meters here, leaving only ~60 ft. contours), walked in some long alpine meadows/small forests towards Iceberg Lake.  There is a challenging use trail (on the map) between Iceberg and Cecile Lake (10240 ft.) along very stable, but large talus. We saw some very hesitant hikers coming down from Cecile towards Iceberg.  The area seemed heavily used, but could be a challenge for people accustomed to standard, well built trails.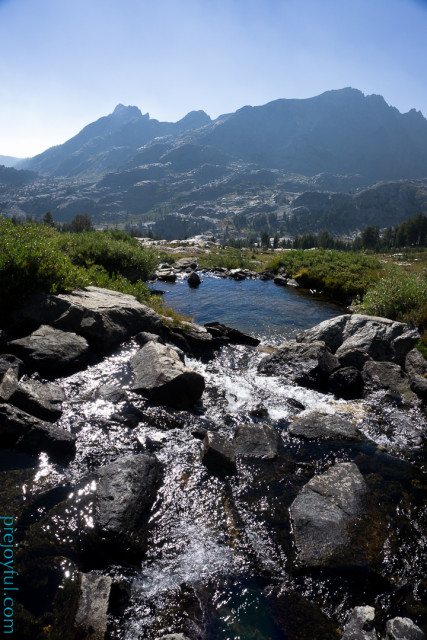 Iceberg was a nice lake, but we passed it and enjoyed a swim in beautiful Cecile Lake.  There were other people around, but the water was clear and deep.  Joffrey found an excellent rock to dive from, and swam until he was shivering in cold.  We had almost walked past Cecile to push on to Minaret Lake, but I wanted to soak and cool my feet.  After a slightly scary, but secure 3-4th class downclimb, we arrived at Minaret Lake, and were glad to have stopped earlier.  Minaret Lake didn't have the same untouched look and clear water that Cecile offered, and lacked the impressive view of impossibly craggy spires above.  There were lots of campsites, and plenty of people around, thanks to the established pack trail in to Minaret Lake.  Overall, the terrain between Iceberg and Minaret Lakes was well used and relatively easily navigable, even without established trails.
Feeling great from our swim, we pushed on with enough energy to climb up to Nancy Pass (10260 ft.).  The route on Skurka's maps took a different pass (next col west) from our GPS route, and we decided to go to the true Nancy Pass to see the memorial plaque and "tin can register".  I was amped to put my name on a damned pass.  We chose an unorthodox climb up Nancy Pass, but it was not difficult.  We walked up very steep grass, then on ramps of medium sized talus and slab, neither trickier nor easier than past passes, though the overall angle we ascended was perhaps 50 degrees.  We went up and and up, sometimes contouring along the side of the peak.  I was actually enjoying myself, and felt no stress by the point in regards to the terrain.  We found the plaque and register at the pass – the register simply a very, very old rusted tin can in a rock hole under the plaque.  Sadly there was no place for me to write my name, so I left no trace.  The pass was named in honor of Nancy's first ascent of the pass, of which we were impressed, considering Nancy was only 8 year old at the time! We were saddened, reading the memorial plaque by her early death at 10 years.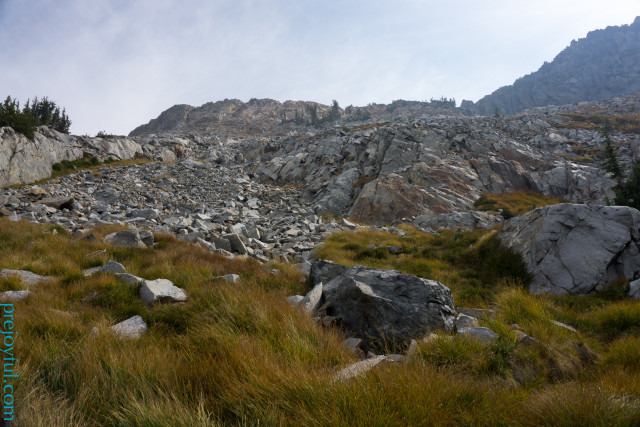 We had a really successful and satisfying day to this point, but then we began the descent down Nancy Pass.  We found incredibly loose scree in a small gully between steep cliffs – route finding provided only a single option, but finding good footing took our complete focus.  It seemed a rockslide had provided more loose rock fairly recently, perhaps in the spring melt.  We could see willows only a few hundred feet down the scree, and as we slowly approached we thought surely we were most of the way down.  When we arrived to the edge of the willows, we realized they were almost impenetrable and growing on a grade that was just as steep as the terrain behind us.  We tried to traverse the slope to our left to move into a lower grade wooded area, where we could trees and larger solid rock to help us move down.  With a few sketchy moves assisted by willows, poles, and climbing over downed trees, we precariously made our way down the face.  Finally near the bottom of the lower talus field, as the terrain eased, so did my focus, and I took a sprawled out fall onto my bottom.  I have incredible beastly ankles (thanks genetics!), but it was a reminder of how easily injuries can occur – not necessarily on the most difficult terrain – but when you are most tired.
Shocked at the face we had just descended, and relieved to be finished, we took one look at Superior Lake ("It was a sludge pit!" says Joffrey) and decided to push on trail down to the Reds Meadow.  We cruised efficiently along the trails, moving quickly for once.  At the junction with the JMT, we snacked, and encountered a huffing backpacking with a huge load, who said he had a "falling out" with his brother the day he started the trail, and was left without maps, stove, or water filtration.  Definitely an odd duck.
Our only disappointment for the day was that we walked through Devil's Postpile around 9pm.  It was too dark to get a view of the walls, although Joffrey made sure to stop and read the informational signs out loud as I stood behind him uncaring, wasted with exhaustion.  This boy loves his rocks.  We arrived at Red's Meadow Campground, paid our $22 for a dusty, slanted campsite, and slept fitfully.  Each day on this trip continued through swells and troughs of extreme highs and extreme lows.  

Day 7
We picked up our resupply, and stayed a full day at Red's Meadow.  We showered (!!!!), washed clothes in the sink, thoroughly enjoyed the most expensive milk shakes ever, and reassessed the next six days of our route over cheez-its and beer.  We made new splits that made a lot more sense after we had become much more familiar with the terrain, and nearly kept the original pace, just realizing that we would have to walk fast on trails to account for slow off-trail travel.
Day 8

This was one of our easier days, but also duller than most.  We hiked on trails to Mammoth Pass (about 9400 ft.), then cross country and eventually on use trail up to Mammoth Crest (a ridge between 10000 ft and 11000 ft).  To get high, we had to climb up a steep sandy gully.  It was like climbing the sand dunes in Michigan.  While not precipitous or dangerous, it was tedious to climb, especially with our full six day re-ration weighing us down.  The crest gave us interesting views of Mammoth Lakes, volcanic rock, and the Mammoth region.  We dropped down into Deer Lakes, ate lunch, and pondered where a sunburned kid wearing Converse kicks had listening to music on his iPhone might have come from.  We climbed a small, unnamed pass (11160 ft.) over to the huge, sparking blue Duck Lake and traversed on trail around the edge.  After Duck Lake we joined the JMT, saw numerous hikers, and stopped at Purple Lake, then climbed to Lake Virginia.  It was a popular spot, with groups camping on either side of us, but plenty of space for quiet solitude nonetheless.  We pondered the relatively lesser beauty of spots we had seen on the JMT, compared with our off-trail SHR travels.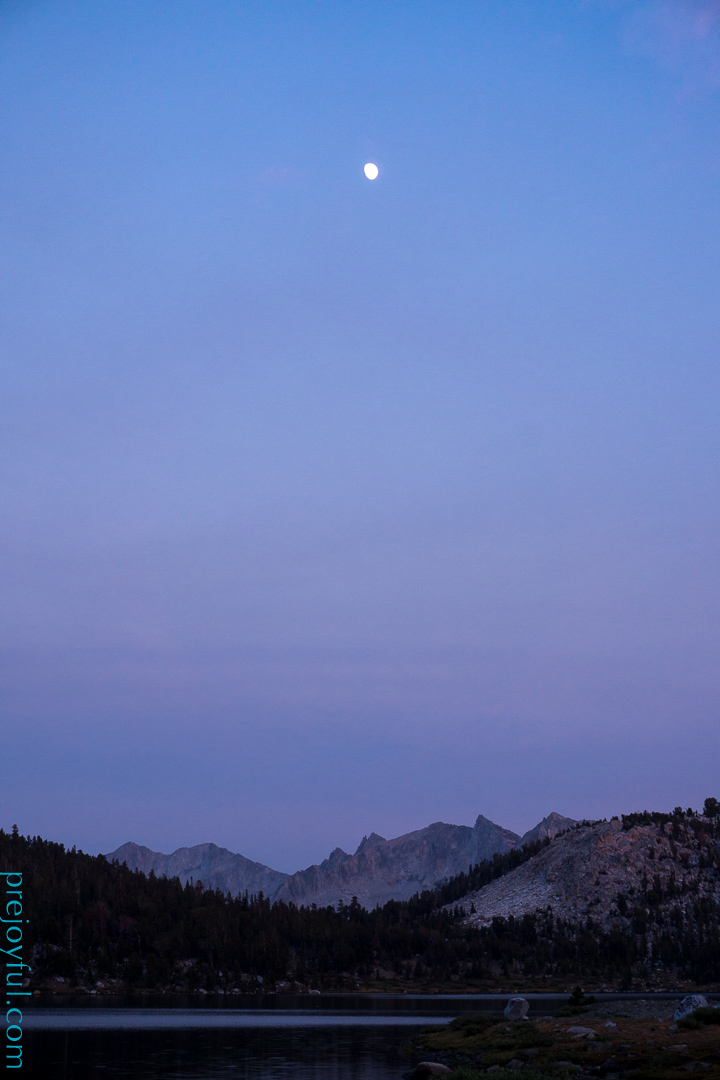 Day 9
This was one of the splits that we had intentionally re-adjusted.  We originally had two passes and lots of mileage planned, so when we re-evaluated we cut the milage dramatically.  We skipped Lake Isaac Walton (on the Roper route), in favor of more mileage on the McGee Pass trail.  Incredibly, Shout-of-Relief (11420 ft.) and Bighorn Pass (11270) ended up being relatively mild.  We cruised through above a gorgeous Ross Finch Lake.  Shout of Relief and Big Horn Passes are quite close together, forming a bowl with Ross Finch Lake near the bottom.  We followed our GPS route which took a fairly straight line rather than Roper's suggestion to contour around the bowl or Skurka's advice to drop down to the lake then climb back up. In the end, Skurka's route would have been the equivalent amount of climbing, likely easier route finding.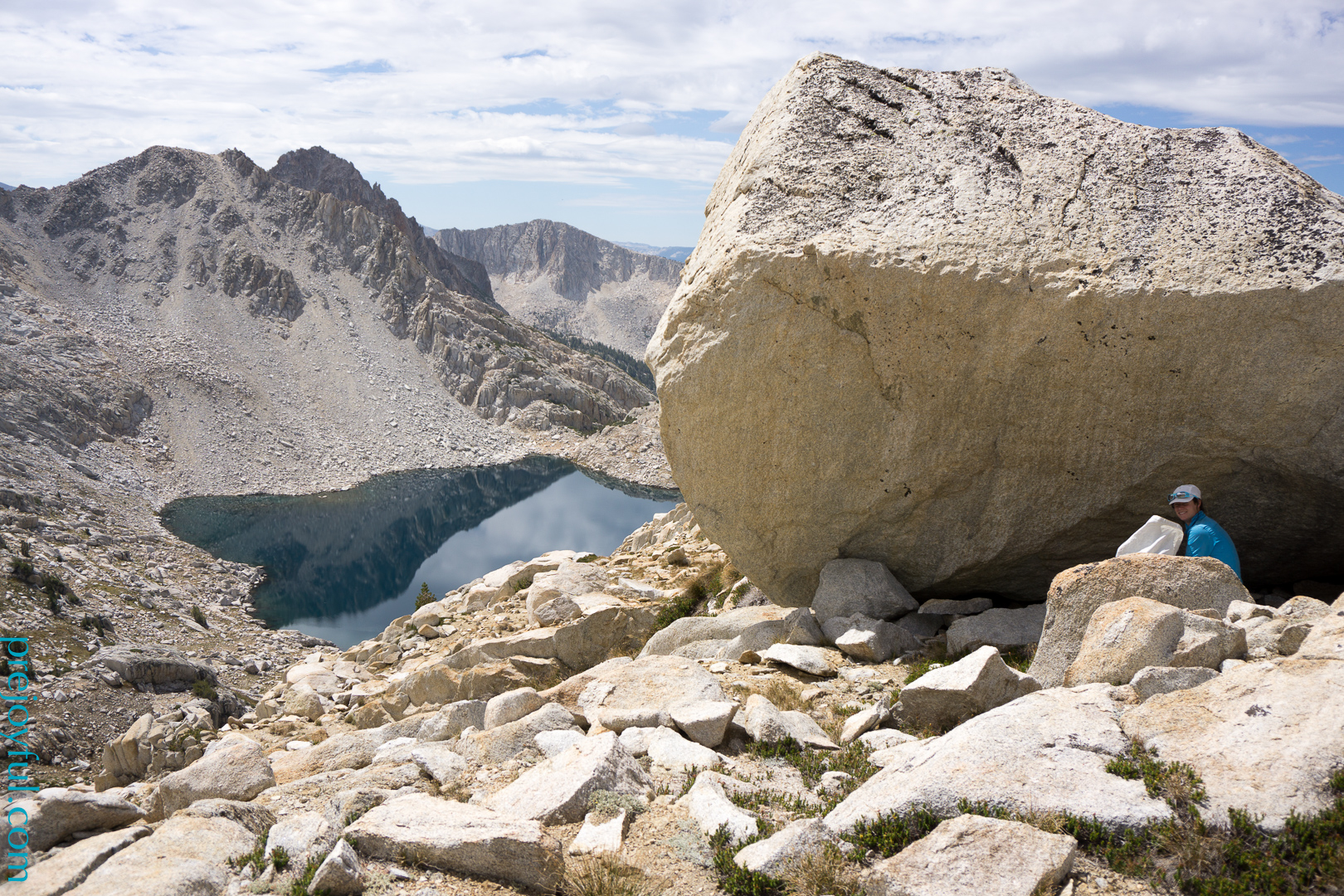 We really enjoyed route finding and navigating this day, with the terrain being similar to many of the other passes we had encountered.  We were seasoned veterans.  We came down over Big Horn Pass making the slightly poor choice of descending ramps to our right, we ended up doing some 4th – 5th class moves (for perhaps 25 feet) when we found ourselves at the top of a ramp that didn't connect.  This was unnecessary, but we felt secure in our movements and were unwilling to backtrack up and around to the easier ramp routes.  We made it to our intended camp at Laurel Lake relatively early in the day, and decided to continue our descent, passing two northbound SHR hikers on their way up towards Laurel Lake.  There was a use trail from Laurel Lake down into the valley, but it was extremely steep and covered in loose dirt and pinecones – at some points it was almost as treacherous as off-trail terrain we had hiked in days before.  It wasn't a pleasant descent, but ended soon enough.  We then began the climb into Second Recess, and set up camp just after the trail marked on the map ended (a use trail continued).  We had an okay campsite in a wooded glade near the creek, and were able to eat and sleep much earlier than most nights.  We should have kept climbing and camped at the Mills Creek Lakes, but we didn't realize the beautiful terrain we were missing until the next morning.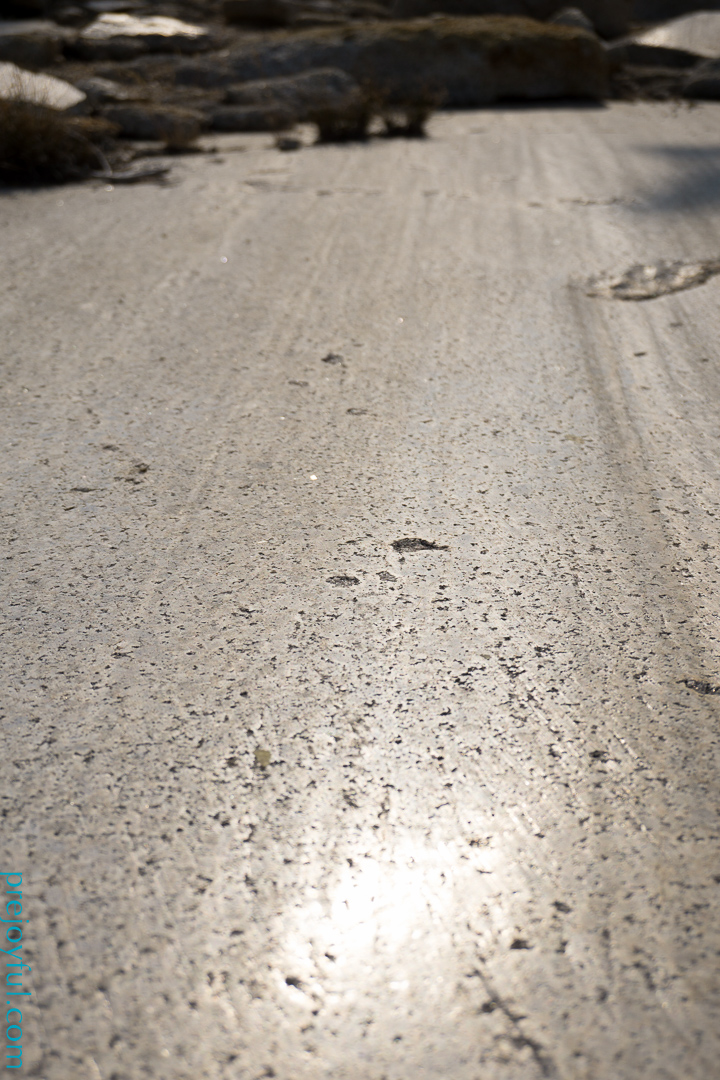 Day 10
We woke and began the steep, winding climb up towards the Mill Creek Lakes and Gabbot Pass (12260 ft.).  All our notes indicated "lots of use trails" so we expected route finding to be easier.  It was mostly a pain, with small trails petering out at critical moments, or worse, continuing into steeper-than-necessary terrain.  It was steep, loose, and slow, with little visibility ahead through small trees and bushes scattered around the slope.  As we made our way up valley, we began to see the beautiful polished granite that Roper mentions in the book.  Seeing this polished stone near beautiful alpine lakes was a real treat, and it was hard not to reach down and run your hand over each polished stone.  While the lakes were beautiful, especially illuminated in the dance of light through our first set of passing clouds, I found the climb up to Gabbott Pass to be never ending talus.  It was stable and route finding wasn't horrible, but I felt like it would never end.  It finally did end though, and with it my grumbling.  We descended gently from Gabbott Pass toward Lake Italy, following and ramps, until they ended, and scrambling on slabs to the next grassy patch.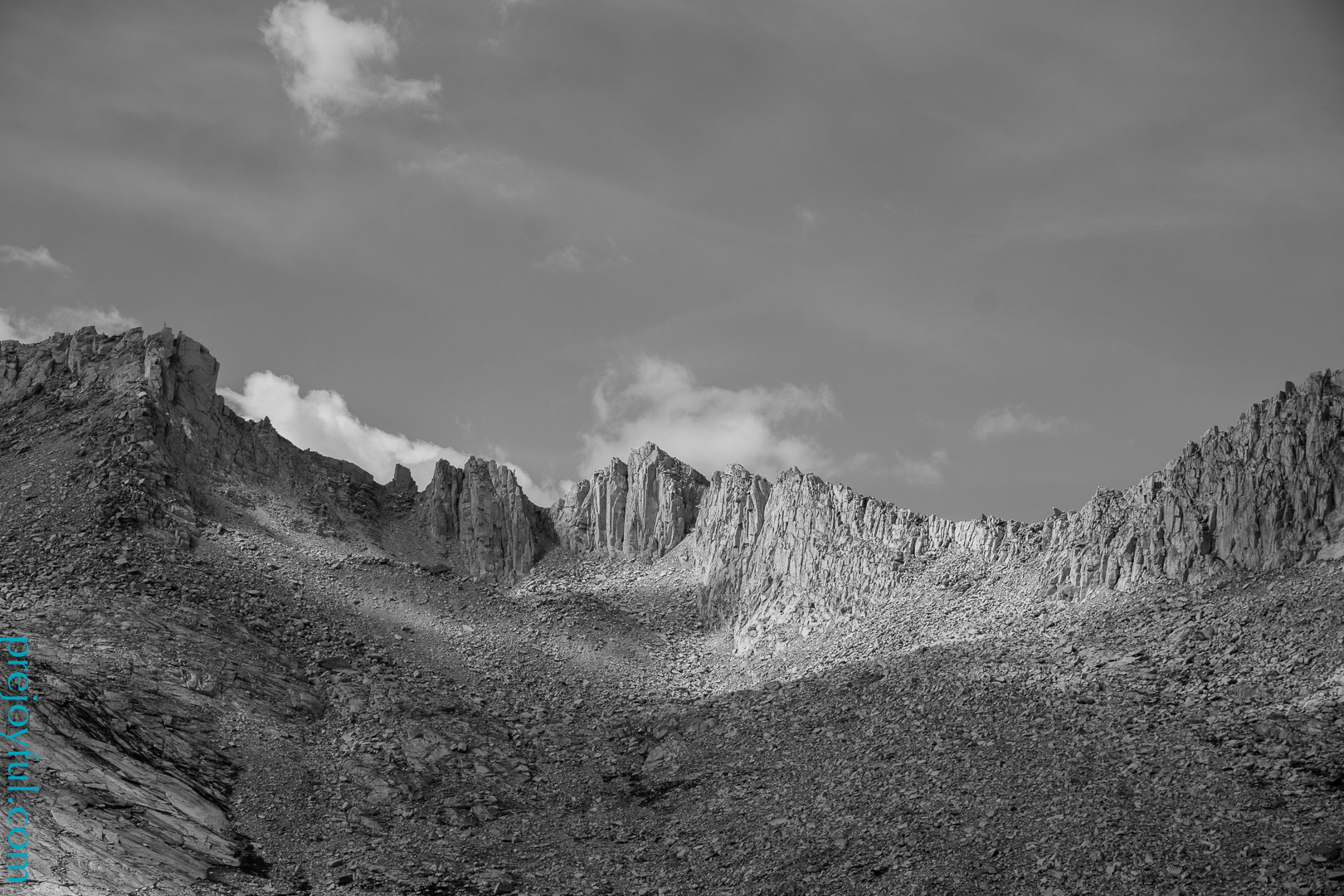 Roper described Lake Italy as "fundamentally ugly".  We disagreed – loving the view of it as we approached.  It was long, narrow, deep, blue, and beautiful with a very steep south side.  We found a small sandy beach along the north shore where Joffrey and I stopped to swim.  We saw a few other people on the rocks along the south side.  Otherwise it felt secluded and quiet.  We walked to the outlet, and followed the Lake Italy trail for a short while, before keeping our elevation and traversing around the trees and granite slab ridge to Brown Bear Lake.  It was still early in the day, so we continued the previous day's momentum, and pushed forward trying to make up time and mileage.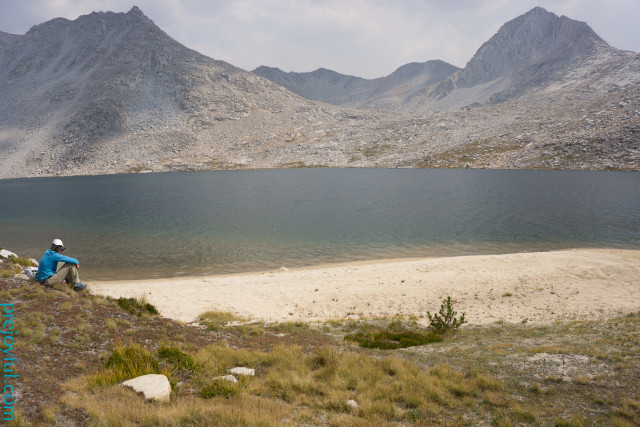 From Brown Bear Lake we started a climb to White Bear Pass (11890 ft.).  All of my pass-climbing expertise felt like it disappeared and I was a nervous wreck the whole climb, letting Joffrey take the weight of navigating and route finding.  There were steep willows to our left, which someone had suggested we stick to, but we stayed more central to the valley, switchbacking some on a lower-angle route towards the pass.  Our route climbed up steep slabs to wider ledges.  It was distinctly third class for quite a while, despite being a relatively short pass.  Nothing was particularly dangerous, and we found ourselves on ledges with beautifully blooming columbines to ease my nerves.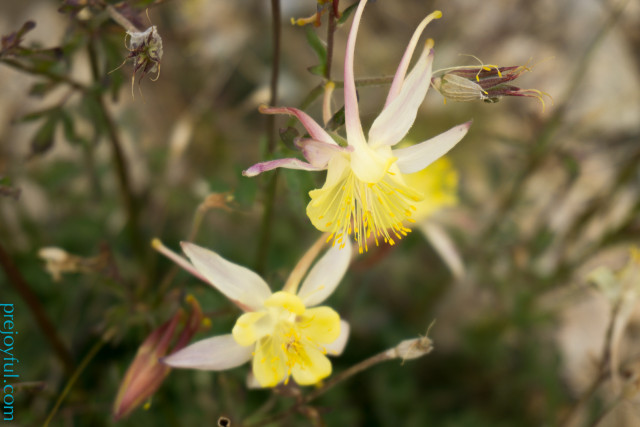 From the top, there was barely a drop down to White Bear Lake, which seemed nearly to continue off the southern edge, an effect enhanced by the smoke that crept in. The Bear Lakes were beautiful and felt removed from the world.  We wandered along the granite, between and around lakes.  We ran into another ultralight backpacker, Glen from Fresno, heading north on the SHR solo,  and chatted with him for a while.  We asked about the smoke, and he said it hadn't been too bad, but that there had been ash falling near the Palisades, and that the normal SHR endpoint in King's Canyon was closed due to the Rough Fire (we weren't headed there anyway). We continued on our way and made camp just below Feather Pass at Bearpaw Lake.  We smelled smoke as it blew in that night, and woke to thick smoke, but a stiff breeze bringing blue skies the following morning.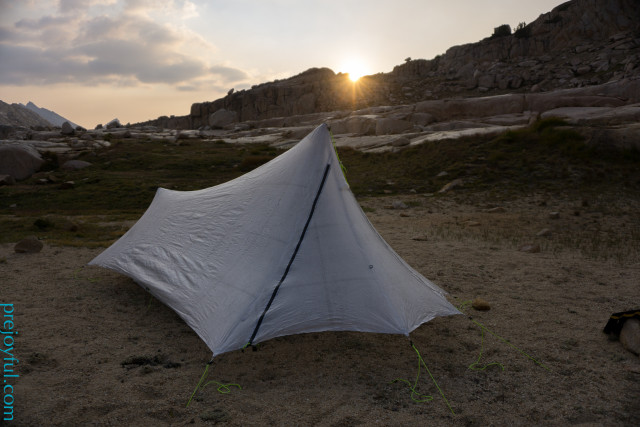 Day 11
The climb up to Feather Pass (12350 ft.) was a short distance from Bearpaw Lake, and wasn't too challenging.  The route was straightforward, involving slab and a very short, but decidedly third class climb near the top.  It was easy to scope out a route from the bottom, but it could easily be tricker finding a route from the top down for northbound hikers.  We made it up to the pass early in the morning, and the air was still very clear.  We could see the namesake feathered ridge for Feather Pass gleaming in the sunlight.  The descent south was not as fun from Feather.  It was windy, and the grassy chutes we thought we could follow ended in cliffs, always oriented a bit off the direction we wanted to travel breaking our momentum with constant short downclimbs.  It felt odd to travel against the grain of the terrain.  We probably didn't take the most efficient route, but we did come over grassy and rocky knobs down to French Creek Trail.  At one point, we think we heard what sounded like it might have been a baby wildcat, and we picked up the pace, and made sure to look and sound as big and menacing as possible.

We descended a faint use trail, often finding ourselves leaving and joining spur use trails, as we descended some very steep terrain. As we dropped, the air became smokier and smokier, until we had 1-2 mi visibility only.  Joffrey and I have no experience with wildfire smoke, so we weren't sure about health and safety.  We knew for sure that if the smoke started to sting our eyes badly, it was a very bad sign, but that it might be too late to get out by then.  We looked carefully at the maps loaded on our phones (covering a much more extensive region outside our planned route than our paper maps) and identified our only two bail out options in the nearby vicinity.  One back down the valley toward the source of the smoke, and one up over the Sierra crest, on trail and out to the East.  The smoke began to feel nerve wracking, but we hoped that climbing out of the valley to the Puppet Lakes would take us back up and out of the smoke.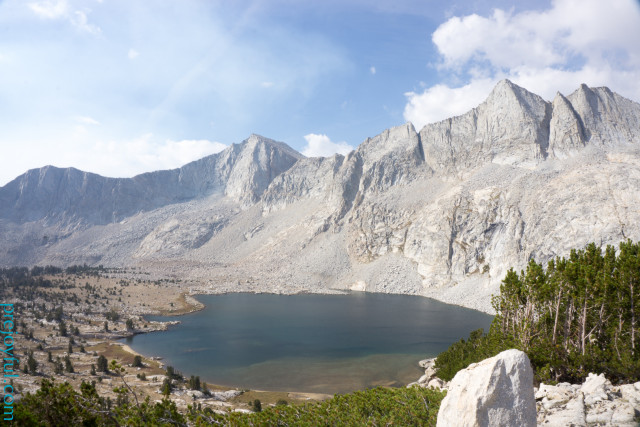 At the bottom of French Canyon, we followed the French Canyon trail east until we hung a right off trail and began our climb towards the lakes.  The climb felt sluggish and strange with all the smoke.  It was straight forward x-country wooded and meadow terrain, with a final, very steep, few hundred foot talus cliff band between Elbe Lake and the Puppet Lake plateau.  As we climbed over this, we realized that the smoke still was not clearing.  The wind was still strong, but was blowing in the wrong direction, bringing in more smoke.  This was our intended endpoint for the day, but I felt nervous staying in one spot, and it was still early, so we decided to climb Puppet Pass (11850 ft.) to see if the next valley over would be any clearer.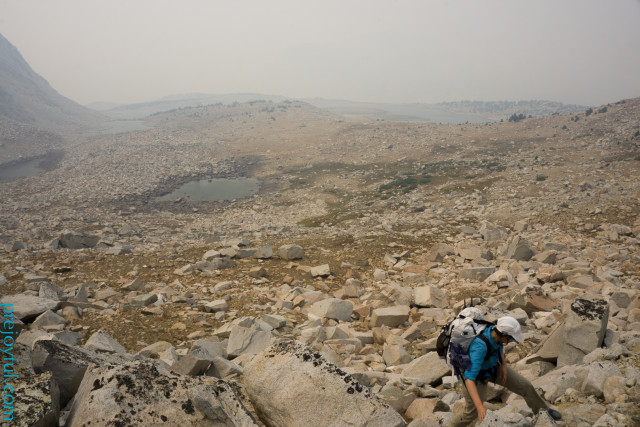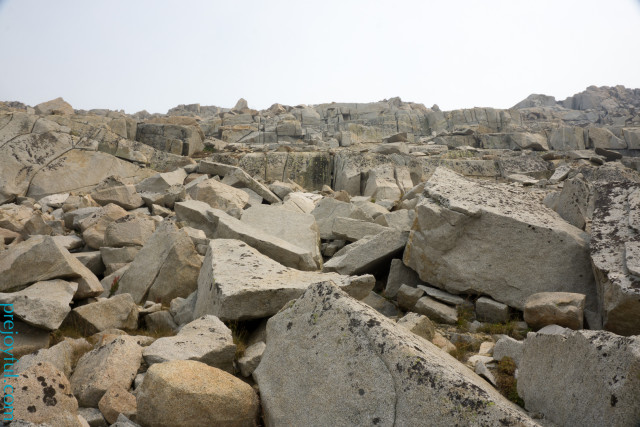 Puppet Pass' terrain was similar to White Bear, but, scarier, more sustained, and more difficult. The smoke and low visibility did not help, and the tingling in our throats and lungs from the smoke and made both of us much more anxious, probably causing us to rush through the route-finding process.  We climbed small cliff bands almost directly center to the pass.  There was a long, extremely steep, talus field to our right, but it looked loose, and unnerving.  There was more talus, and some steep, loose-looking ramps to the left.  We both felt more comfortable on solid rock.  Joffrey did the route finding here – climbing around rocks and scouting out ledges before having me climb up.  It felt precarious, and it was. We got to a point where we had a few climbing options, but a steep 15 foot chimney looked the most stable and direct.  This climbing was certainly 5th class, but once Joffrey was up it, I knew I didn't want to see him down climb, so I forced myself to reign in my fear and climb up.  Luckily, this move to the next ledge was the last sketchy move before we got to the top, and the rest of the third class terrain felt solid and protected for the last 150 feet.  We were glad to get to the top, but the smoke was still on our minds.  It was just as bad at nearly 12000 ft altitude, and the valley beyond did not look any clearer – indeed, we could only barely see outlines of the closest ridges.  We could feel the smoke in our throats, and saw a few flakes of ash. Without much discussion, Joffrey said what I was thinking outloud.  "Let's head out."

We picked our way to Desolation Lake (which seemed aptly named in the post-apocalyptic smoke-covered landscape), where the USGS quads promised a trail. After figting the grain of the terrain, we found the trail, and moved quickly to intersect the Piute Pass trail, which we took up, over, and out to North Lake, passing a family coming in for a weekend of backpacking in spite of the smoke, and a number of other campers along the sides of the trail. Arriving in the North Lake Campground, we found the car-campers starting campfires, undaunted by the thick smoke already filling the air. We pitched our tarp, ate, and went to sleep, nervous that the smoke would continue to worsen, but feeling better to be near a road, civilization, and quick evacuation if necessary.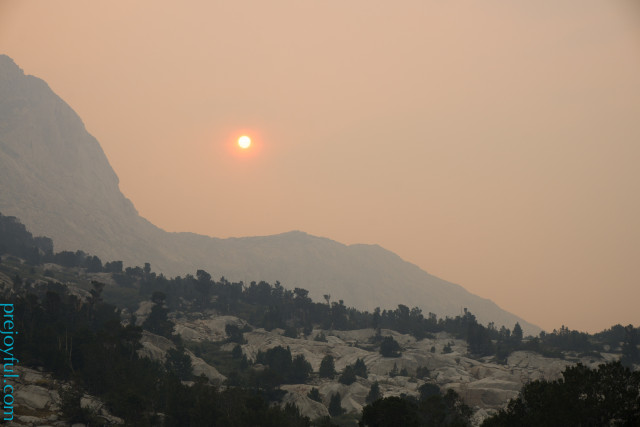 Day 12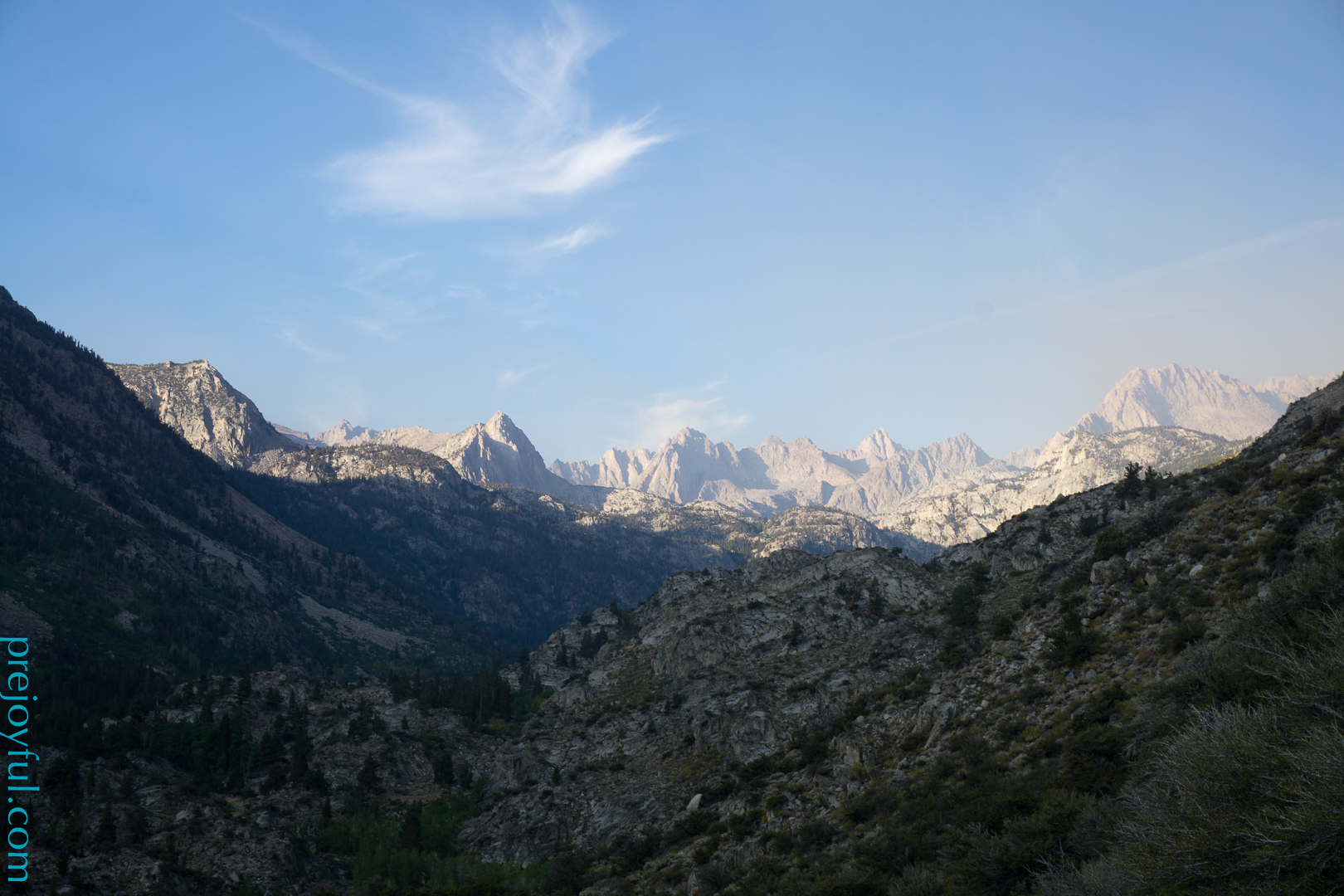 In the morning, some smoke had cleared, and we examined the maps on our phones and made the decision to take an alternate route to Parchers Resort to pick up our resupply and reassess our options.  We hiked down the road from North Lake campground to the trailhead at Lake Sabrina.  We followed a steep trail up to Lake George, which seemed to be seldom used.  While we were disappointed to be off route, we found the trail and area leading up to Lake George to be a sweet little hike for a quick, local weekend jaunt.  We hoped for a good swim in Lake George before a steep climb towards the Tyee Lakes, but we found only intense mosquitoes and a scummy looking lake.  We continued on the unmaintained trail switchbacking up along a steep sandy cliff.  When we arrived at the high plateau, we followed carefully built cairns around an extraterrestrial rock plain.  It was beautiful and barren.  The smoke crept back in, and made the landscape seem all the more desolate. Tyee Lakes greeted us with other people, and a reappearance of the thick smoke from the day before.  We swam quickly in the uppermost lake, then followed long switchbacks down to the road to Parchers.  By the time we reached the resort, it was snowing ash.  We picked up our resupply, and we were told that rangers were being pulled off the trails from the JMT through Kings Canyon NP.  At this point we knew that our only option was to hitchhike to Bishop, then back to the van in Lone Pine.  We quickly hitched two rides towards Lone Pine.  We looked like sad hikers, and drivers were being incredibly considerate because of the horrible smoke conditions.  Some Bishop residents of 102 years gave us a tour of the town, recommended some places to eat and even dropped us off at Hostel California Bishop. They said the smoke was the worst they'd ever seen it. After some confusion about the Eastern Sierra Transit 395 buses (they don't run weekends!), we made it back to our van in Lone Pine, and celebrated with espresso milkshakes!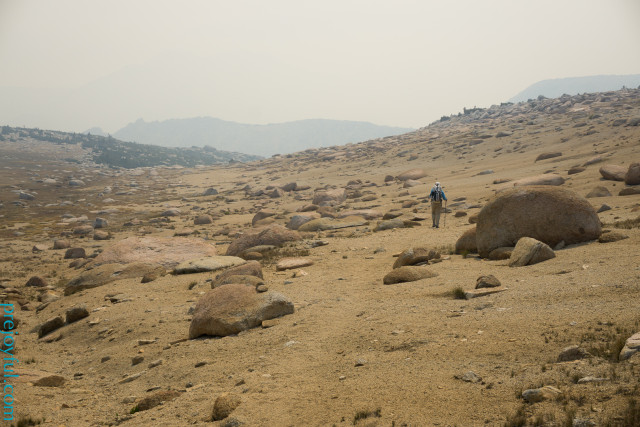 Resources we used for route planning
Skurka's mapset ($$ S->N oriented and misses the correct Nancy Pass)
Alan Dixon's South Sierra High Route trip report and mapset ($free.99 N->S)
OnTheTrail.org GPS file, and maps ($free.99 – S-> N oriented, deviates from Roper's route in places)
Steve Roper's original guide: The Sierra High Route: Traversing Timberline Country ($$ – S->N oriented, we used the paperback and Kindle versions)
Backcountry Navigator ($$) + Caltopo ($free.99) map sources
Google Earth Pro ($free.99)