Overview
Gear (Coming soon!)
The Sierra High Route (SHR) is a route along the crest of the Sierra Nevada Mountains in California. It was first described as a continuous route by accomplished climber Steve Roper, as he looked for a higher, less-trodden alternative to the John Muir Trail (JMT) during summers in the 1970s. What he devised is a route, partially on trail and partially off, which provides one of the most scenic and most challenging backpacking routes in the United States. The terrain traversed is fantastic, going through alpine meadows, across granite slabs, and traversing high passes between rugged peaks, the route stays at or above 10000 feet for much of its course, and takes in many high passes – most off trail.
Annie and I became aware of the SHR through Alan Dixon's description of his Southern Sierra High Route (SoSHR) – an extension to the original SHR, which traverses even higher country to the south, including a summit of Mt. Whitney, the highest point in the lower 48 states. I had considered a trip to the High Sierra, as my mother had done in her youth, but didn't know much beyond the existence of the JMT, High Sierra Trail (HST – often confused with the SHR, but a very different beast), and Pacific Crest Trail (PCT). The SHR lured me in. This was a route that would challenge, and excite. This was a route that would show us real wilderness, fill our lungs with fresh, thin air, and bathe our bodies in cold alpine lakes! This was a route for us!
We devised a plan to hike both the SHR and Alan Dixon's SoSHR as a continuous backpacking trip. Extremely ambitious plans were suggested and tossed out. We ended with an 18-day itinerary to cover some estimated 251 miles, though the off-trail portions are difficult to measure, and depend highly on route-finding.
After lots of planning, but more dreaming, we applied for, and were promptly granted, permits to start at Twin Lakes, just SW of Bridgeport, CA. Getting wilderness permits outside of Yosemite for anything other than the JMT is much easier, apparently. We made meals and dehydrated them (see the Food post!), considered gear, and bought some new things we would need (see our Gear post!).
When we finally hit the road west, it was on a tight schedule to get across the country, pick up our permits and begin the hike. In the end, we opted to park our van in Lone Pine, CA, at the end of the route, and take a bus (Eastern Sierra Transit) north to get our permits in Bridgeport, CA, then hitchhike to the start of the route at Twin Lakes.
From the first day we could tell that this was going to be a butt-kicker. Even the initial trail miles passed slowly as we slogged our way uphill in the thin air. Our first off-trail experiences were somewhat sobering, but it wasn't until our first pass that we really were tested. We were absolutely not used to having to pick our own routes through what looked like sheer cliffs, but in the end, we made a good choice, and ended up mostly finding easy walking on ramps breaking up cliffs. We finished our first day at dusk, having only traveled only around 11.5 miles.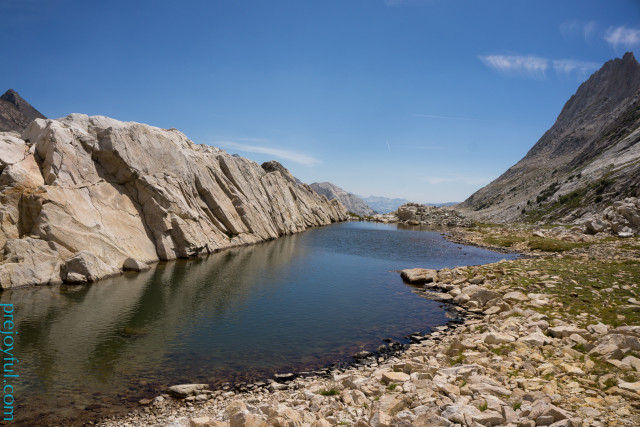 The rest of the days were similar. The sun was a relentless enemy. We wore full neck coverings, hats, and sunglasses, and put on sunscreen at every opportunity. Annie's feet blistered, partially from the heat, partially because we simply hadn't done enough training to have our normal shoe calluses. We fell behind already on our second day, but regained the mileage when we hit trails in Yosemite. Coming from the East, I cannot say that we were a big fan of the California style horse trails. They were dusty, overused and unpleasant generally, as was our first experience in Yosemite (which was almost completely on these trails). While it was a relief from the constant strain of routefinding and navigating, the trails were a chore and a bore.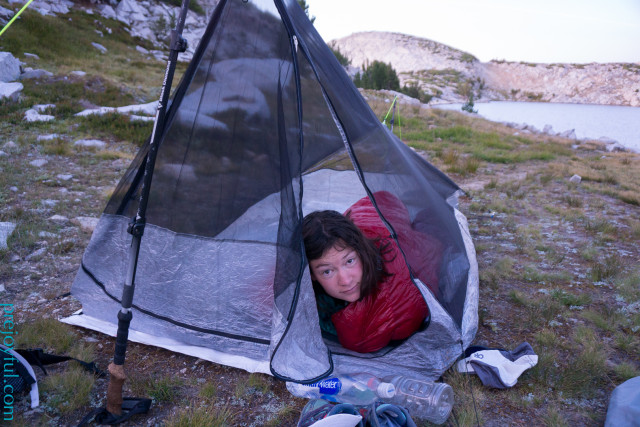 Out of Yosemite, we saw some gorgeous, and seemingly untouched wilderness. We swam in pristine alpine lakes, and took in gorgeous sunrises and sunsets. We saw the craggy skyline of the Minarets through thin smoke from the Rough Fire far to the south, and thought the terrain looked impassable… then the next day, we passed through and across the Minarets via Glacier Pass.

Annie's blistered feet slowed her, and the wear and tear of the trail took its toll on us, causing us to fall a half-day short. We considered bailing, and various alternative options, but the next day we managed to limp into Red's Meadow where our resupply awaited, and we decided to take a full rest day. We had delicious milkshakes, beer, cheez-its, and real food too, in an effort to replace calories. We showered and washed our clothes, slept in a real bed, and felt much better.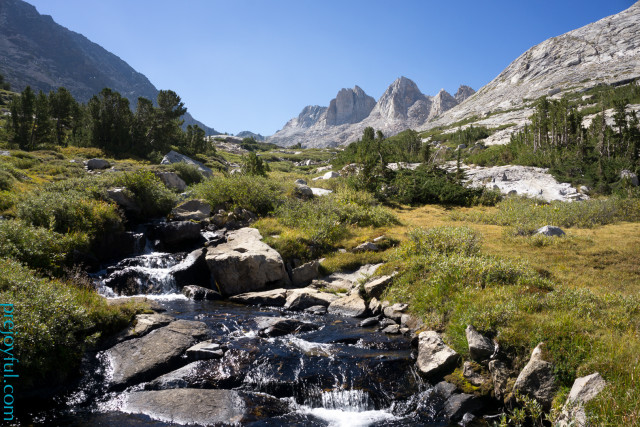 We made new splits, based on our new knowledge of the terrain, chopping some days off-trail mileage, adding trail miles to others. Armed with new splits, we took off again, and reeled in our lost miles, even regaining the half-day lost (though not the full rest day). We hit a stride. Annie was less afraid of 3rd class terrain, and we both were lighter, more fit, and more comfortable in our shoes and with our gear.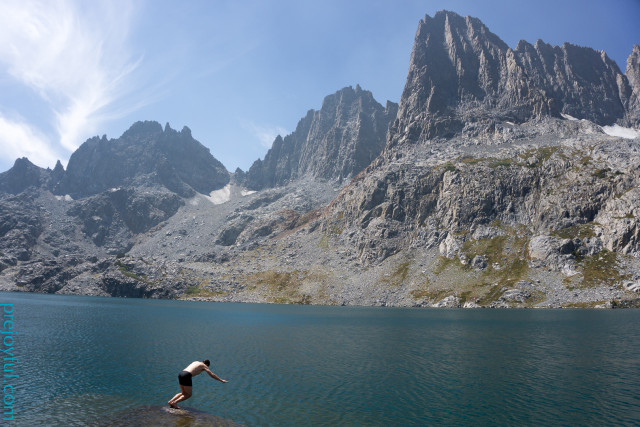 We saw and smelled smoke from the Rough Fire, but it never seemed too bad, though we had seen it pouring across the mountains near Bishop while driving to Lone Pine. Then, in the beautiful Bear Lakes, we awoke to almost smothering smoke, though it quickly blew off in a stiff early morning wind. Later that day, though, it crept back, and as we went to lower country in French Canyon, the smoke was so thick that we could only see silhouettes of the mountains a mile away, and the smoke began to bother our throats.

We pushed on and up, hoping to get back above the smoke, but over Puppet Pass things looked even worse, and we began to see some ash falling. We looked at our maps, and decided to bail, walking over Piute Pass and out to North Lake. The following day dawned clear and we found an alternate route to our resupply point at Parcher's Resort and South Lake, but by mid day, the smoke was back, and now ash was falling like snow flurries. We pulled the plug on the trip, hitchiked to Bishop, and then took the bus back to our van in Lone Pine.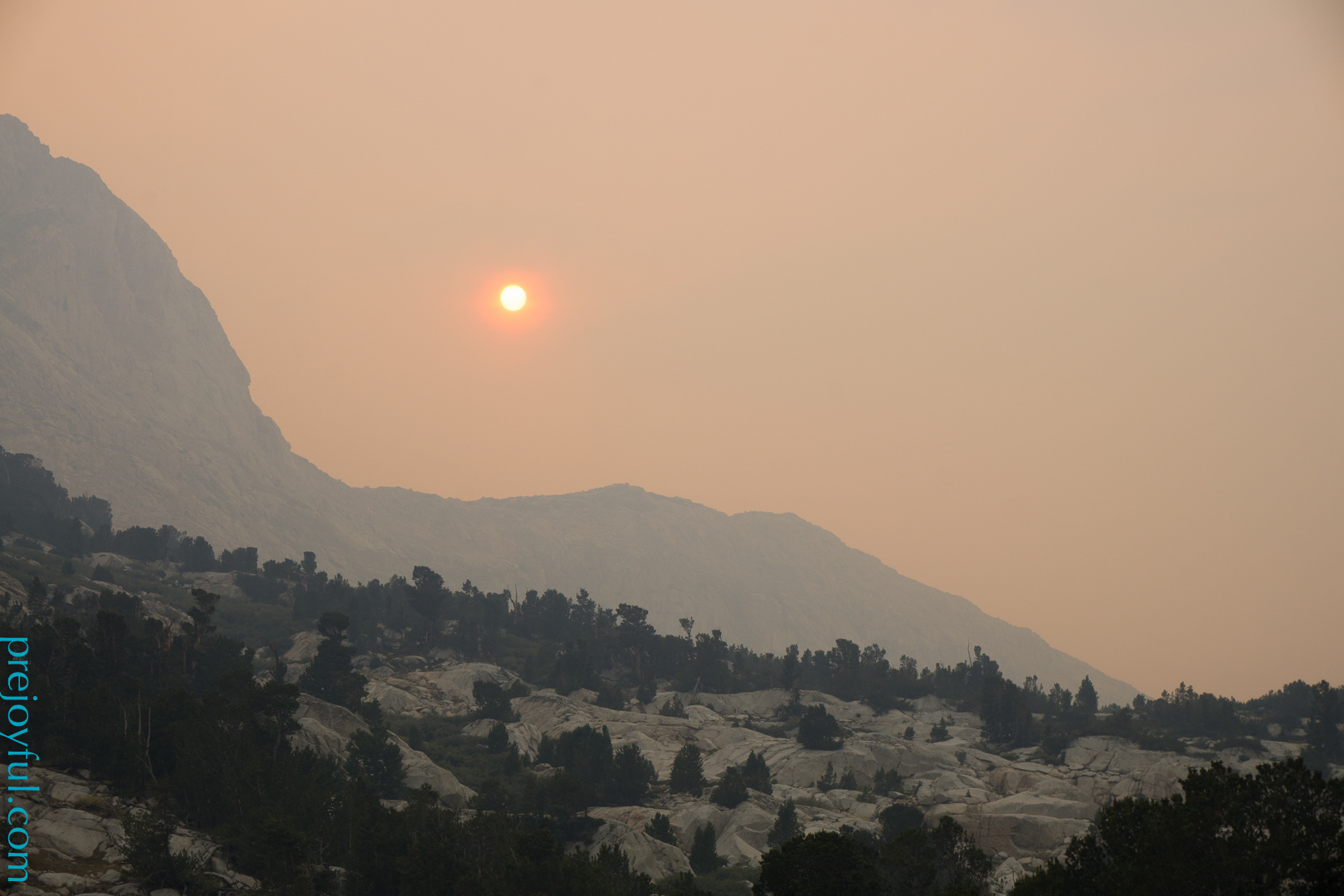 It was a shame for the trip to end so suddenly, and just as we started to feel confident and competent, clearing one more pass than expected each day, finishing early and feeling better. In the end, the smoke scared us, and we had no way to tell if it would get worse, or better. We feared that we would be too far from help if we needed it as the smoke worsened. Bailing was our best option, having seen how bad the smoke was and continued to be. Hearing that Kings Canyon was pulling their rangers along the JMT in the region we were about to enter made us confident that we made the right choice.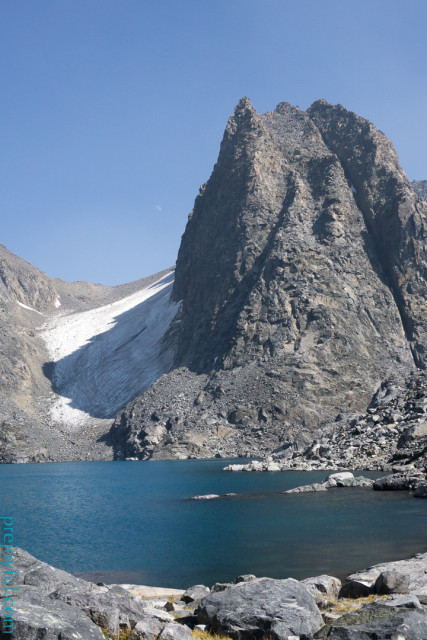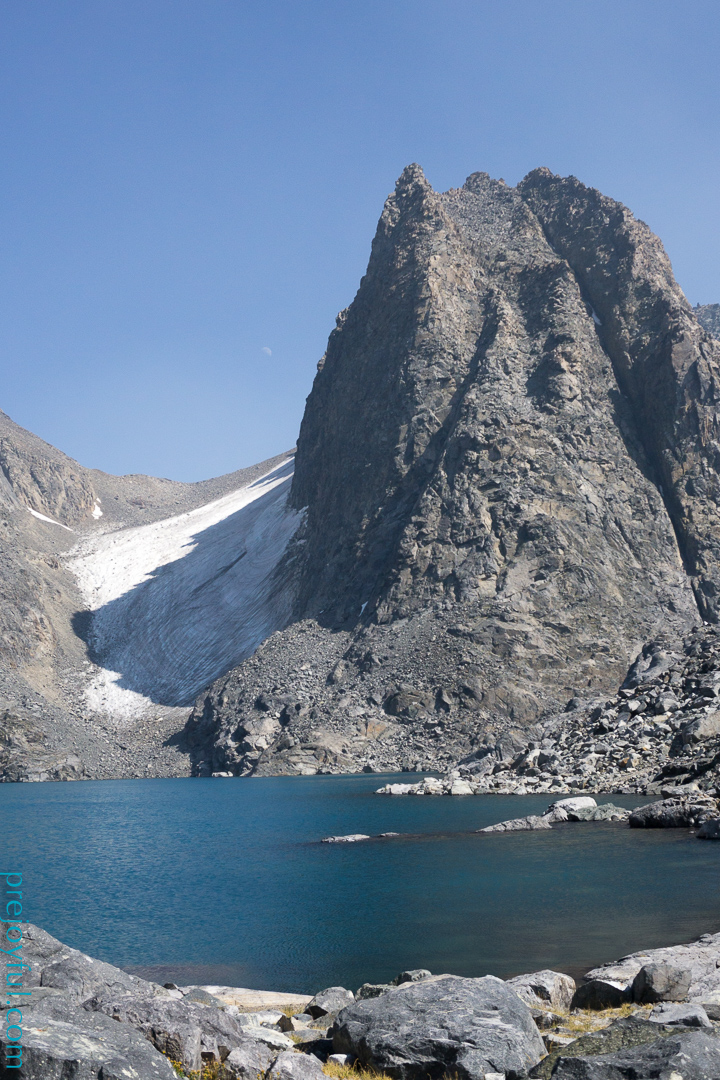 The route will still be there, and we may yet return. A concern is that the route may not be quite the same due to the drought. Hopefully the Sierra will still have water, though we saw very little snow. Certainly, the last years have not had the range live up to the 'Nevada' part of its name. Indeed, the snowpack is at a 500-year low. The alpine lakes were mostly still wet, though smaller tarns were dry, and most lakes were visibly low. Loss of these alpine lakes, and beautiful wet meadows would be very sad; these were certainly highlights for us. Experiencing the highs and lows, the difficulty, and wilderness of off-trail travel may forever spoil trails for us. Though it's nice to just follow a trail, the constant interaction with the environment brought the scenery closer to us, and made the experience more wild. This kind of route is extremely worthwhile and satisfying in a way that trailed travel is not.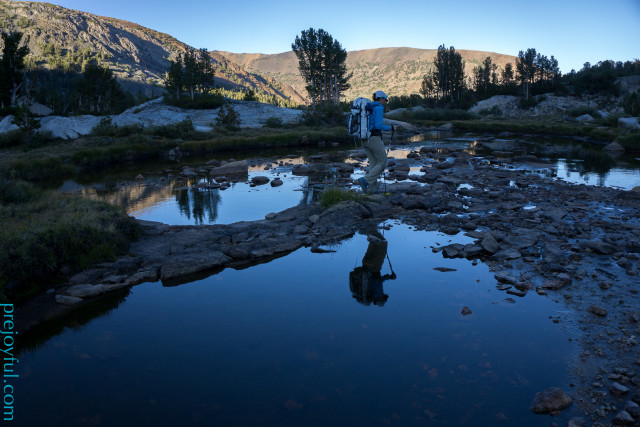 To read a more detailed description of our hike, check out the Trip Report. We also have reviews of our food, and the gear we used, so give those a look if you're interested. Also, more photos!