Food
Food is obviously necessary for life. In the backcountry, the luxuries of a home kitchen fade, and the raw need for sustenance takes on a central role. When undertaking a difficult route, especially at altitude, where senses of taste and hunger can be affected, a competition arises between the need for fuel, and the lack of desire to take on the necessary nutrition.
This is why, before setting out on the Sierra High Route (see our other posts here), we embarked on a mission to make ourselves the most appetizing snacks and meals with high calorie density, and as light and compact as possible. We needed to be able to carry all of this comfortably, and also fit it into our bear canisters in 6 day resupplies rations.
Below is a few of our musings on the foods we took. Hopefully, this will help remind us about what works and what doesn't in the future, and perhaps a few of you will get some ideas. Some recipes are below, and at the bottom is a partial menu, with estimated calories. It is worth noting that we nearly went through our rations, and that we each lost at least 5 lbs (I think more, but we don't have a scale in our van) on our 12 day venture, which included a "rest" day, during which we stuffed our faces with milkshakes, high calorie meals at a diner, beer and Cheez-Its (mmm).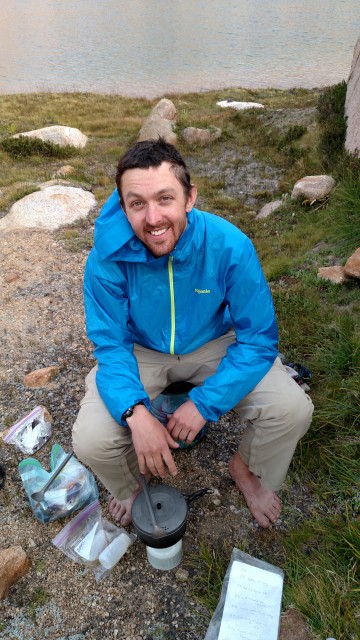 This Post: Dinners + Snacks + Re-rations + Recipes
Dinners
To save on weight, we planned to cook only for dinner most days, and then to have dehydrated meals which required us only to add boiling water. While one can simply go to REI or the like, and buy pre-packaged dehydrated meals, these suffer from a few downfalls:
    

I don't really like most of them – they tend to be bland or outright bad.

    

You cannot control the portions! If you're eating constantly throughout the day, by the time dinner rolls around, you may not want an ultra-large meal.

    

The variety of vegetarian options is lousy.

    

You cannot control the protein/fat/carbohydrate ratio of your foods.

    

The packaging is bulky and generates a lot of trash which you must continue to carry.
Thus, having considered this dilemma for over a year, while subsisted largely of home-mixed couscous concoctions on backpacking trips, I decided to take matters into my own hands. Months before the trip, I bought a dehydrator, a large 9-tray Excalibur model. Until I quit grad school, though, I found little time to use it. Once I quit, I started cooking extra-large portion meals once or twice a week, eating some, and dehydrating the leftovers. I could make sure that I made meals which would be hearty, and very tasty, ensuring that I always would want to eat every bite, even with altitude-numbed taste buds.
The resulting dishes were good, and far better and more varied than the dehydrated store-bought stuff I'd tried.  We were able to make all the meals vegan, which is more challenging to find when buying corporate dehydrated meals. When possible, we added higher protein ingredients (whole-wheat pasta), and put in greens in nearly every dish, to help get extra vitamins and minerals in addition to the macro-nutrients. We carried olive oil in each ration to add to the dinners for extra calories (and flavor – though it should be noted that extra-virgin olive oil isn't the best choice for this, as its powerful flavor doesn't go well with all foods).
The dishes we made were (all vegan): three-bean chili, Thai peanut stew, pasta al arrabiata (spicy red sauce), sambar (spicy Indian soup) with rice, gado gado (peanut-sauce saute with rice noodles), vegan cauliflower alfredo, refried beans and rice with chips (suggested by Andrew Skurka – link), and Thai coconut curry with quinoa (which didn't make it into the re-rations, because we used rather too much coconut oil, and it was messy). Also, we had a ration of the old mainstay couscous, which felt quite bland compared with our other creations.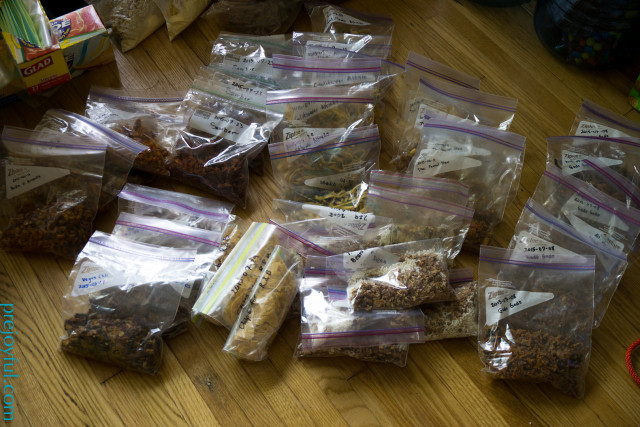 The clear favorites of the bunch were gado gado, pasta al Arrabiata, and Sambar with rice, though the chili fared quite well for itself, the Beans and Rice was hearty, and with some tweaks, the other dishes could also be improved to backpacking excellence. Certainly, it has been a positive experience, and we will continue cooking and dehydrating when we can, as the dehydrator made the cut and is in the van with us.
We could not use an alcohol stove due to fire restrictions in the Sierra Nevada, so we used a canister stove with a lightweight, relatively cheap Kinetic Ultra Titanium Olicamp stove.  We used our typical 1.2L titanium pot, combined our meal portions, and boiled our meals over the stove.  This seemed only slightly more fuel intensive than your typical boil-pour-rehydrate style meals, but we think many of our meals will rehydrate fine with just a pour of boiling water if they were placed in an insulated cozy.
---
Snacks
There is something gratifying about going into the grocery store and reading labels not to reduce the calories, but to maximize them. We looked for the highest calorie density foods, and for higher protein content ingredients where we could. We ended up with quite a few nut-based snacks. I carried 1 lb of peanut butter for each 6 days, and had to be careful each day to ration it into daily breakfast and lunch doses so I did not burn through the supply before the re-rations. Annie carried Justin's nut butter packets, one or two a day, to add a nice protein and fat boost to a snack. In the end, we over packed high fat/protein snacks, and really needed a few more complex carbohydrates to add to the mix.
Some favorite snacks:
Pistachios: it's really difficult to have too many of these. They are salty, taste good, have a bit of a crunch and plenty of fats and protein.
Roasted Chickpeas: We roasted some chickpeas drenched in coconut oil, and various spices (salt, onion and garlic powders, paprika, cayenne pepper, and some other bits of savory spices – whatever looked good in the spice cabinet at the time). These crispy treats tasted better after having sat in a bag for a couple of weeks before we got on the route, and the salty, oily, spiciness had a great taste, and was a welcome change from the sweet or nutty flavors of most of our other snacks.
Peanut butter: It has tons of fat and protein, and if you get a non-natural brand, you get the added boost of some sugar and salt to make it taste better and give you a needed boost. I spread it on snack bars in the morning, and tortillas at lunch. I used wheat tortillas, though I think in retrospect I'd look for whole-wheat tortillas, or perhaps corn tortillas, though your tastes may vary.
Justin's Nut Butter: Annie loved these; particularly the Chocolate Hazelnut butter packages. These have more nut butter and much less sugar than Nutella, making them heartier and giving less of a sugar rush/drop, while still providing chocolatey goodness, and high calorie and protein count. In the future, perhaps a jar would be a better, in order to produce less trash, and lower the cost somewhat, but the easy carrying and ability to mix up flavors with the single-use packets is very nice.
Milano cookies: Okay, these were too bulky to carry all the time, but we had a package in each re-ration, and they were gone before the day was through, meaning they didn't count against our bear canister space. These are among the highest calorie density cookies you can buy in the store.
Cheez-its: Same as above – the volume was prohibitive, but they sure were nice for the first day after a re-supply! Crunchy, salty, and high calories make these a great snack, especially when bear canister limitations don't apply.
Sesame sticks: I loved these, while Annie did not. They are high in fat, have decent protein, and a few carbs, and are quite salty. They taste great when you're out there sweating, and need calories.
Kate's Bars: Annie loves the Tram peanut butter and chocolate bars. These bars have high protein content, and some nice natural ingredients that end up tasting a little better than cardboard-ish Clif bars.
Nature's Valley Crunchy Granola Bars: just about any flavor is great for me. The Oat's N' Dark Chocolate is a particular favorite. You can spread peanut butter on them for extra oomph.
Annie's Bunny Friends: these whole-wheat cookies are not anything special unto themselves, but the whole wheat adds some protein into what is just a nice break from the nut-centric snacks we otherwise carried. Probably, a number of other snacks could have taken this spot.
Trader Joe's Dark Chocolate Peanut Butter Cups: These are so delicious. They get the chocolate/peanut butter ratio right, have higher quality ingredients than Reese's, and get the salt content right. The problem is… they melt into a solid goopy mess if it gets even vaguely warm. Save for the other three seasons.
---
Re-rations
An important part of this long hike was re-rationing. We found two places which were not too far off-route, and which would hold packages for hikers (Red's Meadow, and Parchers Resort – which was about 8 miles off route, but oh, well). This let us break our 18-day itinerary into three 6-day rations. We doled out dinners, making sure we each had the same dinner each night, so that we could share one pot and rehydrate the whole meal in a single pot. We divided group snacks into three rations, and our individual breakfasts and some day snacks (mostly bars). Each re-ration had a little bottle of olive oil to add to the meals for extra calories, some salt tablets, Nuun electrolyte tabs, some extra sunscreen, toilet paper, toothpaste, and a few wet wipes. These we divided carefully, making sure we each had breakfasts, snacks, and dinners for each of the 6 days in each resupply box. In spite of this carefulness, I managed to get my bag of breakfast bars into the wrong box, doubling them for the second resupply, but short-changing myself on the first. Oops! We did some basic calorie counting to make sure we had at least 3000 calories a day or more, and threw in a bag of Milano cookies (very high calorie density!) for a treat at each resupply. We did not plan to buy anything except fuel at the resupply points, though even at that, we carried an extra fuel cannister at the start, as we were unaccustomed to cannister stoves and despite running calculations, we were unsure of how much fuel we would use. (One 8 oz cannister lasted us more than 10 shared meals).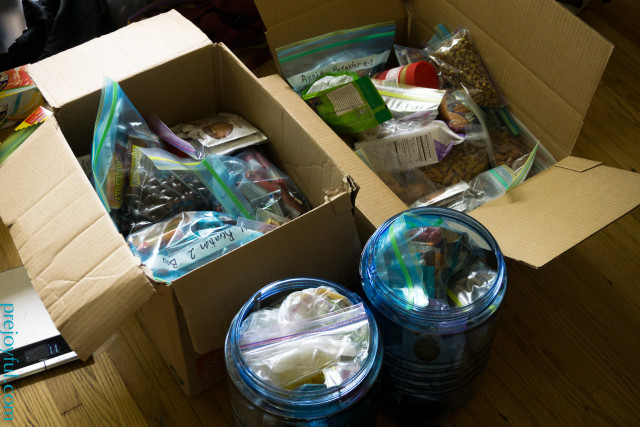 ---
Recipes:
"Gado Gado"
8 oz Rice Noodles
1 block Tofu
1 large head Bok Choy
1 small piece of fresh ginger
1 bunch green onions
1 tsp sesame oil
1 Cup Creamy Peanut Butter
¼ ± water
2 tablespoons lemon or lime juice
2 tbs soy sauce
2 tbs rice vinegar
1 tbs sugar
2 tsp chile-garlic paste, or red pepper flakes
1 finely chopped garlic clove
Chopped peanuts (optional)
While this recipe is a long way from its traditional Indonesian namesake Gado-Gado, I use the name as a result of my NOLS semester in '07.  We prepped food from bulk ingredients in the field at NOLS, but a high-calorie, salty, fatty meal is a favorite no matter what style backpacking you do.
This meal took forever to dehydrate, and remained incredibly greasy.  I probably should have cut back on the amount of oil I used to stir fry the bok choy, ginger and tofu.  The tofu also needs to be to cut into very small chunks – it doesn't fully rehydrate, which actually added a nice chewy dynamic to the meal in the field.  If it is left too big, though, you're going to have tough leathery blocks to deal with.  While it seemed to have initially been a failure in the dehydration process (we were both very skeptical), it ended up being an absolute favorite.  It does well as a "soupy" meal, or as a "saucy" meal, so the amount of water added in the field does not need to be too specific.
Stir fry the (tiny squares of) tofu in sesame oil until just before it's cooked to your liking.  Throw in the bok choy, ginger, garlic, and green onions in the final stages to lightly cook all ingredients.
Boil the rice noodles according to package directions.  
Mix ingredients for the peanut sauce in a bowl, except the chopped peanuts.  Whisk until well mixed.  Using warm or hot water instead of cold water will help the peanut butter mix and become a sauce more readily.  
Mix all things together, toss to coat all ingredients.  Dehydrate. Split into heavy duty freezer bags (we had about 130 g per bag per person… we put two bags together in the field.  This was plenty, but given the rigor the trip we could easily have eaten more.)  Rehydrate in pot in the field. If optional crunchy chopped peanuts are desired, keep separate and add after cooking/rehydration in the fields so they don't get rubbery.
Pasta al Arrabiata
4 tablespoons extra-virgin olive oil
1 small can tomato paste
1 tablespoon hot red-pepper flakes
1 large can chopped tomatoes
1 medium onion
salt to taste (or a little more, because you need it backpacking)
1 large bunch of spinach
sundried tomatoes
Dice onion, and saute in EVOO. When onion becomes translucent, add the red pepper flakes and saute for another few minutes, then, before the onions brown, add the tomatoes and tomato paste. Simmer for about 10 minutes, then add cut pieces of sundried tomatoes and spinach and remove from heat. Stir as spinach wilts,  then serve over pasta. We found that macaroni noodles take the sauce well, and dehydrate/rehydrate quite well, and the sundried tomatoes and spinach add a lot to the dish on the trail. I really winged it on this recipe, so it's not terribly precise. Once dehydrated, we packaged it into doses of 120 g/person in quart freezer bags (just add boiling water, stir & wait). We found that on the SHR, something like 140-150g/person would have been better. We added lots of EVOO after the pasta rehydrated.
Sambar
1 ½ cups red lentils, cooked
2 cups vegetables, diced finely*
2 tbsp sambar powder (buy at Indian food store)
1 tsp cumin seeds
¼ tsp fenugreek seeds
2 tsp brown mustard seeds
4-6 dried curry leaves
1 bay leaf
3 tbsp tamarind extract (buy at Indian food store)
1 onion
3 cloves garlic
2 tbsp vegetable oil
2 cups instant rice after dehydration, or rice before dehydration, then dehydrate
Rinse and cook lentils. Dice vegetables. When lentils are nearly done, saute onion, and garlic in the vegetable oil, then when onions translucent, throw in spice mix, except sambar powder and saute while stirring for a couple of minutes. Add diced vegetables, a cup or two of water and tamarind juice. Bring to gentle boil, then add lentils in their cooked water, tamarind juice, and the sambar powder. Serve over rice, or mixed with rice. Do not add too much water, or dehydration will be more challenging (mostly, getting it on the tray will be difficult. Adding rice before dehydrating can help immensely with this).
*Vegetables may be any you choose, but we liked these in particular: radishes, beets, celery, onion, bell peppers, tomatoes