Joffrey and I transitioned into our urban San Francisco visit easily.  Megan welcomed us into her home and immediately let us shower and use her washing machine and dryer to clean our filthy hiking clothes.  
Megan bought us excellent coffees down the street from her home, and we ate sandwiches at The Velo Rouge. The food was fine, but the man serving us our sandwiches was incredibly kind and helpful.  This kindness from strangers continued to be a theme through our week in SF – though sometimes it confused our east coast sensibilities.  Later that night we attended Pizza Night at The Mill.  We had phenomenal fresh salads, a real treat after being in the van and on the trail for weeks, with a slice of pizza.  The crust was on point, but I found the toppings unremarkable. We left with a very good loaf of whole wheat sourdough, at the recommendation of an extremely detailed Serious Eats article. Josey Baker bread is an SF staple.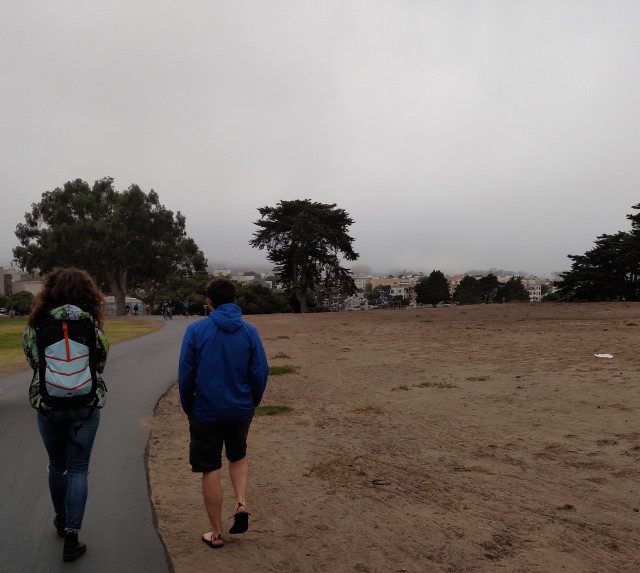 On Tuesday, I dragged Joffrey out for a run in the park, wherein he needed to drag me along the trail out to the ocean.  It was a bit too hot for me, and it made me a miserable running partner. Luckily, he's patient and forgiving. The Golden Gate Park is an incredible feat of social and natural engineering, though.  The trees and landscape are beautiful, and there seem to be specific locations for every variety of outdoor hobby, including bison watching, frisbee golf, and polo.  We ran by fields, bikes lanes, rose gardens, fountains, boat racing ponds, tai chi, a roller skating area, golf, museums, music halls, a waterfall, etc. The run culminated at Ocean Beach.  It still makes me amazed to think that you can live in this kind of urban environment, and be less than three miles from a real, true beach.  I've also been impressed at the bicycle infrastructure in this city so far.  The park is a great free resource (and Megan loves the GG Running Club).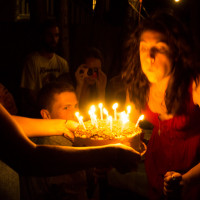 We celebrated Meg's birthday with an extensive dinner of spring rolls, Thai peanut stew, and a chocolate peanut butter cake for dessert. She invited some wonderful people over, and we enjoyed the mild San Francisco weather with dinner in the backyard.
We got espresso at a small cafe called Snowbird Coffee.  Joffrey really enjoyed chatting with the barista, who went out of her way to come over and ask how our espresso tasted.  Joffrey admitted that he really liked the pull, but it wasn't necessarily his favorite bean.  I'm less refined in my espresso tastes, but I had a Café Bombon which has a small base of condensed milk.  It was the best espresso shot I have ever had, and I adored it.  We would definitely recommend swinging by this shop at least once.
We took a few chances to leave the city. We were treated to a really lovely lunch on the Stanford campus by Joffrey's father's friends.  We were able to see a bit of the campus, as well as a fleeting glance into some of the Biology lab space.  San Francisco is such a hot bed for intellectual, technological, and scientific growth.  The general population seems to be younger than any city that I have lived in, and it shows in its culture.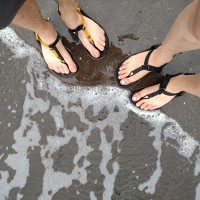 We also experimented with the BART transit system and went out to Richmond, CA with our bikes.  We were on a expedition to get new sandals.  I had killed my Chacos.  The soles were delaminating, and later that same day the webbing finally tore. Joffrey's sandals were not the most comfortable and were certainly worse for wear.  Joffrey and I had received a recommendation for Bedrock sandals from YAMA Mountain Gear founder Gen Shimizu.  We were going to order them in August, but when we discovered that the office would be so close we asked if we could stop in, rather than worry about shipping.  Dan and Nick were incredibly welcoming. They let us try on sandals, and then they let us talk their ears off about vanlife and our recent SHR trip.  They also proudly told about all the American made components in the sandals and some of the really awesome looking sandal prototypes coming in the next year.  We were sold – but a real review of the sandals will come when we've put some miles on them.  Seeing Richmond and the East Bay gave us a better taste of the diversity in the overall Bay Area.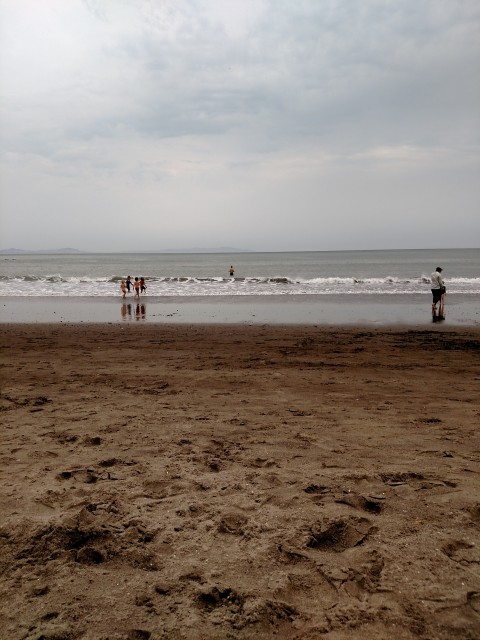 We also managed to catch a showing of Meru at a cinema in Berkeley, eat breakfast at Devil's Teeth, and hang out on the beach at Bolinas.  Megan took us on a sweet little day hike up Mt. Wittenberg, a brief foray into the Point Reyes National Lakeshore, which is an accessible park that lets you explore the coastal woods in a nature sanctuary close to the Bay area. We intended to surf near the small coastal town of Bolinas, but there were no waves to be found.  Megan also took us to her climbing gym.  It was smaller than our old Maryland gym, and the climbs were much easier than they were rated, but the tall windows and the view of the bay, Alcatraz, and the bridge can't be beat.
San Francisco has been a blast, but there's a lot we haven't yet done.  We will have to return sometime soon, but first we need to head to the woods again.
---
Recipes used during this stay:
Three Layer Chocolate Peanut Butter Cake
Chocolate Chip Cookies [The Best]