"I just want to be off this fucking beach," I grumbled quietly but emphatically, my head down. We stumbled on up the beach. This was our return trip. Most do the north section of Lost Coast Trail (LCT) only once, typically from north to south. We had done that, starting at Mattole Beach and working our way down the 25 miles of rugged California coastline to Shelter Cove. Then, we yo-yoed back to our van in Mattole Beach, completing the out-and-back journey in 3 days and 30 minutes.
A mere 24 hours before my expletive-laden remark, we had been enjoying pizza, beer, and ice cream in Shelter Cove, having scored a short ride into "town" from three fine gentlemen from Reno, two of whom were on their first-ever backpacking trip. Life was grand, and Annie and I couldn't put away enough bonus calories.
The north section Lost Coast is an area of the California Coast not in a National Park or Forest as so many of our other destinations are, but in Bureau of Land Management land. Its geography has two particularly striking features: one, it is the only place along California's coast where coastal highway 1 deviates significantly from the shoreline due to the steep and rugged terrain, and two, it is at the Mendecino Triple Junction: the joint between three major tectonic plates, and the southern terminus of the recently hyped Cascadia Subduction Zone. The surrounding coastal area is littered with Tsunami Zone warning signs.
While we did not encounter a tsunami, we did encounter the rough terrain. For much of the coastline, the steep hillside falls nearly directly into the Pacific Ocean. The hills are made of what appears to be poorly consolidated dirt and rock, pressed together probably by some ancient ocean, and now, falling back into another. How it doesn't all just rush into the ocean at every big rain storm is beyond me – it looks like a big pile of chossy-mudslide-waiting-to-happen. That said, much of it is covered by beautiful (at the time we were there in mid-September) golden grasses, and ocean wind-battered woods. The beaches are sometimes sandy, but often rocky, and ocean swells smash against giant boulders in the water which sometimes provide a resting spot for birds, sea lions, and seals.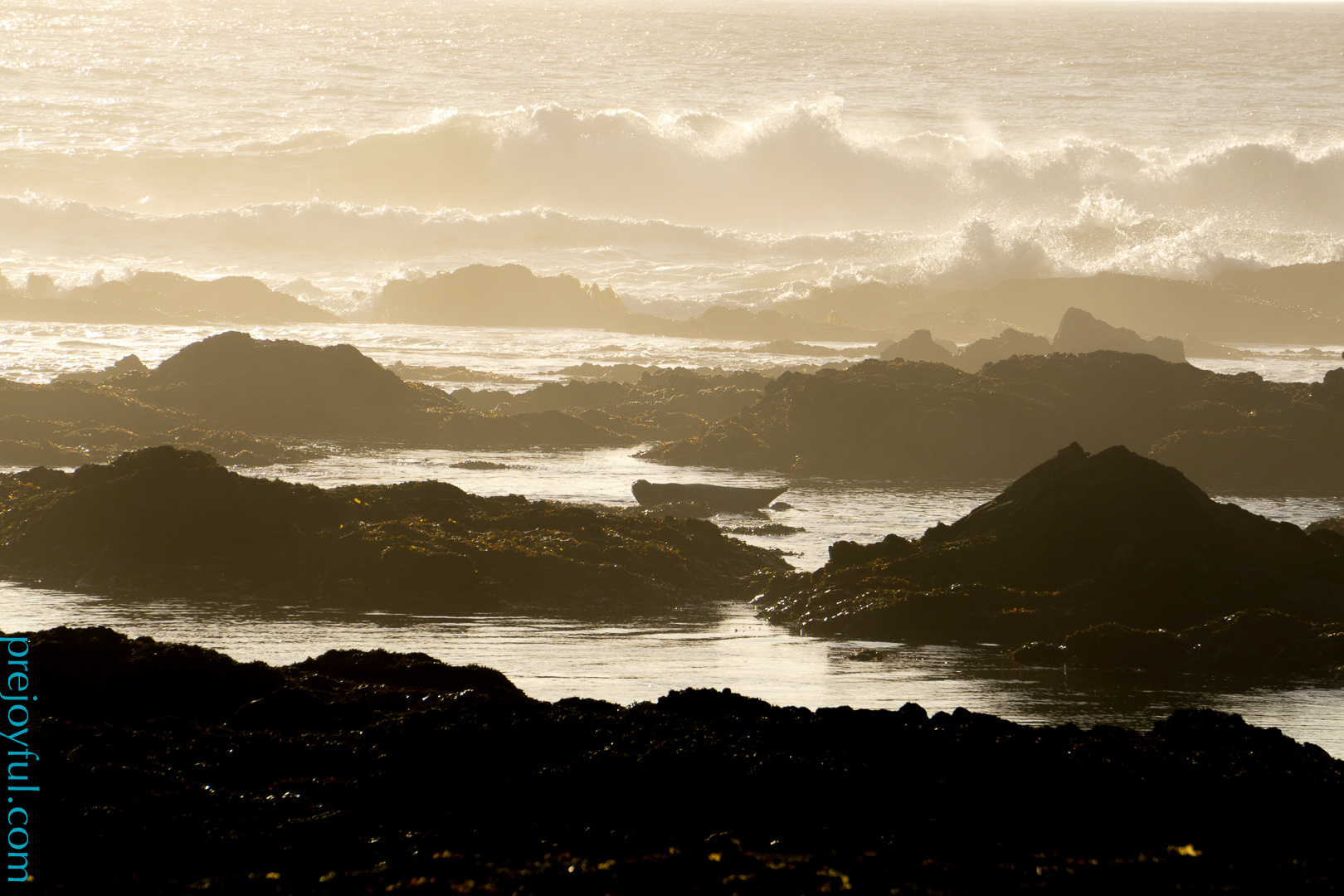 We started with a morning and afternoon of planning at a Panera in Sacramento, handled mostly by Annie, as she looked up information and tide charts. We considered walking both the northern and the lesser-traveled southern sections, but reports of ticks, poison oak and the difficulties of logistics stopped us from adding the southern portion to our itinerary. The northern section has two 4ish mile sections which should not be done at high tide, and some of which should perhaps be done at rather low tides for maximum comfort and safety.
I downloaded and modified a GPS track, and loaded it onto our phones, to be used in Backcountry Navigator. The free King Range pdf map is also necessary to have on hand, as it describes the tide dependent sections. There are lost Coast maps for sale, but they are unnecessary. The plan was to walk down the coast, making sure to hit the low-tide-only zones at low tide, and on the way back to take a series of trails up to the ridge of the King Range, the range which rises directly out of the Pacific, and which posed road builders such issues. We would follow the ridgeline, peaking above 4000 feet, and eventually drop back down to the coast. The only issue was that the water situation might not be so good, with reports of only trickles and puddles at the ridge springs in late July. Over a month of low rainfall later, we were not sure that this would be good, but figured we could always walk back up the coast if need be.

With our plan in place, we departed our dear Panera (and their dearer WiFi), on what was a fairly short, but slow drive out to Mattole Beach. Google's directions may not have been the best here, as we took an incredibly windy and steep road directly through the King Range, which was at times paved, at other times not, and mostly was somewhere in-between.
We reached the beach unscathed and began to pack, somehow only barely fitting our 4-day rations in our huge bear cans which had supported our 6-day rations on the Sierra High Route previously. We took high volume, delicious snacks this time. We both decided to walk in our new Bedrock sandals, carrying our typical hiking shoes (Brooks Cascadias) in our packs, for when our feet tired. With packs finally loaded and adjusted, we took off in the early evening, intending to walk about 4 miles down the coast to camp just before the first low-tide-only section, which we would tackle at low tide the next morning.
I was initially delighted by the beach, watching birds and surf, but soon the unaccustomed feel of the sandals slowed me. Annie walked almost effortlessly in front of me, looking back impatiently at me. Soon the walking felt grueling, but after a couple of miles, we were on trail, and things improved. I got my stride, and sandal adjustments kind of sorted.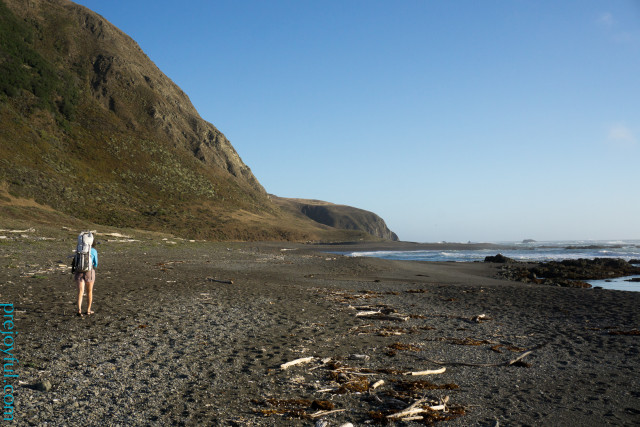 Just as the sun was setting, we arrived at the old lighthouse on Windy Point. In the waning light we camped a few hundred yards beyond the lighthouse, having still not found running water. Thoughts of high tide rising to take our tarp, and of our friend lost in the Idaho mountains, kept us sleeping lightly.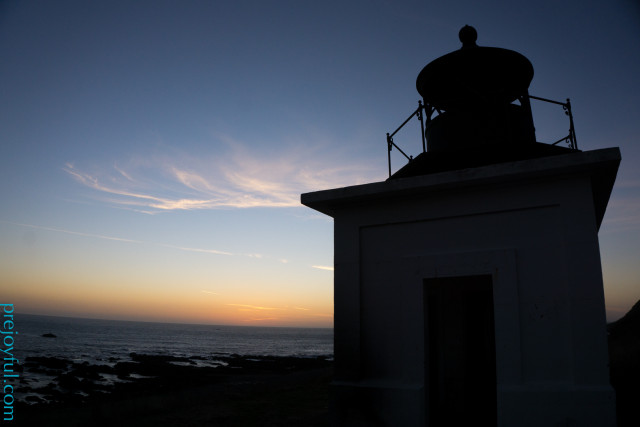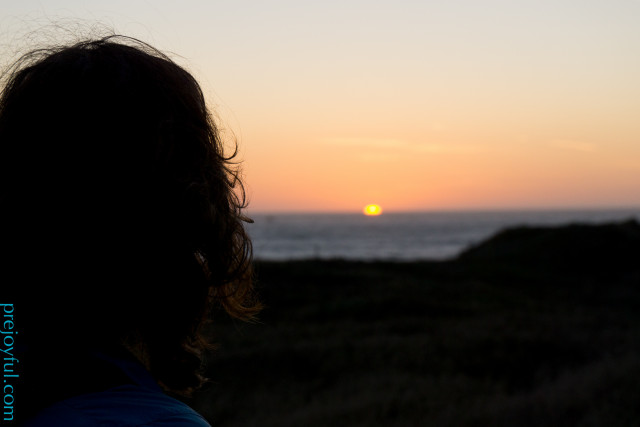 We arose before sunrise, to maximize our low-tide time and ensure safe passage through the next section. The sun rising from the east spares the LCT hiker from exposure to early morning low angle light, and combined with the cool ocean, keeps the air cool until mid-morning. We continued in our sandals, and shortly after starting, came across running water. This assuaged our fears of no water on the shore, but the low flow made us weary of the ridge sources.
Still in the early morning, we hit a highlight of the trail: Sea Lion Rock, where Sea Lions gather to rest, and bark at passing hikers, or each other, or waves, or whatever they please, kings of the rock. The trail rises to a cliff directly in from the rock, providing excellent views of the lethargic pinnipeds.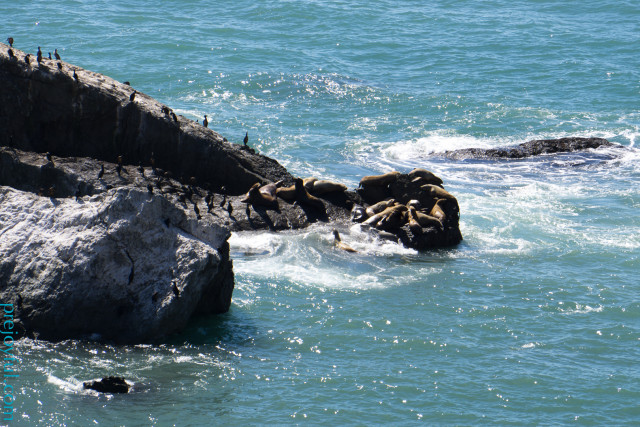 Soon after, though, the trail drops to the beach, and provides miles of rock-hopping, and large smooth rock surfaces squeezed between the waves and hard packed dirt cliffs. One could easily be trapped in a small gully or cove at a high tide, especially if the waves were larger.  By mid-morning, we were through the low-tide zone, much to Annie's relief, as she constantly worried that we would hit spots which one must really be at absolute lowest tide to pass. The northern of the two 4ish mile low-tide only sections on the LCT does not contain many very tidally dependent sections, though there are a few squeezes between rocks and the ocean, even these are likely passable with normal seas at a fairly high tide, if you don't mind getting wet feet.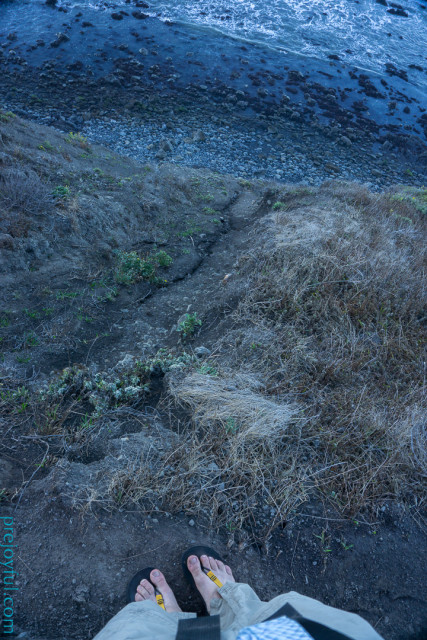 Out of the low-tide section, the trail changed rather dramatically, going from beach walking against cliffs to well-trodden dirt trails through broad flats and dunes between the steep hills and the ocean. We sped through this section, leap-frogging with a few other groups of backpackers. By three o'clock in the afternoon, we had finished the day's intended 12ish miles to Miller Flat.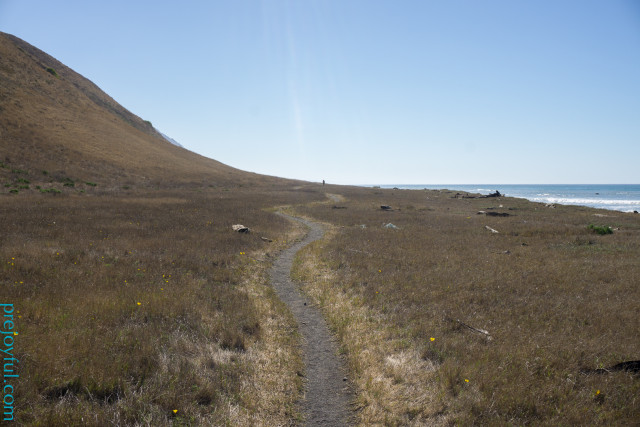 The next low tide was a little after sundown, but we wanted to try to push farther.   We felt fresh, and the cluster of people at Miller Flat made us antsy. We wanted to continue if possible, and I walked a short path out on the cliff edge to get a look of the coast ahead. Waves crashed directly at the bases of the cliffs. Clearly, the tide would need to recede rather a lot before this would be passable. Another group was already waiting on the bluff, and we sat down to wait for the tide to drop.  We forged a plan to walk to one of the creeks that enters the ocean during this low-tide section where others had reportedly camped. Sunset was around 7:20 pm, so we figured that if we left by 6 pm, we ought to be alright.
Annie read, while I dozed and hid my pasty feet from the sun. Other backpackers arrived, and went to check out the tides. We became restless, and after a quick check of the tide charts, decided to head out just after 5 pm. Another group shouldered their packs around the same time. We led the way down to the waves. Water lapped at our feet, and we hugged the cliff line, at times waiting for waves before darting around rocky points. On an open sandy stretch, we saw a group of four backpackers huddled up a steep gorge with their gear in full yard-sale mode. When we got to them, we yelled at each other to be heard over the crash of waves. Apparently, they had had been greedy trying the upcoming low-tide pass at closer to high tide, and had gotten quite wet.
At that difficult low-tide pass, the same rocky point observable by the cliff trail from Miller Flat, the waves still crashed against the rocks. Between waves a narrow passage up onto the rocks opened. I waited for smaller waves, then dashed up and around, bounding up on the rocks on the other side before the next wave crashed. Annie was unsure about this maneuver, and another group behind us was also debating the safety of this pass. Waiting for the waves, I jaunted back around the rocks. I described to the others what I could see, and everyone considered waiting for lower tide – we were not even at half-tide after all.
After another scouting run, Annie decided to follow me around the rocks. We waited for waves, and picked our way around the rocky outcropping, then the next, and a few more, before arriving to open beach after about 100 yards of tricky rock-hopping and waiting for waves. The four men behind us did not seem to catch the wave-waiting message, and several were drenched by big waves. Fortunately, no one was swept off the rocks.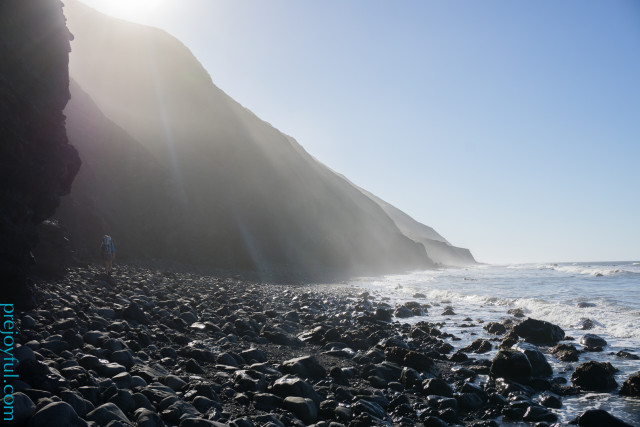 We blazed on down the shoreline, rock hopping, and sand walking at a brisk pace, as the sun crept toward the horizon. With about an hour before sunset, we reached our intended campsite at Buck Creek, only to find another group spread out there, and the four other backpackers having passed us on the easier stretch, occupied another site. Mosquitoes were everywhere. We decided to press on down the beach to Gitchell Creek at the end of the low-tide section.
By this point, my feet had really taken a beating from the rocks and unaccustomed footwear. By the end of the day, we'd walked over 17 miles on some difficult terrain. The medium sized loose rocks spanning the beach from Buck to Gitchell Creeks was the worst kind of footing: too small to fit a whole foot on, too loose to walk steadily, and too large to get any kind of foot platform. Each footstep hurt, and I grumbled, but then the sun approached the horizon, and I forgot my pains watching the sun set over the Pacific, and then we suddenly were at Gitchell. We pitched our YAMA Cirriform tarp quickly, ate and slept.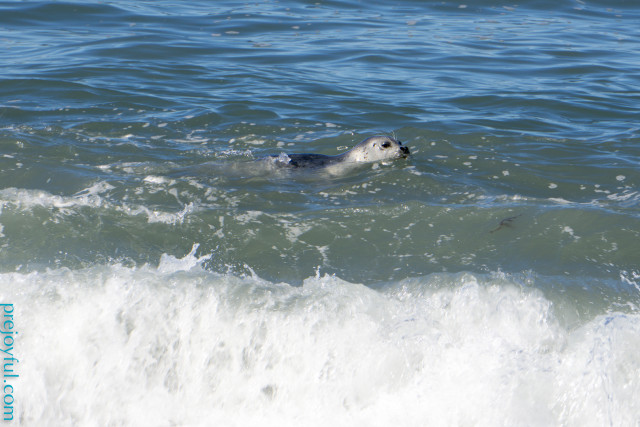 Knowing we were ahead of schedule, we slept in, then ambled slowly down the shoreline. Our late start and the lower elevation of the hills to the east meant we were in the sun much sooner, and things heated up. This section of beach was mostly easy sand, but it started to wear on us as we approached Shelter Cove. When we arrived, we chatted briefly with a few of the other backpackers we had seen on the trail. A trio from Reno gave us a ride to the Pizza place in Shelter Cove, and we enjoyed a calorie boost.
After our lovely lunch, we walked the roads back to the beach, and started back out to return to our van. Neither of us was particularly enthusiastic about this, but neither were we willing to pay the shuttle fees which could be as much as $200 for the two of us. As we walked, we considered tides, and I put forward the idea that we push through the southern low-tide section just around or after sunset, allowing us to finish a day early, and avoiding long spells of waiting for tides over the next two days. Annie was unenthusiastic, but after some discussion, and meeting some hunters already merry from their Kentucky Gentlemen at our intended camp, we decided to at least push to Buck Creek.
At Buck Creek we found all of the weekend LCT walkers. There must have been over 15 people camped there, and another 10 were rolling in just as we did. We checked the sun angle, and decided to make a dash for the tricky low-tide section to our north. Apparently this crowd of  gumshoe backpackers in jeans had already made it through, so it must not be too bad.
The section, which had given us such trouble before, and forced us to carefully read waves before making short dashes around cliffs, was at much lower tide this time around, allowing us to scoot neatly around the rocky cliffs, barely getting our feet wet. We pulled around the last bit of the tricky section just as the sun was setting, then ran into the same group of four backpackers we had seen drying their gear in nearly the same spot the day before! Apparently we weren't the only fools trying to yo-yo this trail, and their itinerary seemed even more ambitious.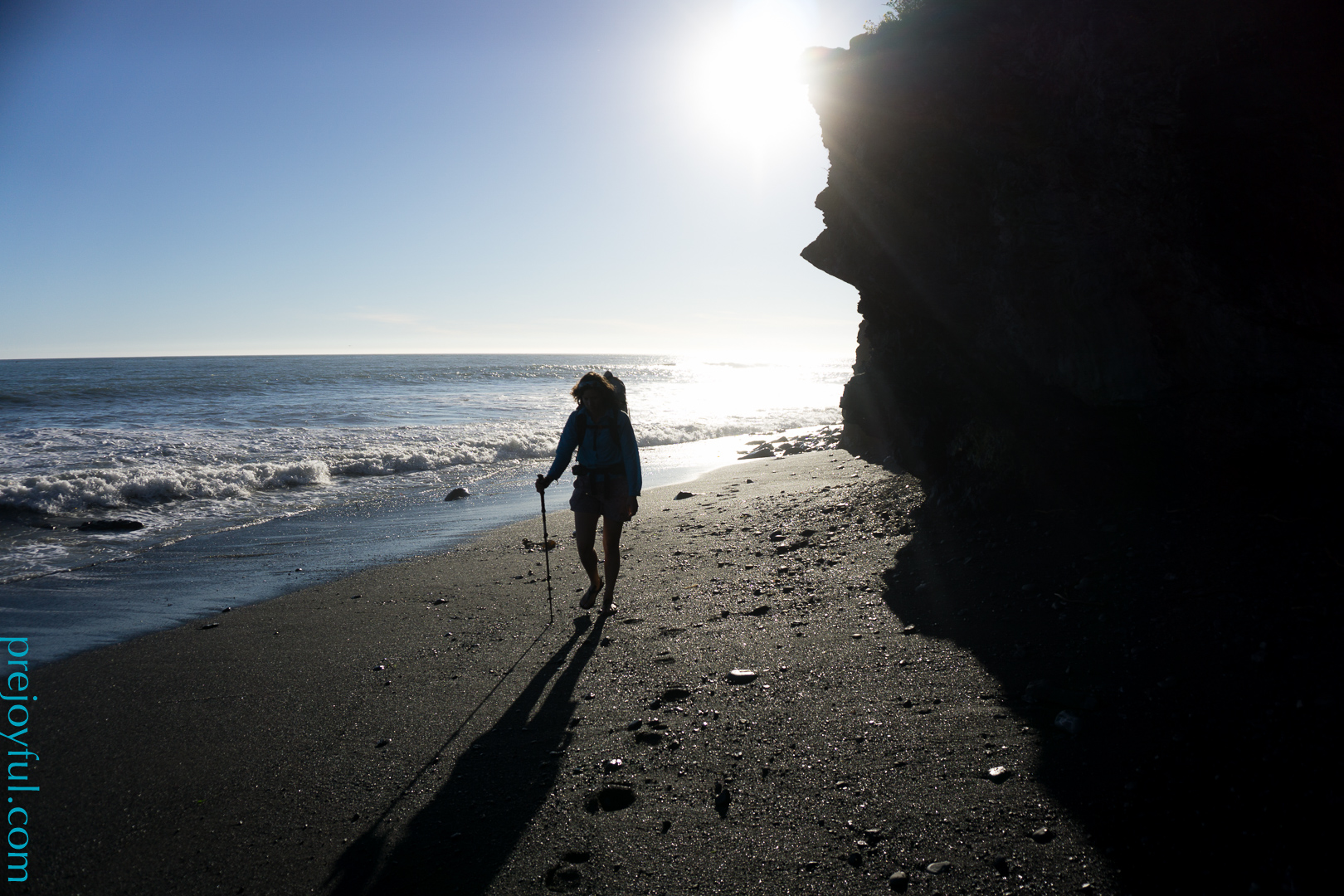 We set up camp and made dinner in Miller Flat in one of the built-up driftwood shelters, only to have our food nibbled at by a mouse almost immediately. Hiding our food away, we ate, but as we were finishing the meal, I noticed something from the corner of my eye, and yelled out, only to see what it was: a skunk!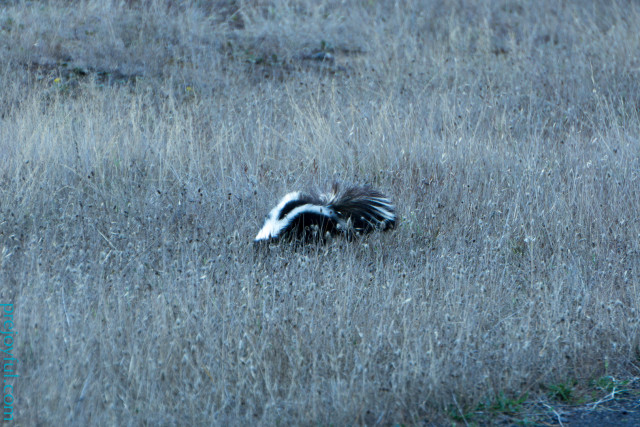 My first skunk encounter was not handled with the utmost grace, but we managed to get the creature to scuttle off without causing a stink. With our headlamps on bright, we nervously watched the animal circle our camp, then noticed the swarm of mice moving in. This was a poor spot to camp; the large number of other backpackers had habituated the animals to humans and human food. We packed up and moved our camp to a less built-up spot about a hundred yards away, and experienced no further problems.
Back on the trail the following morning, we cruised northward on trails through the flats. This section certainly stretched on for longer than either of us remembered, and we entered the northern low-tide section later than expected and already somewhat weary. The rocks on this bit were heinous – much worse than either of us remembered, perhaps due to the higher tide, we were forced higher on the beach. We ran into Hank (with an awesome moustache) and his wife whose name was caught in the crash of the surf; we had talked to Hank in Shelter Cove as they awaited their shuttle, and we awaited a ride to pizza.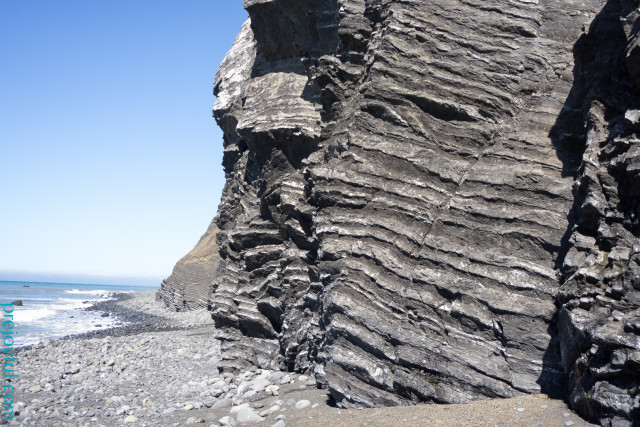 Miles of arduous footing dragged on, and I grew grumpy as my feet became battered. The tide grew higher. We encountered a section with waves washing directly up onto the cliffs. Annie plowed through, watching the wave pattern carefully.  I followed, but a wave caught me quite off guard, and splashed up to my ears, getting saltwater on my camera, and wetting my clothes. After I cleared the cliff to safety, I grew quite upset, certain that my camera would be destroyed, and frustrated at my aching feet. Still, I stubbornly continued in my sandals. Eventually, we made it through the low-tide section, and back to trail. We stopped to watch sea lions on Sea Lion Rock again, and after drying some, my camera worked. Now with no tidal time-constraints, we meandered slowly, certain to reach our van that afternoon.
The wind picked up, and when we arrived at the lighthouse, we noticed some sea lions playing in the waves. As we approached, we noticed that there were in fact about 30 of them on the shore, lounging, and humping over one another for better beach placement in the sun, and out of the choppy surf.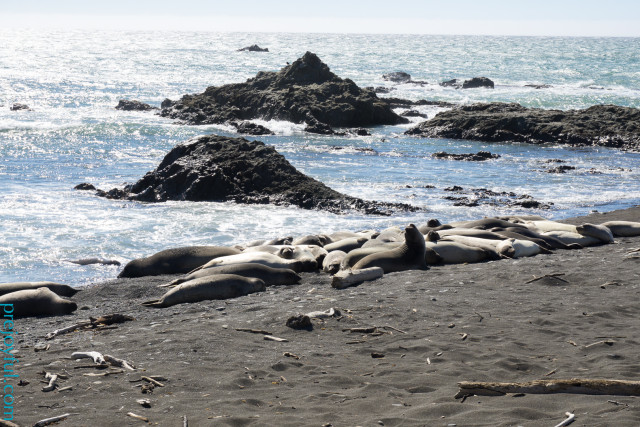 They did not seem at all concerned by us, though a few gave us an occasional languid glance. We watched and photographed them for a while, before moving on, only to notice that some 100 yards up the beach, a similar collection of Harbor Seals had gathered! These smaller creatures almost all turned to look at us as soon as we approached, and when we got within 50 yards, many flopped down the beach and into the water. Others watched us nervously as we snapped pictures and video, before we retreated up the dunes.
The wind continued to increase, eventually making our progress even more slow and difficult up the sandy beach. We walked head first into perhaps 30 mile/hour winds with gusts topping 45 miles/hour. Whitecaps were stripped directly off cresting waves as they came ashore. I was exhilarated and soon forgot the pain in my feet. The final miles dragged on slowly as we slogged into the wind, but soon we were at our van, yo-yo completed.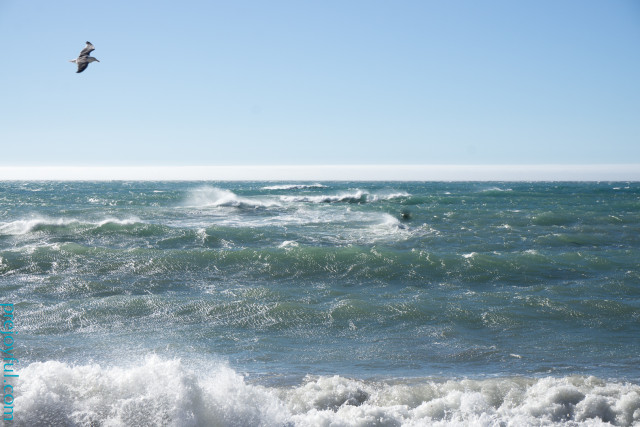 The LCT was interesting. Both Annie and I were unsure at first whether we liked it or not. While the difficulty of getting there makes it seem a little "lost", the constant stream of people backpacking the trail makes it feel much more pedestrian.  Tidal dependencies certainly spiced things up, and were an interesting change from the normal backpacking pace. Footing was often treacherous, tedious, and slow. Neither of us expected the level of exhaustion we faced, given the fact that there is no elevation gain. Nonetheless, the trail is quite manageable as there are frequent roomy spots to pitch tents, allowing shorter splits, and water turned out to be no problem at all on the beach. In fact, on our return trip, we seldom carried more than a liter of water, choosing to drink from our Sawyer Squeeze at the frequent sources, then fill the bag and drink from it as we went. Despite being on the beach the whole time, we never got in the water! The wave break seemed a little scary, and the Pacific is quite cool. The ruggedness and beauty of the coast are worthwhile though, so we recommend this trail (the one-way version). If we ever decide to go back, we will have to do it with more plentiful water in the hills, so we can see the high ridge of the King Range. 
Check out more photos HERE!
Resources:
BLM Site (maps [pdf and interactive] and other good info)
Socalhiker's writeup – useful links, description, and a gpx track
Marc Merlins' writeup – This was the gpx track I used (and modified), chosen essentially at random
Google Earth Pro – for track editing, etc.
Backcountry Navigator Pro – for following the gps track, and general navigation, using Caltopo mapsource
Delgada Pizza And Bakery – Pizza joint in Shelter Cove (opened at 1 pm, but check!). The pizza really hit the spot, and the ice cream and beer were great, especially considering we had to walk all the way back…
Lost Coast Café – We ate here the day after finishing the hike. Tasty vegetarian and vegan fare made from local ingredients, nice jazz, and we landed there just before the owner's birthday and got a few bonus treats! Definitely go to this place on your way to & from the trailheads.