Traditions are often born from things which go spectacularly well, or things which go spectacularly wrong. My annual trip to the highland wilderness in West Virginia to pick blueberries and have a wilderness feast is certainly of the former.
Four years ago, the inaugural Blueberry Expedition saw ten backpackers set foot in the Roaring Plains Wilderness in West Virginia, equipped with backpacks laden with fresh foods, and bags to hold blueberries, we set out to pick our way to Haystack Knob. Each year, we have returned, with much of the same core crew as the first trip, but a few additions and substitutions each year, depending on who can make it. Each year, we make different dishes. Sometimes we spend the year dreaming of what blueberry concoction to try over a campfire the next year. To give an idea of the campfire culinary extravagance, the second year featured grilled salmon filets with a blueberry compote; caramelized onion, blueberry, goat cheese pizza; peppers stuffed with cream cheese, goat cheese, and blueberry salsa; blueberry scones; and blueberry pie, to name a few dishes. Last year raised the ante significantly. Samosas and a blueberry chutney that year won my heart and tastebuds. Certainly, we would all try to raise the bar again.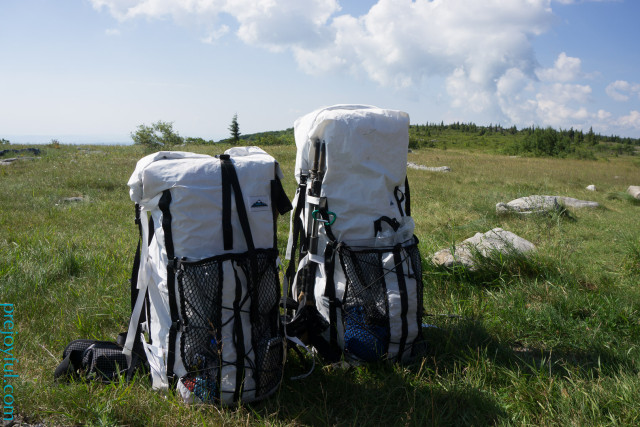 This year's trip was special to me – it may be my last, and it was my last trip before heading out to live with Annie in the van. In spite of that, or perhaps because of the turmoil of preparations for that bigger excursion, I managed very little preparation, and hadn't nailed down my recipes; which made me feel ill-prepared in this group of one-upping trail chefs.
Saturday morning came, and we went west. A few people had left early and hiked in Friday to secure campsites at the popular fork of Red Creek in the Dolly Sods Wilderness in West Virginia, while another group collected and hiked in by a different route. Our little group walked some of my favorite trails in Dolly Sods – the same route we had walked two years previously. The route stays north, and goes through meadows and openings, giving it a nearly alpine feel. The fields full of blue and purple berries.

The highlight of our route is walking the Rocky Ridge trail, along the western edge of the plateau. On the ridge, there are few trees, giving one of the only feelings of exposed terrain in the mid-Atlantic. The ridge also hosts some of the best picking fields. All around the larger rock patches and boulders, the berries grow thick and large. We picked, and predictably, I fell behind. It is so difficult for me to walk past so many juicy berries!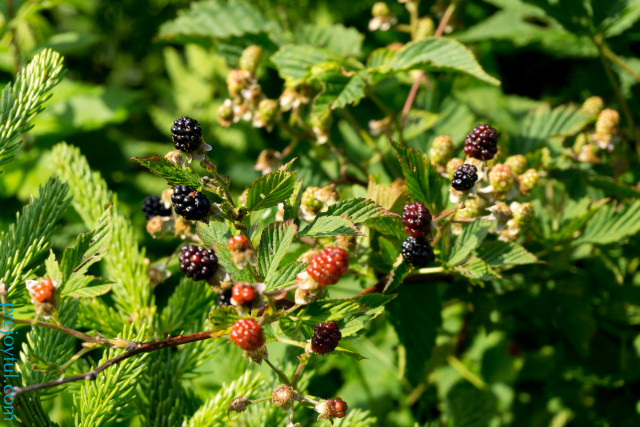 Eventually, feeling the pressure of time, and our weighty packs,  we made our way around and back into the heart of the plateau, below Blackbird Knob, then descended toward the forks of Red Creek, meeting someone from the other group trail running past us.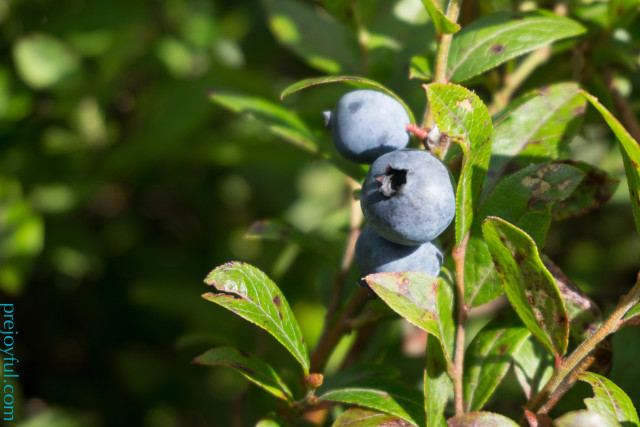 When we arrived, we found the others in a one of the large campsites right at the forks of the river, with firewood already collected. But, hot from the sun and heavy packs, we immediately stripped down to our underwear and got in the creek. There's a lovely little waterfall there that is just about a torso-length high forming the perfect spot to sit and let the water rush over and cool you.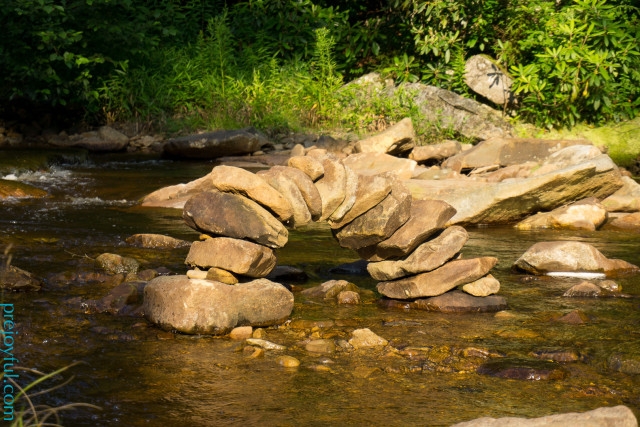 Predictably, we weren't the only people there. Several other groups occupied the other sites near the creeks, some also splashing in the cool creek water. Dave had set up another tent at another site, though, ensuring space for all of us. Annie and I pitched our shelter after our dip, then got down to business: meal preparation.
Annie and I planned to make enchiladas with an avocado sauce. The enchilada fill consisted of onions, sweet potatoes and bell pepper roasted in the fire, jalapeno pepper, blueberries, zucchini, lime juice and a few spices. The simple avocado sauce was mostly avocado, lime juice, garlic, water, and spices. We laid out rows of tortillas, filled, and rolled them, some with cheese, and some without (for veganness), and then grilled them on the fire, wrapped in an aluminum foil envelope.
While we frantically prepared our food, other dishes rushed at us, and we tried to find a space to put them on our makeshift plates, and to take bites as we worked. The food was all delicious. Carly deserved a special shout-out again for this year's treat: corn tamales with a blueberry cream-cheese filling. So good!
On the menu for the evening was: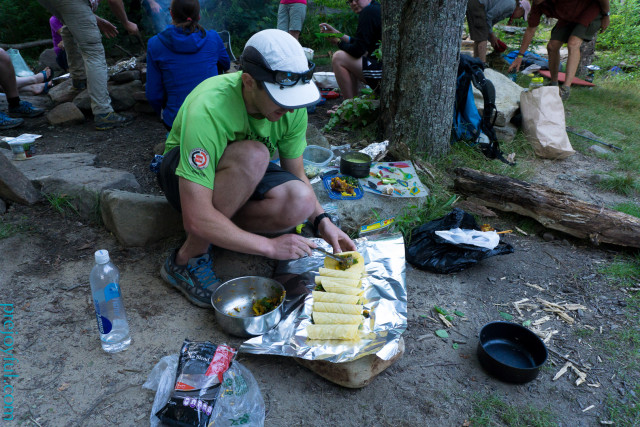 Crackers with smoked salmon and goat cheese with lemon and blueberries
Curry cous-cous with blueberries
Butternut squash with blueberries
Corn-blueberry salad
Kale-blueberry salad
Pizza with blueberries on top
Pulled pork with blueberry ginger compote
Sweet-potato-blueberry enchiladas with avocado sauce
Corn tamales with blueberry-cream cheese filling
Blueberry falafel with a spicy sriracha sauce
Steam-baked blueberry cake
Blueberry ice cream
Blueberry sorbet
Yes, that's right. Ice cream. And sorbet. Annie and I carried in Patricia's ice cream maker, and the ingredients for the ice cream and sorbet, as well as some dry ice, then let Patricia work her magic. The ice cream maker is a phase-exchange ice cream maker, which has a (heavy) aluminum base, filled with a phase exchange liquid (think: cold pack), which must be cooled before adding ingredients to the cold bowl and hand-crank-churning it. Once that base is cold, though, a batch can be made fairly quickly and simply. Before the main-course meals started, we put the ice cream maker base in a cooler bag filled with dry ice, to chill it. Then after most of the dishes had come out, Patricia poured the cream-sugar-blueberry mix into the maker, and started churning. Minutes later, we all enjoyed ice cream in the backcountry!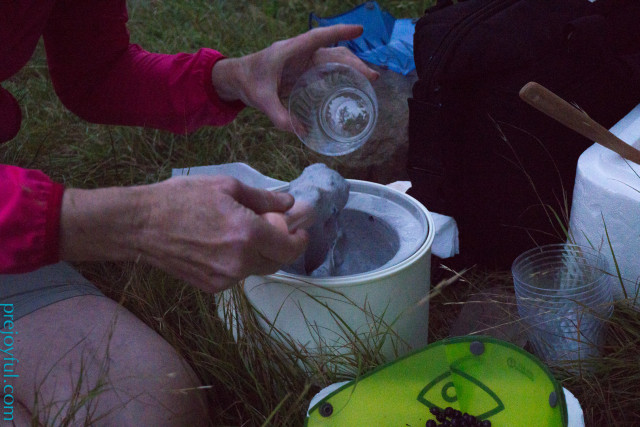 In the morning, we had pancakes coming at us from  both Dave and Peter, and I made a little blueberry compote to put on top of the pancakes. Then it was time to for a few goodbyes and to hit the trail. Shortly after we left, I was left behind as usual, picking more berries. We soon determined that it was actually too hot to stand in the direct sun in the meadows to pick, and decided to push on. By this time, three of the four in our car had lost our fourth – Rachel, the driver. She had started early, thinking herself too slow on uphills. But we never did catch her…
Since more picking was out of the plan, we changed from our intended route up Raven's Ridge trail and headed more directly to the car, up Dobbin Grade, enjoying ankle-deep muck (as opposed to the common knee-deep muck that often inhabits the trail). Arriving at the car, we did not find Rachel… we sat down, almost completely out of water, and exposed to the hot sun. A college freshman orientation guide from WVU stopped to chat with us, then offered us food and water. We happily accepted.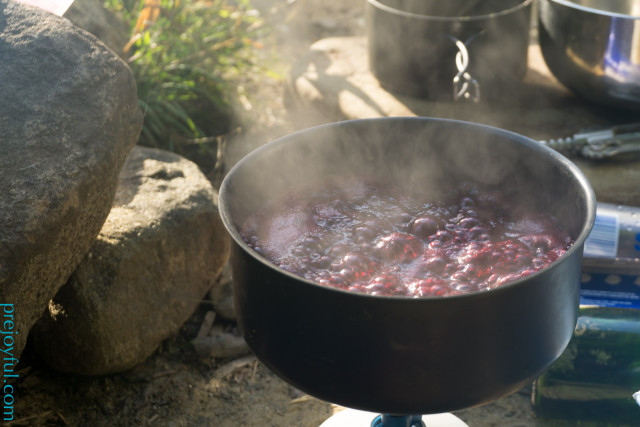 Over an hour passed, and I topped off water, and started running back out the trail, to retrace the route we had described to her earlier. After a couple of miles in the scorching heat, I finally found Rachel and her two little dogs, plodding happily along. She had missed the turnoff and accompanied the others to a different trail head, then headed back out to follow the intended route. A couple of hours later than expected, we were on the road heading home. Another successful Blueberry Expedition under our belts, bags and stomachs full of blueberries.