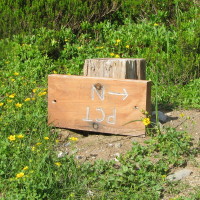 In early August 2013, I hiked 123.3 mi of the PCT.  My route began with a drop-off on the trail at Rainy Pass, south east of Ross Lake on Route 20. (Thanks Denny and Sherry!) The trip ended unceremoniously searching for a burger at Steven's Pass ski area (thanks again to Denny and Sherry for actually finding me that burger).  The miles in between were glorious.
Month: August; Temps: 60's – 70's, nights in 40's, mostly clear with a single summer storm and a few cloudy days; Maps: Halfmile's WA Section K Maps
| Day | Start | End | Trail | Mileage |
| --- | --- | --- | --- | --- |
| Day 1 | Rainy Pass / US 20 | South Fork Camp (Permit) | PCT | ~8 mi |
| Day 2 | South Fork Camp | High Bridge Camp (Permit) | PCT | 11.8 mi |
| Day 3 | High Bridge Camp | Plummer Basin* | PCT | 18.2 mi |
| Day 4 | Plummer Basin* | Vista Creek | PCT | 17.5 |
| Day 5 | Vista Creek | Mica Lake | PCT | 12.5 mi |
| Day 6 | Mica Lake | Swelling Creek | PCT | 14.3 mi |
| Day 7 | Swelling Creek | Lake Sally Ann | PCT | 13.1 |
| Day 8 | Lake Sally Ann | Janus Lake | PCT | 19 mi |
| Day 9 | Janus Lake | Steven's Pass | PCT | 9.6 mi |
*Plummer Basin is a large bowl, but there is a small rocky tentsite.  It is marked on the Nat Geo maps (which I carried, but were unnecessary), but not on Halfmile's maps.
This trip was the first significant (>2 days) solo trip, of any kind, I accomplished on my own.  I carried too much gear – not necessarily excess items – but rather excess quantities.  I knew what I wanted, but I also fell into the trap of thinking about all possible things that could go wrong by myself.  I packed for these scenarios, despite risks being low. On one hand,  I carried too much base weight, but on the other, I managed to pack my Granite Gear Crown 60 with 10 days of food, so I hadn't done a completely injudicious job packing.
On Day 1, Sherry and Denny dropped me off at the trail head.  On the way up, we had stopped at the rangers station to get camping permits for my first two sites.  The ranger made the suggestion of using South Fork as my first campsite, as there were many options along the first ten miles of the trial.  Leaving from the parking lot, I felt wildly nervous to be out by myself.  I had to push myself forward in the first few steps when I almost wanted to run back and see if my ride had already left.  After I began moving, I started to feel somewhat better, but I couldn't stop worrying about bears at every turn. South Fork was busy – there was a large teen trail crew camped at the horse camp, and a handful of other people at the various sites.  There were wires for bear hangs, making that first night feel very secure.  After setting up camp, I felt deeply lonely.  I don't develop a routine of maintenance until a few days into a trip, and the idleness of the first evening was emotionally draining.  It killed my appetite, and made me want to finish the trip as soon as possible.
The second day started late (I love my sleep… especially when I'm by myself), and I had steeled myself for a long day.  My pack was heavy, so I envisioned the walking going slowly and steadily, but for long hours.  I finally left camp when the teens from trail crew came down to move rocks in the area around where I was camped.  I set out on the trail, and I remember clearly being passed by a very fast and ragged looking man who did not even nod a hello – I lated found out it was the next PCT record holder.  I spent all morning continually worrying about bears.  I sang to myself and shouted around every corner.  I finally settled into a walking rhythm, enjoying the views, valleys, rocks, and a bridge along the way in mid morning.  My mind was wandering, and I came around a corner to a loud crash through the high bushes off the side of the trail.  A golden bump and round golden ears bounded away from me.  The bear saw me before I saw it, and with that encounter my fear of bears calmed.  I felt that the bear spray I was carrying was just extra weight for the trip.  The rest of the day was uneventful, but I did learn how well graded and gradual the PCT is in many sections.  I arrived to camp in less than four hours.  I sat around and enjoyed reading, pondering the timing of the bus schedule to Stehekin (I didn't go, but I wish I had), and deciding which of the food I was going to leave behind in the hiker bin. My appetite was still very suppressed and I now had almost two days of extra food on my back. I lightened my load somewhat and felt pleased with a good day.